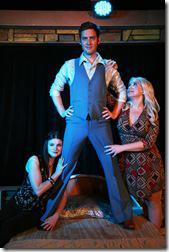 Starting Here, Starting Now
Written by David Shire and Richard Maltby, Jr.
Directed by Fred Anzevino 
at No Exit Café, 6970 N. Glenwood (map)
thru Nov 6   |  tickets: $25-$30  |  more info
Check for half-price tickets
Check out optional $20 dinner menu
---
A joyous night of love, lust and loss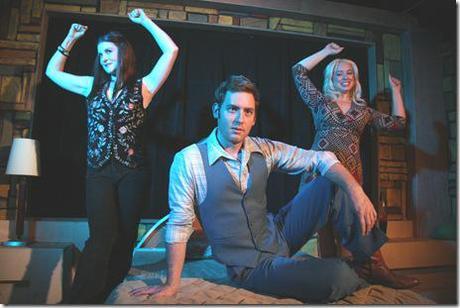 Theo Ubique Cabaret Theatre presents
Starting Here, Starting Now
Review by Lawrence Bommer
In only 24 songs and 90 minutes, the musical revue Starting Here, Starting Now offers a tender-tough inventory of love and the lonesome lack thereof. Made for each other, the wry lyrics of Richard Maltby Jr. combined with David Shire's buoyant music forge a fast-moving, ingratiating look at how love can go right, wrong or nowhere.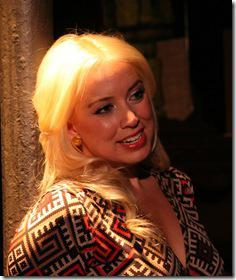 A supple showcase for the troupe's talents,
Fred Anzevino
's staging for
Theo Ubique Cabaret Theatre
(here divided into two acts with three performers) finds virtue in the simplicity of an intimate storefront stage and a refreshing lack of miking for this very capable trio.
Little has changed since 1977 to date the revue's wry takes on passion, though the now-cliched ditty "Today is the First Day (Of the Rest of My Life)" can't help but grate. Mostly the unpretentious, loosely organized ballads capture love's pluses–the first flush of infatuation (the promissory note of "I Am in Love"), the heady sensation of leading a double life for someone else ("Beautiful For You"), the awkwardness of discovering that a former stranger controls your happiness ("I'm A Little Bit Off") and, despite setbacks, the triumph of hoping for more (the exuberant anthem "New Life Coming").
For every sentimental number there's a satirical counterweight. Searingly delivered by Teddy Boone, "I Don't Remember Christmas" reveals a lover mired in the deep denial of a recent loss, while "I Don't Believe It" is a wicked send-up of phony couples bragging the worst about what they lack the most. In "We Can Talk to Each Other" Boone neatly conveys a lover whose ego threatens to make his beloved his mirror.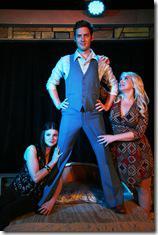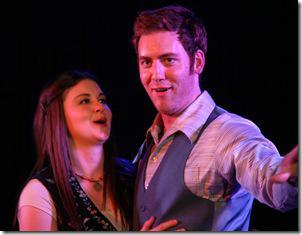 Wisely balancing solos against peppy production numbers, the revue offers valuable musical calling cards, like Boone's joyous rouser "I Hear Bells" (a favorite of gay choruses). In the elaborate scene-song "Crossword Puzzle," Stephanie Herman explodes in manic unrequited memories (though the number's unpleasant spoof of a too-brainy woman seems retrograde). Herman also tears the agony out of "What About Today," a song wise in the difficulty of getting past love's pain. Hillary Patingre reinvents a young girl's great expectations in "Song of Me." Herman digs deeply into the bittersweet "Girl You Should Know." Contrary to Emily Dickinson, hope isn't just the thing with feathers—it's the driving dynamic behind these cumulatively joyous ballads where love's confusion is more than matched by all the promissory notes of passion.
Neatly packaged in Eugene Dizon's musical direction and Maggie Portman's unflashy choreography, the ensemble numbers crackle, notably the celebratory title number and the high-strutting "One Step," a pizzazz-packed charmer that fully earns its top hats and very short kick line. It's all set against Adam Veness' very 70s setting, complete with shag rugs, lava lamps, flagstones, and all-purpose bed.
Rating: ★★★★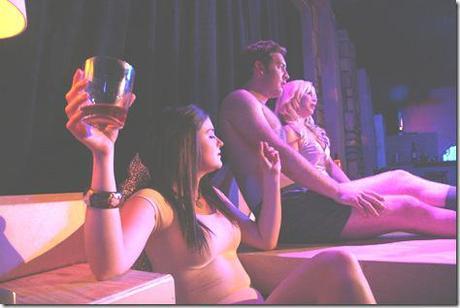 Theo Ubique Cabaret Theatre's Starting Here, Starting No continues through November 6th at No Exit Café, 6970 N. Glenwood (map), with performances Thursdays at 7:30pm, Fridays-Saturdays at 8pm, and Sundays at 7pm. Tickets are $25-$30 (with $20 optional dinner – see menu), and can be purchased by phone (800-595-4849) or online at Theo-U.com. (Running time: 90-minutes, which includes an intermission)
All photos by David Heimann
---
artists
cast
Teddy Boone (Man), Hillary Patingre (Woman 1), Stephanie Herman (Woman 2)
behind the scenes
Fred Anzevino (director); Eugene Dizon (music director, piano); Maggie Portman (choreography); Michael M. Nardulli (lighting); Raquel Adorno (costumes); Adam Veness (scenic, tech director); Rachael Holiday (stage manager); Adam Webster (general manager); Cody Siragusa (bass); Lindsay Williams (percussion); David Heimann (photos)