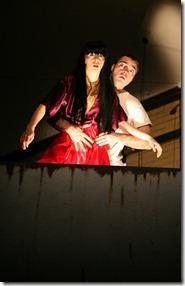 Stadium Devildare 
Written by Ruth Margraff
Directed by Karen Yates
at Red Tape Theatre, 621 W. Belmont (map)
thru Feb 23  |  tickets: $15-$25   |  more info
  
Check for half-price tickets 
  
  
   Read entire review
  
---
Most daring thing about this show is having to sit through it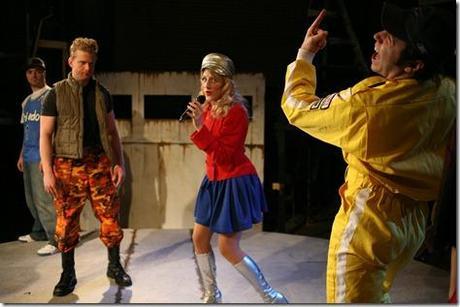 Red Tape Theatre presents
Stadium Devildare
Review by Joy Campbell
One of the great joys of being a theater critic is the opportunity to see all kinds of theater, to be surprised by assignments you might not have chosen, to discover new companies that excite you.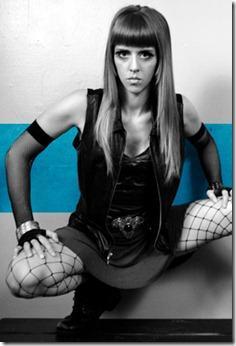 The single biggest drawback is that, unlike a regular audience member, you have a professional obligation to see a show through, even when you desperately want to walk out. Such was my fate with
Stadium Devildare
. I'll do my best to describe the show, although I freely admit here and now that I found about 96% of it totally inaccessible, so your mileage may vary.
The script is written in a sort of William S. Burroughs-meets-Beat Poet free verse, and if it is more than smug, obtuse, self-pleasuring drivel, then I assume its redeemable qualities are lost as the result of unseasoned performers who don't really grasp its meaning and proper delivery, or a director who doesn't, or both.
Here's what I managed to glean: the setting is an undisclosed nuclear testing site, where combatants (Nicholas Combs, Matt David Gellin, Andy Lutz, Carrie Drapac) compete gladiator-style to win The Prize. (I don't recall what that is, if I ever understood it to begin with.) The overarching theme seems to be that militarism, US global domination, and corporate domination converge and are absorbed and reinterpreted as a violent pop-culture milieu represented mostly by –-yep, you guessed it –- video games. Furthermore, our notions of reality have been subverted into a meta-reality represented by patriotic songs, jingoism, and the worship of American icons now referenced in a vacuum absent of connection to their origins.
None of these ideas is new. From Stephen King's short stories "The Running Man" and "The Long Walk," to Suzanne Collins' "The Hunger Games" trilogy, to pretty much anything by Kurt Vonnegut Jr., these themes have been explored before, and better. That corporate power is as much or more of a world-shaper as military power (hello Halliburton, McDonalds, et al.) is only news to anyone who's been in a coma for…well, forever. As the song says, "money makes the world go around." Not that these themes can't be explored any number of times, but if you're going to do this, say something new, and say it in a way that makes sense, or is at least entertaining.
Through rounds of challenges, contestants battle to eliminate one another, although the point of most of these challenges was lost on me. There is yelling and fighting, and video game-style controlling of Ninja-like game characters (Derek Van Barham, Bryan Bosque, Sabrina Conti, Julian Hester, Paige Sawin) by the contestants. There is actual fighting among the contestants. There is an Evel Knievel suit and a flag. There's rape. There is a nod to Yukio Mishima's "Patriotism" at the end, although why isn't clear. There is a 5-year-old called The Prophet (Nicole Rudakova), who appears on the video screen.  It's unclear what her significance is.  Imagine a dream stripped of dream logic leaving lots of surreal, disjointed images, and you get the idea. Now try to write about it.
There are nods to Japanese pop-culture influences: in addition to the Ninja-like warriors, Godzilla is mentioned, shown, and heard more than once, via a video screen and sound effects – and one unfortunate scene where a character tries to eat her toy Godzilla; and one of the characters (Carrie Drapac) is supposed to be a Hentai girl, although she was surprisingly absent any stylized makeup that could have easily been applied to make her look like an anime character. (Hentai is a genre of pornographic Japanese anime where women – usually young girls – are subjected to violent, degrading, and sadistic sexual acts). Her role is unclear: she becomes a sexual target, but does she represent the US violence perpetrated on the Japanese by the atomic bomb, as implied by the videos of desolation projected on the screen? Or does she represent the adoption of western sexual values? Or is she just there for the cheap laugh of having one of the guys look up her skirt lasciviously? And why didn't I buy a glass or three of wine before the show?
Two of the performers have some redeemable qualities: As Gameboy, Nicholas Combs shows promise; while he doesn't overwhelm, he at least shows some attempt to create an actual character, and I got the impression that he – at times — understood more of what he was saying than the others. As The Narrator, Lindsay Kane is tasked with being the ultimate emcee, all positive energy and plastic Game-on! enthusiasm, smiling winningly for the camera and milking the action for the effect of You Viewers At Home. The most vocally agile and expressive of the lot, she comes across as a talented actress handed an unfortunate role. She gives it her best, but I just felt sorry for her: the extreme stylization of her character wears thin after about five minutes, and nobody should be forced to crawl around on the floor shoving plastic Godzillas into their mouth while a stupefied audience looks on stone-faced.
At the end, The Narrator announces that the competition is a zero-sum game ("Interesting game; the only winning move is not to play" – Anybody? Anybody?) By the end of the show, I felt exactly the same way about this play.
Rating: ★
Stadium Devildare continues through February 23rd at Red Tape Theatre, St. Peter's Church, 621 W. Belmont (map), with performances Thursdays-Saturdays at 8pm, Sundays 7pm.  Tickets are $15-$25, and are available online through Tix.com (check for half-price tickets at Goldstar.com). More information at RedTapeTheatre.org.  (Running time: 75 minutes, no intermission)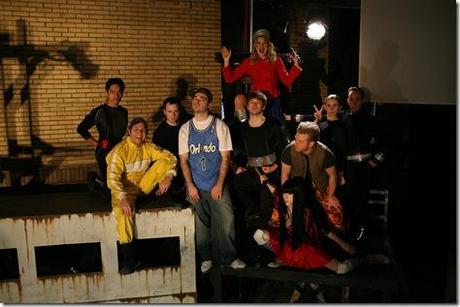 ---
artists
cast
Derek Van Barham (Stadium Fighter, Cameraman), Bryan Bosque (Stadium Fighter Red), Nicholas Combs (Gameboy), Sabrina Conti (Stadium Fighter Gold), Carrie Drapac (Reiko), Matt David Gellin (Lamar), Julian Hester (Stadium Fighter Blue), Lyndsay Kane (Narrator), Andy Lutz (Crenshaw), Mark Penzien (Stadium Fighter White, Fight Captain), Nicole Rudakova (Texie)
behind the scenes
Karen Yates (director); Jacob Bray (lighting designer); Majel Cuza (production manager); Izumi Inaba (costume designer); Jamie Link (stage manager); Ruth Margraff (playwright); Molly Mullen (dramaturg); Greg Poljacik (fight choreography); Paige Sawin (assistant director); Cassey Schillo (properties designer); Chelsey Shilling (projection designer); Joone Studios (video trailer)
13-0134