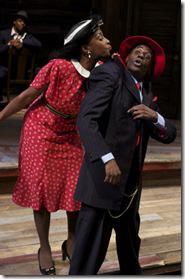 Spunk
Adapted by George C. Wolfe
Based on the stories of Zora Neale Hurston
Music by Chic Street Man
Directed by Seret Scott
at Court Theatre, 5535 S. Ellis (map)
thru Oct 9  |  tickets: $40-$60  |  more info
Check for half-price tickets
  
   Read entire review
---
A whole lotta 'Spunk' at the Court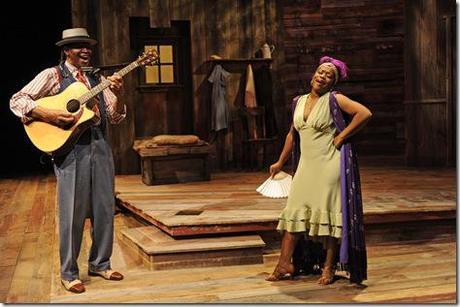 Court Theatre presents
Spunk
Review by Lauren Whalen
The Court Theatre is a master of innovation. Located on the University of Chicago's Hyde Park campus, the company prides itself on taking chances and telling tales in bold new ways. Spunk, a musical hybrid inspired by the writing of Zora Neale Hurston, opens the Court's 57th season with a bang, an apt addition to an already strong repertoire. Despite a slow start, Spunk grows into a rollicking celebration of love, revenge and redemption enacted by a powerful ensemble to the tune of incredible live blues.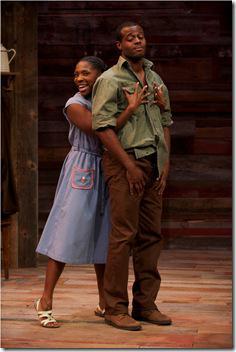 Even before the lights go up,
Spunk
boasts a roster of impressive credentials. Though she died in obscurity, Harlem Renaissance writer and anthropologist Hurston was revealed decades later by author
Alice Walker
as a distinctive voice who transcends time. The show, whose title derives from one of Hurston's short stories, was first adapted by
George C. Wolfe
in 1990. Director
Seret Scott
, who previously helmed a 1996 production of
Spunk
for Baltimore's CentreStage, was a stage, film and television actress, most notably co-starring with Brooke Shields in
Louis Malle
's "Pretty Baby." And cast member
Alexis J. Rogers
recently led the Court's nationally acclaimed production of
Porgy and Bess
(our review ★★★★) as the titular female.
Spunk doesn't rest on its prestigious laurels, however. Tom Burch's multi-level wood set provides an imaginative playground for the actors, successfully representing everything from a humble cabin to a Harlem street corner. Costume pieces by Janice Pytel are equally layered, while feeling fresh in each scene.
What appears problematic at first is Spunk's plot, or lack thereof. Three of Hurston's short stories are presented as vignettes, two in the first act and one in the second. The first story – that of an abused woman seeking revenge against her reprehensible husband – while an important view of a sadly common experience even today – moves slowly and fails to compel. Just as the audience has a real emotional investment in that particular story, it ends. The subsequent vignettes fare better: a farcical fable of two competing gigolos has many fun twists and turns. And Spunk's third story, in which a young couple's passionate marriage is threatened by a glittery object of desire, is the most nuanced and rich forty minutes of the play, ending on a truly satisfying note.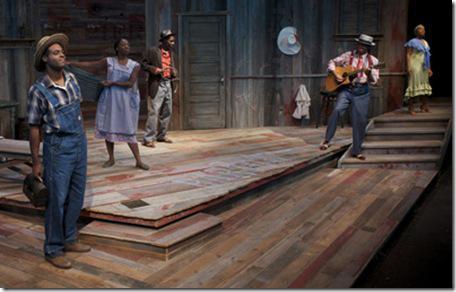 Hurston's stories and Wolfe's adaptation are remarkably brought to life by Spunk 's vibrant quintet of actors. The show demands versatility: each performer sings, dances and alternately narrates the action and becomes part of it. As performers rarely leave the stage, endurance is also a key factor, yet no cast member ever runs out of energy. Patrese D. McClain amazes with three prominent roles as a suffering washerwoman, an indignant young urbanite and a conflicted newlywed. Kenn E. Head manages to be sleazy and terrifying in two vignettes, darkly hilarious in a third. Recent DePaul grad Chris Boykin gives a touching portrayal of a wronged yet determined husband, and Michael Pogue brings a sweet silliness to a zoot-suited pimp. Tying it all together with lively banter and the most glorious of voices is Rogers' Blues Speak Woman. Whether she's flirting with audience members, impersonating a portly giggling gold digger or sassing her fellow performers, Rogers is a magnetic, sparkling force of nature.
Music is an integral part of Spunk, underlying each phrase, plot point and conflict. Composed by Chic Street Man and music directed by Kelvyn Bell, the play's score is arguably its main character. Bell himself appears onstage as the Guitar Man, strumming and plucking intricate tunes with a perpetual sleepy smile. The essence of Spunk is in its details: the magnificent approach to storytelling is lifted to greater heights thanks to human stories, pleasing aesthetics, multifaceted actors and most of all, bluesy melodies. Even when its characters are at their lowest, Spunk positively sings.
Rating: ★★★½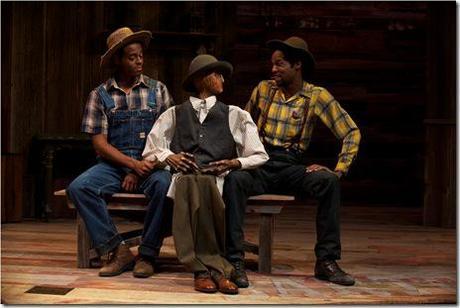 Spunk continues through October 9 at Court Theatre, 5535 S. Ellis (map), with performances Wednesdays and Thursdays at 7:30 p.m., Fridays at 8 p.m., Saturdays at 3 and 8 p.m. and Sundays at 2:30 and 7:30 p.m. Tickets are $40-$60. More information at CourtTheatre.org. (Running time: 2 hours with 15-minute intermission)
All photos by Michael Brosilow ©2011
---
artists
cast
Alexis J. Rogers (Blues Speak Woman), Kelvyn Bell (Guitar Man), Chris Boykin (Slang Talk Man, Joe, Ensemble), Kenn E. Head (Sykes, Sweet Back, Ensemble), Patrese D. McClain (Delia, Girl, Missie May, Ensemble), Michael Pogue (Jelly, Boy, Ensemble)