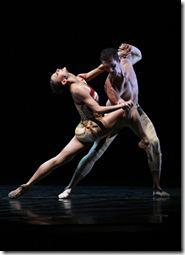 Spring Desire 
Choreographed by Edwaard Liang,
   Jerome Robbins and Val Caniparoli 
Artistic Director: Ashley C. Wheater 
Auditorium Theatre, 50 E. Congress (map)
thru May 6  |  tickets: $25-$149   |  more info
  
Check for half-price tickets 
  
  
   Read entire review
  
---
Meditative yet moving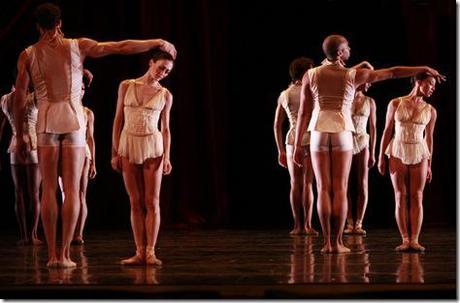 Joffrey Ballet presents
Spring Desire
Review by Lauren Whalen 
Can ballet survive? As hip-hop, jazz and modern become more pervasive in pop culture, and "Black Swan" presents a less-than-stellar portrayal of the ballet world, one wonders whether one of dance's basest arts is a dying one. If nothing else, Spring Desire is a reassurance that ballet is going nowhere. In the Joffrey Ballet's latest program, which includes the stunning world premiere of "Incantations", ballet strongly states that it's here and it's now.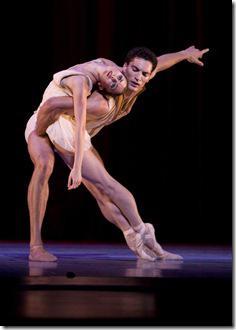 Note:
Spring Desire
rotates casts each show. The following review is of the April 28 performance.
Edwaard Liang choreographed the show's first piece, Age of Innocence, for the Joffrey Ballet in 2008. Inspired by the novels of Jane Austen, Age of Innocence chronicles the ups and downs of love in a socially and sexually repressed era. The music of Philip Glass and Thomas Newman (including instrumentals from the films "The Hours" and "Little Children") supplements formal boy-meets-girl minuets and more intimate trysts between individuals. Clad in cream-colored undergarments that suggest the late 18th and early 19th century, males manipulate females – but as the piece progresses and their flowing skirts get shorter, the women begin to assert themselves in delicate yet strong ways. Both quiet and passionate, Liang's ballet explores what happens when social mores (like layers of clothing) are stripped away, leaving hungry desire in their wake. Age of Innocence captures a time gone by with strong attention to detail with ample room for complex emotion.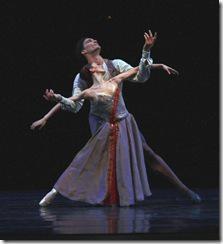 The evening's second ballet,
Jerome Robbins
'
In the Night
, has a much smaller cast: three couples
pas de deux
it out to a lively Chopin score played lovingly by
Paul James Lewis
. The late Robbins' classic choreography covers a range of amorous feelings, from first love to impending departure to frustrating spats. The atmosphere isn't always light, but with the help of a star-studded backdrop and
Carol Divet Harting
's jeweled chiffon costumes, the audience knows a happy ending is in store. Though each dancer is nimble and genuine,
Fabrice Calmels
and
Victoria Jaiani
are in their element here. Seen earlier in
Age of Innocence
, the duo is simply glorious to behold. Calmels is magnificently attentive to his partner in a way George Balanchine would have appreciated, and Jaiani's elastic physicality complements her beautifully expressive face. As a feuding couple, each feeds off the other's energy, alternately distinguishing their individual prowess and blending together in a striking moving picture.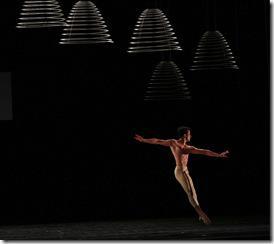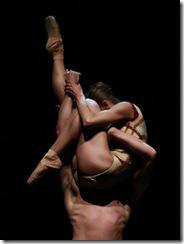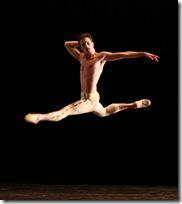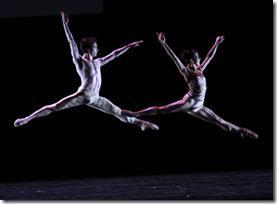 Alexandre Rabinovitch-Barakovsky, composer of the evening's final piece and world premiere Incantations, said "I conceived the Incantations as a sort of very intense panting prayer, spread out over one very long breath…musical fleetness is a very unsettling element, synonymous with the fragility of existence." Indeed, Val Caniparoli's choreography sustains itself on such fragility, relying on patterns supplemented by the spirals of Sandra Woodall's set and costumes, the circles inked on the male dancers' backs, the lines of Lucy Carter's lighting. Incantations is pure, frenetic excitement, all fluid technique and stark precision. Dancers Lucas Segovia, Rory Hohenstein and Joanna Wozniak shine the brightest, interpreting the difficult movements in a proficient and exquisite manner.
Great dancing isn't about bravura movements, but the moments between. A transition, a turn, even a breath alone can differentiate a pleasant but forgettable performance and one that will live on in memory for years to come. The Joffrey's Spring Desire is at once dreamlike and shockingly authentic, rousing and serene, edgy and encouraging. Ballet isn't going anywhere. Dance is going to be all right.
Rating: ★★★½
Spring Desire continues through May 6th at Auditorium Theatre, 50 E. Congress Parkway (map).  Tickets are $25-$149, and are available by phone (312.386.8905) or online here (check for half-price tickets at Goldstar.com). More information at joffrey.org.  (Running time: 2 hours, two 10-minute intermission)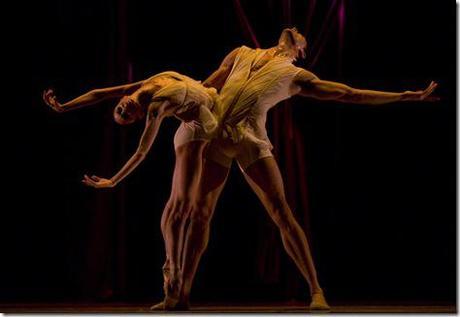 All photos by Bob Nick
---
artists
cast
Note: cast changes according to performance. Full company roster below.
[Dancer Pictures and Bios] Matthew Adamczyk, Derrick Agnoletti, Miguel Angel Blanco, Ogulcan Borova, Katherine Bruno, Fabrice Calmels, Raul Casasola, April Daly, Erica Lynette Edwards, Yumelia Garcia, John Mark Giragosian, Dylan Gutierrez, Elizabeth Hansen, Jaime Hickey, Rory Hohenstein, Anastacia Holden, Dara Holmes, Victoria Jaiani, Fabio Lo Giudice, Graham Maverick, Caitlin Meighan, Jeraldine Mendoza, Katherine Minor, Jacqueline Moscicke, Amber Neumann, Alexis Polito, Valerie Robin, Christine Rocas, Aaron Rogers, Ricardo Santos, Lucas Segovia, Abigail Simon, Michael Smith, Temur Suluashvili, Jack Thorpe-Baker, Shane Urton, Alberto Velazquez, Mauro Villanueva, Mahallia Ward, Jenny Winton, Joanna Wozniak, Kara Zimmerman 
behind the scenes
Ashley C. Wheater (Artistic Director), Christopher Clinton Conway (Executive Director), Scott Speck (Music Director), Nicolas Blanc and Willy Shives (Ballet Masters), Graca Sales (Ballet Master/Principal Coach)
For "Age of Innocence":