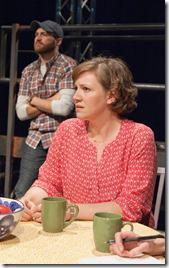 Spill 
Written and Directed by Leigh Fondakowski
at Stage 773, 1225 N. Belmont (map)
thru Dec 19  | tix: $38-$51  |  more info
  
Check for half-price tickets  
  
---
Vital retelling of toxic fiasco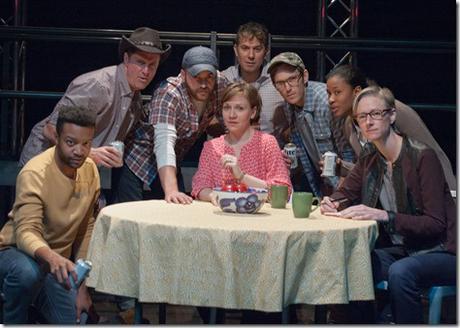 TimeLine Theatre presents
Spill
Review by Lawrence Bommer
Call it the human "Katrina"–and, yes, it hit the same state five years later and almost as hard. A disaster for which there was no Plan A (let alone contingency strategies), the catastrophic explosion of British Petroleum's Deepwater Horizon rig on April 20, 2010 killed 11 men (in a "live cremation"). It then unleashed a toxic nightmare, gushing five million barrels of oil into the sensitive Louisiana wetlands and marshes and out into the Gulf of Mexico. It's a tale not to be forgotten or repeated. So far only Baton Rouge has seen Leigh Fondakowski's vital retelling of the fiasco. Happily, Chicago's TimeLine Theatre Company has stepped up to deliver 150 thrilling minutes of action, analysis and accusation.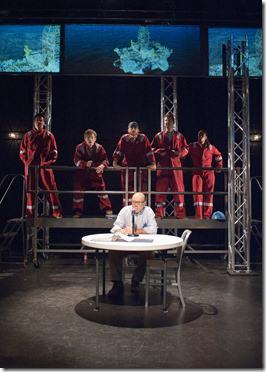 In the style of the
Tectonic Theatre Project
(for whom she wrote
The People's Temple
and
The Laramie Project
), director Fondakowski has assembled a devastating evening of heart-wrenching and mind-boggling witnessing. The searing stories are based on 200 hours of interviews with victims of the eco-horror–crew workers, fishermen, cleanup workers, ecologists, guilt-gutted survivors, and loved ones talking about lost ones. Flanked by public statements from the perpetrators, it's a tapestry of testimony–and it paints a chilling cumulative portrait of technological hubris getting a vicious blowback from a violated environment.
Basically, when you drill at sea, the wells shift as you dig: There's no guarantee the flow will go up instead of out. Pockets of methane gas lurk anywhere, as ready to explode as in a coal mine. The play confronts that reality with a bottom-line mindset where "lost returns" are far more unacceptable than lost lives. Fueled by a corner/cost-cutting arrogance, insulated corporate honchos implement ill-considered schemes for energy extraction, risking other people's lives for short-term profits and long-term damage.
Nine actors (who seem like many, many more)—Caren Blackmore, Tim Decker, Craig Spidle, Justin James Farley, David Prete, Chris Rickett, Christopher Sheard, Kelli Simpkins and Justine Turner–spill their souls as they bring to life the deaths of 11 oil-industry workers on this Macondo rig from hell. We learn how BP bigwigs were present that day, demanding unnecessary actions to amuse them as they slummed at being blue collar roughnecks. (Their ultimate symbol is fatuous CEO Tony Hayward, an upper class twit with few human characteristics.) Grabbing lifeboats (suggesting another more than metaphorical disaster), these nabobs escape the "failure of imagination" that becomes a devastating detonation, setting fire to the rig and incinerating unlucky and expendable young men manning their posts. Video projections and sound effects join forces to put us center stage in the chaos of a "negative test" that truly lived up to its threat.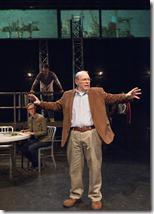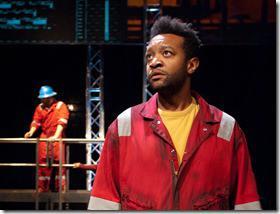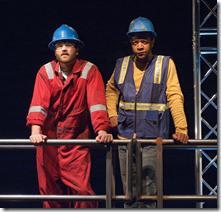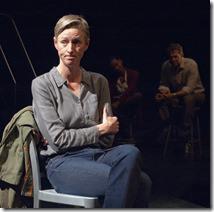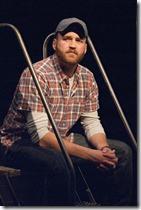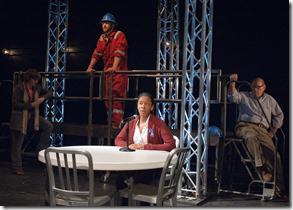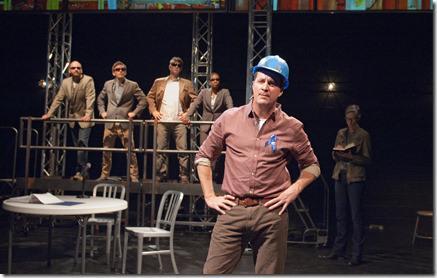 Even after this natural comeuppance, too many in the business opposed President Obama's sensible moratorium on business as usual at 13 more exploration sites. ("Drill, baby, drill!") Of course, it was this pressure to produce that created its own equal and opposite nemesis: The seabed threw up its dinosaur remains–and untold wildlife and businesses perished, losses for which BP's forced reparations can never atone.
The interviewees' rapid-fire truth-telling regularly founders on their own un-innocent astonishment at what happened, a physical emergency perversely reflecting the economic injustice behind the business. Paid $300 a day, a technician toiling at reclaiming the Gulf chokes on his own disgust at the pointless ruination of natural resources for generations to come. The play's two old-school, non-negotiable lessons remain: The love of money is the root of all evil–and don't gamble with other people's lives. The all-too-American penchant for spilling blood for oil applies to our coast as much as to Iraq or Kuwait.
Again, TimeLine Theatre brings history to art and life, here proving that the biggest climate change must happen in our hearts.
Rating: ★★★★
Spill continues through December 19th at Stage 773, 1225 W. Belmont (map), with performances Wednesdays and Thursdays 7:30pm, Fridays 8pm, Saturdays 4pm and 8pm, Sundays 2pm.  Tickets are $38-$51, and are available by phone (773-327-5252) or online through Vendini.com (check for half-price tickets at Goldstar.com). More information at TimeLineTheatre.com.  (Running time: 2 hours 30 minutes, includes an intermission)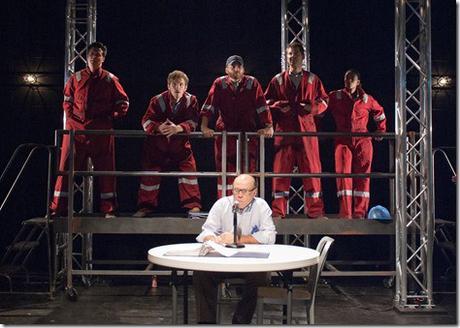 Photos by Lara Goetsch
---
artists
cast
Caren Blackmore, Tim Decker, Craig Spidle, Justin James Farley, David Prete, Chris Rickett, Christopher Sheard, Kelli Simpkins, Justine Turner
understudies
Callie Johnson, Matthew Collins, Krystel V. McNeil, Justin Wade Wilson, Daniel Houle
behind the scenes
Leigh Fondakowski (director, playwright), Sarah Lambert (set design), Betsy Adams (lighting design), Rachel Laritz (costumes design), Andre Pluess (sound design), Mike Tutaj (projections design), Vivian Knouse (properties design), Lara Goetsch (marketing, photos), Reeva Wortel (dramaturg), Maren Robinson (production dramaturg), Megan Shuchman (asst. director), Eva Breneman (dialect coach), Ari Clouse (stage manager), Luci Kersting (productions assistant)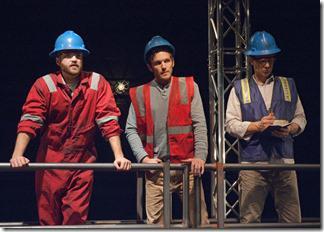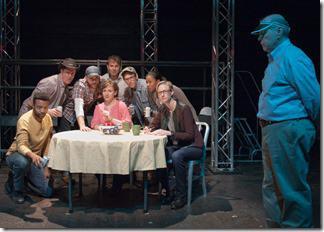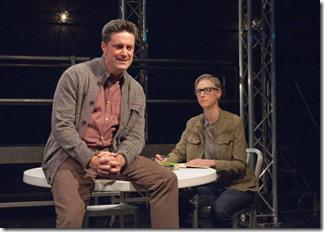 15-1060