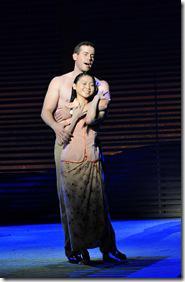 South Pacific 
By Richard Rodgers, Oscar Hammerstein II
Co-Authored by Joshua Logan
Directed by Sarna Lapine
Cadillac Palace Thtr, 151 W. Randolph (map)
thru Feb 26  |  tickets: $18-$85   |  more info
  
Check for half-price tickets 
  
  
   Read entire review
  
---
Though watered down for tour, 'South Pacific' still has staying power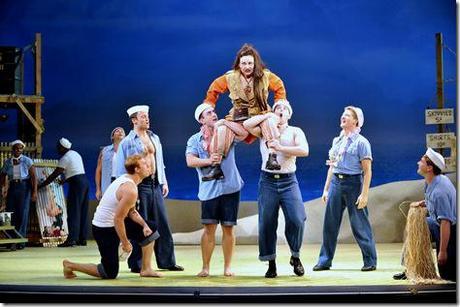 Broadway in Chicago presents
Rodgers and Hammerstein's South Pacific
Review by Catey Sullivan 
There's still some power left in the touring production of South Pacific, but the great Rodgers and Hammerstein musical has been substantially watered down since it closed its magnificent Lincoln Center staging and went out on the road. This is the second tour to come through since that seminal New York outing, and unlike the first tour, there's not a member of Actors Equity to be found in the entire 50+ person ensemble.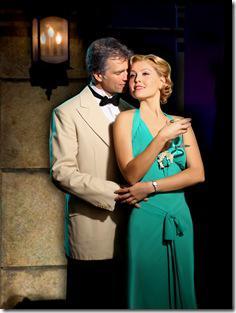 That's not to say non-Union actors are subpar; that's a generalization you'll never hear rme make. But if you compare the
South Pacific
in its Tony-winning incarnation at Lincoln Center and the
South Pacific
"based on the Lincoln Center Theater Production" playing the Cadillac, the contrast in quality would, in fact, be glaring.
At the Cadillac Palace Theatre, South Pacific sports a pair of romantic leads whose romance never quite sparks. Nellie Forbush (Jennie Sophia) has a serviceable voice that 's perkily appropriate in "I'm Gonna Wash That Man Right Outta My Hair", and she's she's every inch the doe-eyed, smitten-kitten ingénue waxing sopranically on "Some Enchanted Evening". She sounds good and looks good, but together with her older (in his 40s!) French planter she's allegedly fallen in love with , the chemistry and all-important sense of self-discovery isn't there. As the planter Emile DeBeque (Marcelo Guzzo), he's got some to-die for pipes, a lush, operatic baritone that could make stones swoon. It's when he's not singing that he's not so effective. If South Pacific were a wholly sung-through opera, Guzzo would be in his element. As it is, he's got the wherewithal to support his character only when he is singing.
There's another, more problematic casting choice I found myself fretting over during South Pacific. The crisis of the story – and I feel this isn't a spoiler alert since the show's been around for almost 60 years – comes when Nellie says she can't be with Emile because of the "colored" children he had with his former wife. It's flat-spoken racism, and an inescapable sign of the times: Most branches of the armed forces were strictly segregated throughout World War II. The Navy was the Vanguard exception to this, with white men and black men actually going down in U-boats together.
South Pacific's mixed ensemble of Seabees act like they've never even heard of the concept of segregation, much less lived through it. In this corps, black and white men alike sing and dance and backslap and joke and generally treat each other like brothers. All that color-blind bonhomie seems more than a little unlikely in real life. It also serves to weaken the central crisis of the story – it takes racism out of society at large and makes it solely the mindset of Nellie Forbush. Lieutenant Joe Cable (Shane Donovan, vocally struggling opening night), at least realizes that racism isn't something you're born with, but rather something you're "carefully taught." It's surely one of the bitterest, angriest songs in musical theater, and it is the one scene where Cable really seems invested in his complicated role.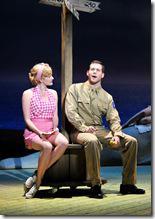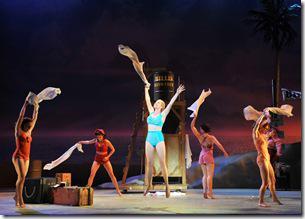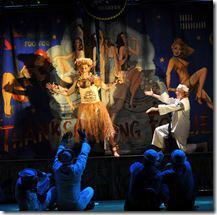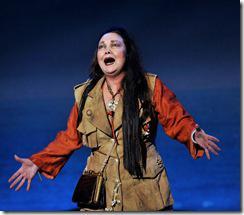 The final element of South Pacific that doesn't hit nearly as hard as it should comes as the Seabees, the nurses and the officers start lining up to leave the island. It's the first time the audience sees them battle-ready, bayonets fixed, ammo slung across their chests, faces hard and expressionless. South Pacific might be a romantic comedy, but Bartlett Sher's original direction slammed home the stakes of war in a scene to make the hair on the back of your neck stand up. That direction is recreated here by Sarna Lapine, who doesn't quite have enough bodies to work with. The result is a somber, orderly march, not an epic one.
All that said, there are plenty of joys within South Pacific. Rodgers and Hammerstein's score just doesn't quit –the Seabees are crude, comic and cross-eyed in frustration during the raucous "There is Nothin' Like a Dame." When Bloody Mary (Cathy Foy Mahi) sings of the mystical "Bali Hai", the very air around her seems to shimmer with otherworldly possibility. And there's just no stopping Guzzo's velvet and chocolate rendition of "Some Enchanted Evening" – it is music so sweet and sincere, you just want to wrap it around you like a flannel blannket.
And finally, Rodgers and Hammerstein's understated final scene tells us everything we need to know about what might be the future of racism: A poli-lingual family, each member a different color, sharing a meal; with quiet joy , love and respect,
Rating: ★★½
Rodgers and Hammerstein's South Pacific continues through February 26th at the Cadillac Palace Theatre, 151 W. Randolph (map), with performances Tuesdays-Fridays at 7:30pm, Saturdays at 2pm and 8pm, and Sundays at 2pm.  Tickets are $18-$85, and are available by phone (800-775-2000) or online here (check for half-price tickets at Goldstar.com). More information at BrowadwayinChicago.com.  (Running time: 2 hours and 55 minutes, with one intermission)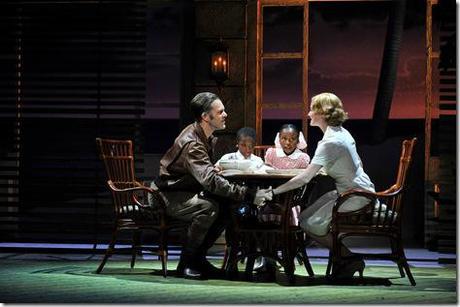 ---