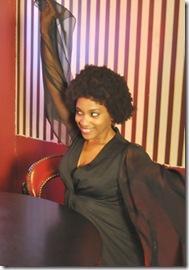 Soul Sisters  
By Joanne Koch and Sarah Blacher Cohen
Directed by Joyce Becker Lee
at Clockwise Theatre, Waukegan (map)
thru Nov 11  |  tickets: $18   |  more info 
  
  
  
   Read entire review
  
---
Musical weaves Jewish and black experience with song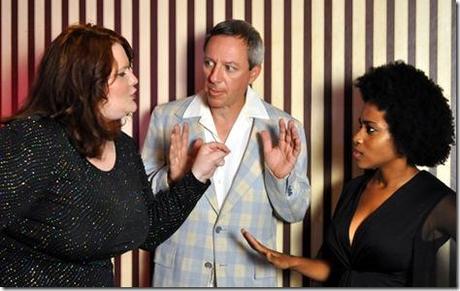 Clockwise Theatre presents
Soul Sisters
Review by Leah Zeldes 
The relationship between America's Jewish community and its African-American community has had its ups and downs. During the civil rights era of the 1960s, the two groups worked hand in hand. The Jews, mindful of still-extant anti-Semitism and their history of thousands of years of oppression, with ancient memories of slavery in Egypt and more recent ones of "No Jews allowed" signs across the U.S. and the genocidal horrors of World War II, were eager to aid another downtrodden group. In return, African-American leaders such as Dr. Martin Luther King Jr. spoke out against anti-Semitism and in support of the newly founded nation of Israel.
As time went on, though, Jews became increasingly upwardly mobile and less discriminated against, and with the rise of the Black Power movement, some African Americans came to think of Jewish interest in their cause as patronizing and a curb to black self-determinism, at best, and began to class Jews not as fellow underdogs but to reject them as just another group of whites. By the 1980s, helped along by what many Jews perceived as anti-Semitic utterances by Stokely Carmichael, Jesse Jackson, Louis Farrakhan and others, relations between the two ethnic groups were tense.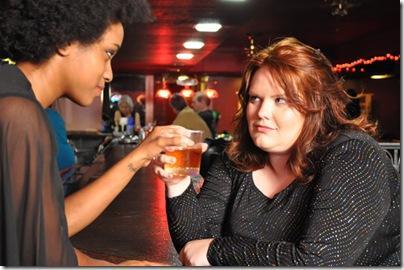 Soul Sisters, a musical by Joanne Koch, director of the graduate writing program at National Louis University in Evanston, and the late Sarah Blacher Cohen, now in production at Waukegan's Clockwise Theatre, personalizes this history by following the intersecting lives of two singers, one Jewish, one black, from 1967 to 1982. Punctuated by two dozen songs ranging from "Miss Otis Regrets" to "Wimoweh" (whose origins the script misattributes — the first American recording was by The Weavers; the name is the result of Pete Seeger's botched transliteration from the original Zulu) to "Oseh Shalom," the play is nevertheless more than a jukebox musical. Just a trifle over-earnestly, the play interweaves issues of paternalism, ingratitude, ethnic conflict, cultural identity and appropriation, with its music.
Jewish-born but irreligious Sandra Langley, a Teena Marie-like blue-eyed soul singer, specializes in the music of Billie Holiday and other black entertainers. Distancing herself from her own roots, she immerses herself in African-American music, culture and the civil rights movement. When she meets African-American Cleo Williams, then a waitress and single mother, Sandra takes Cleo under her wing and hires her as her personal assistant. Cleo turns out to have a great voice, and Sandra suggests she sing backup for her. But Sandra's manager, Stanley Klein, thinks Cleo can perform on her own.
Cassandra Ellwing plays Sandra a little stiffly at times, never quite comfortable with the ethnicity of her role, either as a soulful vocalist or the Jewish partisan her character comes to be. She's stronger in the second act, after Sandra embraces her heritage. Ellwing and Steve Zeal, who plays Stanley, do a moving performance of "Zog Nit Keyn Mol" ("The Song of the Partisans" written by Hirsh Glik in the Vilna Ghetto in 1943, which became an anthem of Jewish resistance), and she solos a very fine rendition of the English-language version: "We are Here!"
So never say that there is only death for you.
Leaden skies may be concealing days of blue —
Yet the hour we have hungered for is near;
Beneath our tread the earth shall tremble: We are here!
Ellwing's uneven singing performance is not entirely her fault. Some unfortunate acoustical or miking problem mutes the sound when the actors are upstage, and in some numbers she's particularly hard to hear. Joyce Becker Lee clearly doesn't believe in letting her cast just stand on the stage and sing; they're constantly in motion, making the sound problem quite noticeable.
Newcomer Marjie Southerland, who plays Cleo, is definitely a performer to watch. Although she doesn't entirely manage to overcome the sound problem, either, Southerland has a beautiful voice and puts in a delightful performance, including an exceptional rendition of the Holiday signature "Strange Fruit." Kudos, too, to Music Director Kevin Meeks, who plays keyboards, serving as the onstage accompanist to the singers.
Given the fairly plain set, there's entirely too much messing about with tables, especially since there are only slight differences between the two tables the cast keeps swapping back and forth. Having decided not to create a realistic set, they could have left it with one table left in place for most of the action.
Despite some flaws, Clockwise's Soul Sisters is a thought-provoking performance, well worth seeing.
Rating: ★★½
Soul Sisters continues through November 11th at Clockwise Theatre, 221 N. Genesee, Waukegan (map), with performances at 8 p.m. Fridays and Saturdays and 3 p.m. Sundays.  Tickets are $18, and are available by phone (800-838-3006) or online through BrownPaperTickets.com. More information at ClockwiseTheatre.org.  (Running time: 2 hours, includes an intermission)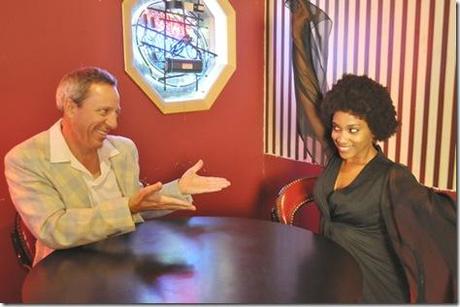 Photos by Amariah Henderson
---
artists
cast
Cassandra Ellwing, Marjie Southerland, Steve Zeal, Kevin Meeks
behind the scenes
Joyce Becker Lee (director); Jacob Bray (production manager); Kevin Meeks (music director, keyboards); G. Max Maxin IV (set design); David Miller (lighting); Eric Franzen (costumes); R. Mason Absher (sound design); Madelyn Sergel (props design); Amariah Henderson (stage manager, photos)
12-1063