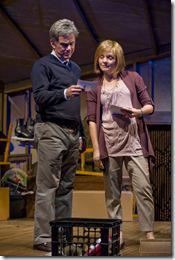 Snapshots
Music and Lyrics by Stephen Schwartz
Conceived by Michael Scheman, David Stern
Directed by Ken Sawyer
Northshore Center Performing Arts, Skokie (map)
thru Oct 23  |  tickets: $25-$65   |  more info
Check for half-price tickets
  
  
   Read entire review
---
As sweet and nostalgic as an old family scrapbook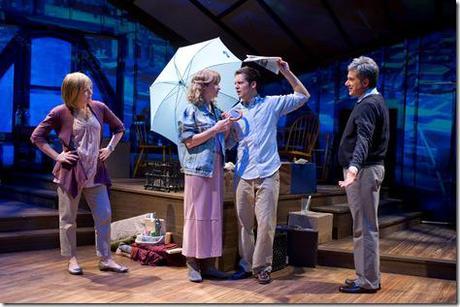 Northlight Theatre presents
Snapshots
Review by Lawrence Bommer  
Like Tom Jones' retrospective musicals I Do! I Do and The Fantasticks, this "musical scrapbook" comprising repurposed songs by Stephen Schwartz from Godspell, Wicked, Pippin, The Magic Show, Rags, Children of Eden, Personals, The Reluctant Pilgrim and The Bakers Wife reflects back a lifetime of love with rueful to redemptive results.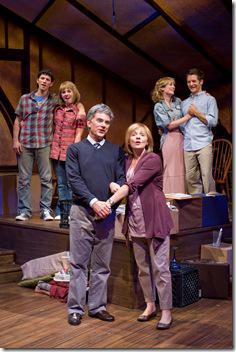 Like Dickens' Christmas classic, the older selves of Sue and Dan, childhood sweethearts now married for 20 years but facing separation, look back on their younger selves and see what went wrong, right or didn't go at all. (The whole show resembles a theme and variations on "Ah, Yes, I Remember It Well" from
Gigi
.)
A Chicago premiere from Northlight Theatre, Ken Sawyer's superb staging is perfectly paired and packaged—players and roles, singers and score, set and photo-album projections, songs and situations, and orchestra and ensemble. Jack Magaw's sprawling attic is the perfect repository for mementos that will trigger recollections and songs from the grown-up Sue and Dan (flawless Susie McMonagle and all-purpose Gene Weygandt). Strolling down that very crowded Memory Lane, they sort through the stuff of their lives and second-guess their decision to move to New York, to have a kid in order to get married, and finally to end it all (divorce, not suicide).
Helping this money manager and his frustrated artist of a wife relive the turning points that transformed interest into infatuation into distraction into more interest into friendship into affection into love, and then into indifference again, are their youngest selves Danny (handsome tenor Nick Cosgrove) and spunky Susie (Megan Long). As past and present interweave, they're followed by their middle selves Susan (Jess Godwin) and Daniel (Tony Clarno). (The couple's four younger selves also double as rivals, roommates, dates from hell, one night stands–until finally Cosgrove plays their kid Matt who justifies it all.)
Free association and memory mongering speed the two dozen songs along, with the ensemble especially strong in "In Whatever Time We Have," "Morning Glow," "Extraordinary," and "Corner of the Sky." Weygandt has fun with the vaudevillian romp "It's All for the Best" and force with "Fathers and Sons" (which he recently performed in "Working"), while McMonagle recalls her dream of being the "Lion Tamer" of life and caresses the haunting "Meadowlark." Cosgrove brings youthful energy to "New Kid in the Neighborhood," Clarno does justice to "All Good Gifts," and everybody tears into the promiscuous anthem "Nothing To Do with Love."
Though occasionally generic in these depictions of jealousy and heartbreak, the two hours and twenty minutes resonate with shocks of recognition that an older audience will savor even more than a younger one (while also remembering the musicals that Schwartz loots from his oeuvre).
But, taken out of the context of their sources, not all the songs carry their original weight and the new lyrics add nothing that the old ones lacked. But then Snapshots is modestly called a "scrapbook" and that's what it is—as familiar, foreign and fascinating as any family album. If you could sing your way through life, this would be the musical.
Rating: ★★★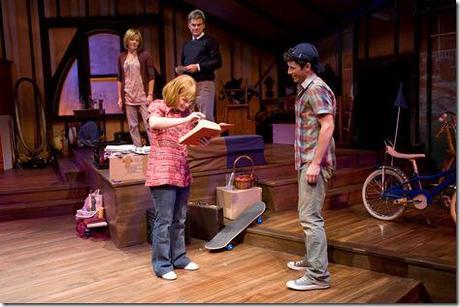 Northlight Theatre's Snapshots continues through October 23rd at the Northshore Center for Performing Arts, 9501 Skokie Blvd, Skokie (map), with performances Tuesdays and Thursdays at 7:30pm, Wednesdays at 1pm and 7:30pm, Fridays at 8pm, Saturdays at 2:30pm and 8:00pm, and Sundays at 2:30pm and 7:00pm  Tickets are $25-$65, and can be purchased by phone (847-673-6300) or online at Northlight.org. (Running time: 2 hours and 20 minutes, which includes an intermission.)
All photos by Michael Brosilow 
---
artists
cast
Tony Clarno, Nick Cosgrove, Jess Godwin, Megan Long, Susie McMonagle, Gene Weygandt  (Understudies: Eli Branson, Bil Ingraham, Nikki Klix, Scott Allen Luke, Darci Nalepa, Monica Szaflik)
behind the scenes
Ken Sawyer (director); Jack Magaw (set); Elizabeth Flauto (costumes); Jesse Klug (lighting); Mike Tutaj (projections); Lindsay Jones (sound); Karl Christian (musical staging); Steve Orich (musical direction, supervisor, arranger); Kristin Leahey (dramaturg); Rita Vreeland (stage manager); Michael Brosilow (photos)
writing team
Stephen Schwartz (music and lyrics); David Stern (book), with additional music and lyrics by David Crane, Seth Friedman, Marta Kaufman, Alan Menken and Charles Strouse