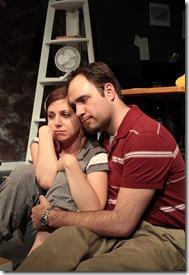 Smudge
Written by Rachel Axler
Directed by Allison Shoemaker
Athenaeum Theatre, 2936 N. Southport (map)
thru June 23  |  tickets: $15-$25   |  more info
  
Check for half-price tickets 
  
  
   Read entire review
  
---
How absolute and unconditional is parental love?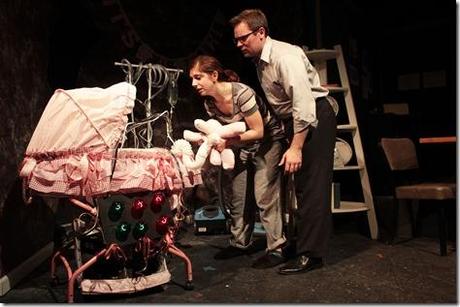 Ka-Tet Theatre Company presents
Smudge
Review by Lawrence Bommer
How absolute and unconditional is parental love? What if the child—or "smudge,"
as it's labeled as the title of Rachel Axler's disturbing one-act—is born without limbs, with just one big (but beautiful) blue eye, and dependent on beeping IVs and catheters but able to play with lights and respond to "Mr. Limbs," a toy radiating stuffed tentacles? This sure isn't "Bringing Up Baby" (though that film was about a very different creature too). It's a lot closer to Queen Victoria, the matriarch to an empire, who could not abide seeing her nine children when they were babies, calling them disturbingly "frog-like."
That's the quandary in this painfully perplexing 90-minute offering from Ka-Tet Theatre Company, persuasively staged by Allison Shoemaker. Suffering a kind of permanent post-partum depression, the creature's cheesecake-loving mother Colby (anguished Stevie Chaddock Lambert) refuses to bond with her feature-free baby (hesitantly named "Cassandra" though it had a forlorn penis). Meanwhile the father Nick (Scott Allen Luke) sublimates his disillusionment in the numbers-crunching he does as a quantitative analyst for the Census Bureau. The third party here, Nick's bossy brother and obnoxious boss Pete (Andrew Marchetti), begins to see the humanity in this "freak" spawn who Nick had tried to hide from him, his mother and the world. As do they all by play's inconclusive end.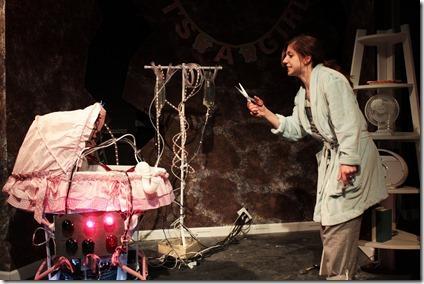 Baby is clearly in the eye of the beholder, this puzzle play implies. As it details the characteristic reactions of this family to this unexpected "anti-Darwinian" arrival, it asks: Is our love for a child relative to its resemblance to us? If so, how selfless and splendid is this kind of programmed attachment, like the imprinting in a duckling? Or is it true that "beauty is as beauty does"? Certainly, gradually all three adults learn to find something characteristically redeeming in this irresistible Cassandra with her light show. She's no clone spun off from any recognizable gene pool but she's alive–and isn't that claim enough?
Lambert, Luke and Marchetti, as, respectively, a passive mother, tested dad, and control-freak uncle, pounce on the widely scattered truths behind this ultimately unedifying one-act. (The maddening beeping from Cassandra's support systems certainly won't help you love Smudge.) The play itself is a bit of a smudge, better at questions than answers. What you get from it will have as much to do with you as anything on this Athenaeum Studio stage.
Rating: ★★
Smudge continues through June 23rd at Athenaeum Theatre, 2936 N. Southport (map), with performances Thursdays-Saturdays at 7:30pm, Sundays 2:30pm.  Tickets are $15-$25, and are available by phone (773-935-6875) or online through AthenaeumTheatre.org (check for half-price tickets at Goldstar.com). More information at KaTetTheatre.org.  (Running time: 90 minutes, no intermission)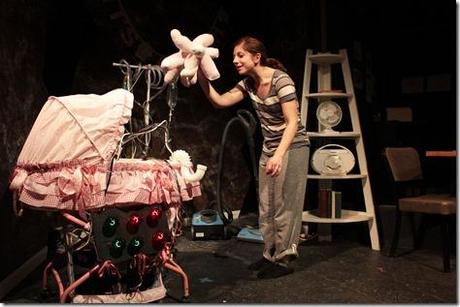 Photos by Andrew Cioffi
---
artists
cast
Stevie Chaddock Lambert* (Colby), Scott Allen Luke* (Nick), Andrew Marchetti (Pete)
behind the scenes
Allison Shoemaker (director), Chad Bianchi (scenic designer), Lauren Summers (costume designer), Karen M. Thompson* (lighting designer), Robert P. Lloyd (sound designer), Stephanie Dever (puppet designer), Caitlin Boylan* (production manager), Tim McCalister (stage manager), Dan Meisner*, Suzanne Miller* (co-producers), Andrew Cioffi (photos)
* denotes Ka-Tet Theatre company members 
13-0543