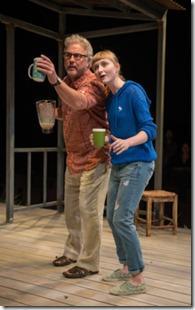 Slowgirl
Written by Greg Pierce  
Directed by Randall Arney
Steppenwolf Theatre, 1650 N. Halsted (map)
thru Aug 25  |  tickets: $20-$78   |  more info
  
Check for half-price tickets 
  
  
   Read entire review
  
---
Stellar performances raise stark play from slow simmer to full boil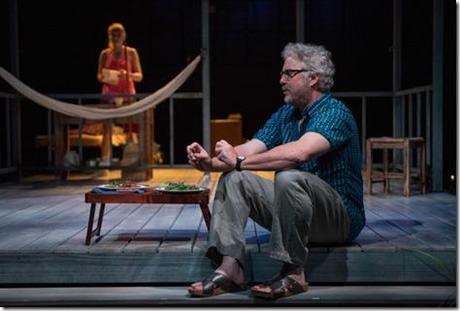 Steppenwolf Theatre presents
Slowgirl
Review by Catey Sullivan 
There's no question but that Slowgirl is exceedingly well acted. Playwright Greg Pierce's 90-minute psycho-drama is getting a fine production at the Steppenwolf' Upstairs Theatre, with Rae Gray and William Petersen ably digging deep into a story of two people running from – and ultimately facing – their guilt-induced fears. But despite stellar performances, Slowgirl is a slight play as well as a predictable one. The enjoyment comes not from surprise at where the characters end their emotional journeys but in watching the skill with which Petersen and Gray navigate those journeys.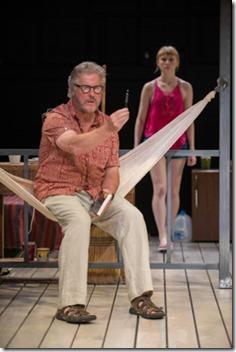 In Pierce's two-hander, Becky (Gray) is a popular, outgoing teen who has been sent from her Boston-area home down to her Uncle Sterling's (Petersen) isolated Costa Rican abode. She's seeking temporary refuge in the wake of a party prank gone horribly awry, holing up for a week in the jungle before returning home where she could be facing manslaughter charges and prison time. In the taciturn Sterling, Becky finds an unlikely kindred spirit: Sterling has been hiding out for years, turning his back on a past that may or may not include some dubiously ethical business dealings. Each seeking to escape potentially devastating consequences of bad decisions, Becky and Sterling create a secluded, symbiotic world where the biggest threat comes from the skittering iguanas on the hacienda's tin roof and the possibility of encountering a venomous snake trailside.
The dramatic tension of Slowgirl revolves around question of whether either or both of them will find the courage to square up to the troubles they must contend with in the world beyond the jungle. Through Pierce's almost minimalist, at times deceptively casual dialogue, the fear and shame that initially defines Sterling and Becky slowly, gently gives way to the courage to tentatively step out of the protective security of their remote safety zone.
Directed by Steppenwolf Ensemble Member Randall Arney, Slowgirl gradually reveals fear ceding toward healing as Sterling and Becky bond over the course of an outwardly uneventful week. The piece isn't flashy – it simmers rather than explodes as Sterling and Becky tentatively move toward a reckoning that will allow them to actively forge ahead with their lives rather than passively hiding from them.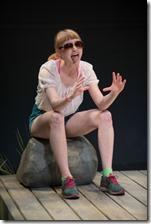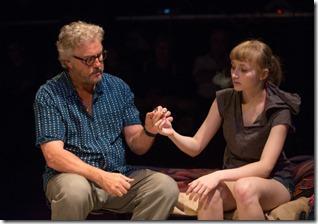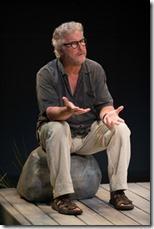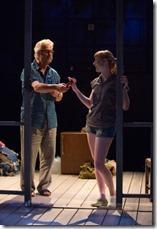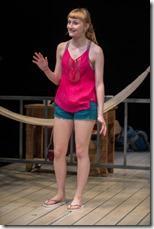 On the surface, Becky and Sterling couldn't be more different. She's outgoing to a fault; a brash, seemingly confident teen utterly lacking in the sort of psychological filter that keeps conversations polite and appropriate. Sterling is a man of few words; his rock-solid support of his niece becomes apparent in terse monosyllables that take on layers of nuance and meaning in Petersen's masterful performance.
The confessional endpoint of their week together is hardly a revelation: It's clear from the start that Becky's protestations of innocence involving an incident that left a classmate comatose are the hollowest rationalizations. It's not a matter of if but when she'll become honest with herself (and Sterling) about what actually happened.
Still, there's great satisfaction in watching these actors at work. Petersen can convey volumes with little more than the subtle arch of an eyebrow of tilt of the head. Gray, a veteran of Chicago stages at 21, provides an able scene partner. Together, they weight this slip of a play heft and depth.
Rating: ★★★
Slowgirl continues through August 25th at Steppenwolf Upstairs Theatre, 1650 N. Halsted (map), with performances Wednesdays-Fridays at 7:30pm, Saturdays 3pm and 7:30pm, Sundays 3pm.  Tickets are $20-$78, and are available by phone (312-335-1650) or online through the show's webpage (check for half-price tickets at Goldstar.com). More information at Steppenwolf.org.  (Running time: 1 hour 30 minutes, NO intermission)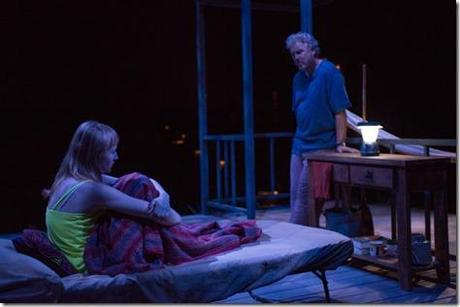 Photos by Michael Brosilow 
---
artists
cast
Rae Gray (Becky), William Petersen (Sterling)
behind the scenes
Randall Arney (director), Takeshi Kata (set design), Janice Pytel (costume design), Daniel Ionazzi (lighting design), Richard Woodbury (sound design), Laura D. Glenn (stage manager), Michael Brosilow (photos)
13-0724