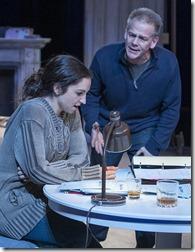 Skylight 
Written by David Hare
Directed by William Brown
at Court Theatre, 5535 S. Ellis (map)
thru Feb 10  |  tickets: $45-$65   |  more info
  
Check for half-price tickets 
  
  
   Read entire review
  
---
Capable actors do their best with small window of actual drama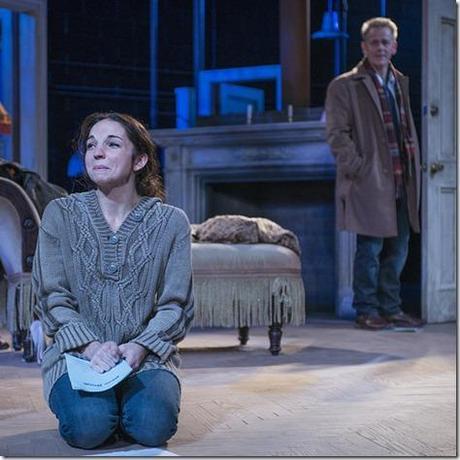 Court Theatre presents
Skylight
Review by Catey Sullivan
The characters in Skylight don't talk so much as they speechify. And if you were to graph the speeches in David Hare's more than two-and-a-half-hours-that-feel-like-six saga of ex-lovers emoting at each other, you'd have a predictable pattern: Every 20 minutes or so, the diatribes reach a schmactorly fever pitch replete with enough angst to power a year's worth of undergraduate Acting 101 audition monologues. The intervals are as reliable as an egg timer.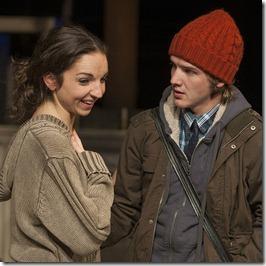 But a predictable rhythm isn't the downfall of
Skylight
. There are two insurmountable problems with the seemingly interminable piece, directed for Court Theatre by the usually reliable
William Brown
. First of all, nobody talks like Kyra (
Laura Rook
) and her former paramour Tom (
Philip Earl Johnson
). Or at least, nobody talks like this unless they have scripted out what they will say in the heat of the moment long before that moment arrives. Or if they are stuck in a play wherein the playwright is attempting to make a personal discussion with global political implications. The latter is the case with
Skylight
, wherein supposedly spontaneous dialog seems about as off-the-cuff as a State of the Union address.
The second difficulty with Skylight lies in Hare's inability to give the audience any reason to care about the relationship between Tom and Kyra. We learn their history in labored exposition: He's a successful restaurateur, she was a waitress in one of his eateries. They haven't seen each other in years when – preposterously – she's visited out of the blue on the same night by both Tom and his son Edward (Matt Farabee).
It's a stretch to even entertain the belief that both Tom and Edward independently decide to pop in on Kyra after years of non-communication. That remarkable coincidence aside, there's the issue of dramatic tension. Or the utter death thereof. The question at the heart of Skylight isn't if Tom and Kyra will get back together but why the audience should be remotely interested whether they do or not. The reason it's so very difficult to care lies in the text. Kyra and Tom don't talk, they orate. And they've got plenty to say to each other. She's an idealistic, inner city school teacher living in a dangerous neighborhood who believes his wealth has left him out-of-touch with the way the world works with an unearned sense Of entitlement. He's a wealthy man running a chain of restaurants (think Lettuce Entertain You) who thinks she's using her spare, impoverished lifestyle to assuage the guilt she must surely feel for abandoning him. Their opinions on money, personal responsibility and social justice issues become a series of talking points shoehorned around accusations concerning who was at fault for the demise of the relationship.
Rook and Johnson are both capable actors who share a considerable degree of chemistry. And as young Edward, Farabee has the requisite youthful earnestness.
But in the end, Hare's play feels like a carefully scripted rhetoric competition. The performances may be well wrought, but Skylight has a very small window of actual drama.
Rating: ★★
Skylight continues through February 10th at Court Theatre, 5535 S. Ellis (map), with performances Wednesdays and Thursdays at 7:30pm, Fridays at 8pm, Saturdays at 3pm and 8pm, Sundays 2:30pm and 7:30pm.  Tickets are $45-$65, and are available by phone (773-753-4472) or online through their website (check for half-price tickets at Goldstar.com). More information at CourtTheatre.org.  (Running time: play length, includes an intermission)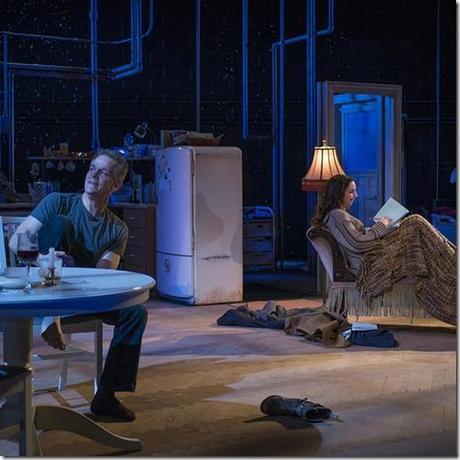 Photos by Michael Brosilow 
---
artists
cast
Laura Rook (Kyra Hollis), Philip Earl Johnson (Tom Sergeant), Matt Farabee (Edward Sergeant)
behind the scenes
William Brown (director); Todd Rosenthal (set); Rachel Anne Healy (costumes); Jesse Klug (lighting); Andy Hansen (sound design); Maren Robinson (dramaturg); Sara Gammage (stage manager); Amber Johnson (asst. stage manager); Michael Brosilow (photos)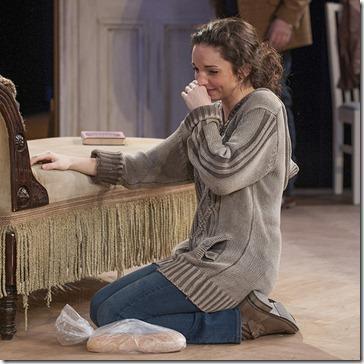 13-0152