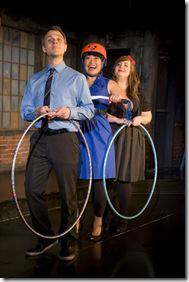 Sky's the Limit
Written/performed by Tim Baltz, Aidy Bryant, Brendan Jennings, Jessica Joy, Michael Lehrer and Mary Sohn
Directed by Matt Hovde
at Second City, 1608 N. Wells  (map) 
Open Run  |   tickets: $22-$27  | more info
Check for half-price tickets
---
Bolts of comedy never striking the same place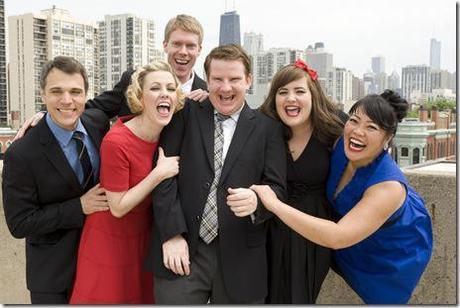 The Second City e.t.c. presents
Sky's the Limit (Weather Permitting)
Review by Jason Rost
What do you really take in from what you see around you? How much information is being told in a split second vignette? This is the loose theme that takes us through The Second City e.t.c.'s new hilarious show, Sky's the Limit (Weather Permitting). At the top of the show you are witness to a series of snapshots that will resurface throughout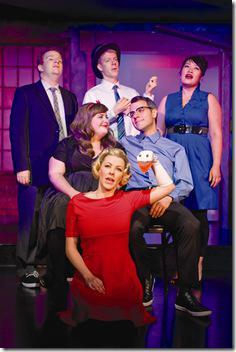 the night. Director
Matt Hovde
's pacing is perfect for an information overloaded Gen Y audience. All the while, these young comedians prove versatile and up to the task of treading the deep and shallow ends of comedy.
The highlight of the night is brilliant for reasons having not so much to do with humor, but truthful acting, in what is essentially a beautiful and heartbreaking short play. Tim Baltz is a hopeless introvert with social anxiety on a blind date. He can't finish a sentence without the help of cue cards to get him through. Even his laughing must be read off an index card and fabricated in odd noises emitting from his mouth. Is this a result of a world of social networking and online dating? Baltz' undeniable desire to connect with another human being is palpable. His embarrassment and disappointment at every failed attempt is excruciating. The one thing he remains, however, is honest in his endeavor, which is ultimately and beautifully rewarded.
Other sketches include: Two gay men so furious that they can't be married that they have sought revenge on all straight men by vowing to seduce their wives, which they threaten will prove easy with special abilities like dressing correctly. The three female actors in the show get angry about threats to Planned Parenthood facilities, taking explicit shots at Michelle Bachman. In a fun whimsical piece, a tornado ravages an office where a lowly office worker gets knocked out and is allowed to live out his dreams. Zombies attacking a normal couple who are only calmed by Michael Jackson's "Thriller" played on an 80's style boom box. Disaster ensues however when this boom box, held up high overhead, begins playing a certain Peter Gabriel song and rekindling an iconic image of Gen X.
Sky's the Limit is perhaps not quite as dangerous, smart or deep as The Second City mainstage production currently running, The South Side of Heaven (our review – ★★★★). However, on any given night it's probably more fun. This young cast may be a hair less polished than the mainstage, but seeing this show is more akin to hanging out with these amazingly talented actor comedians. The third act open improv set only adds to the insight into their personalities and skills.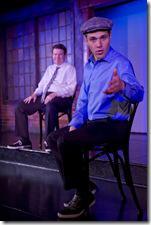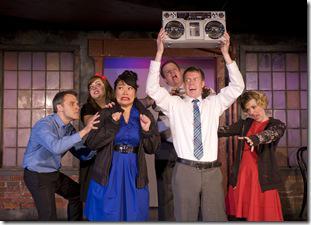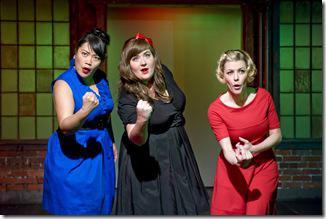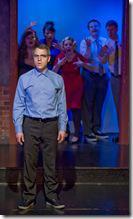 Hovde had done a stellar job at recognizing each individual member of this cast's strong points and highlighting them. He allows one of the sharpest new talents in the show, Jessica Joy, to shine as she sings an atheist ballad with a lovely, yet ironic, tone. She muses on such topics as, "If Jesus doesn't sing on your album, why are you thanking him for your Grammy?" Baltz is allowed free range in many pieces including a hilarious farce about two Chicago cops, which he plays along with Brendan Jennings (whose big break is likely coming any day now). It's a sketch that plays a little like a "Choose Your Own Adventure." The audience gets to pick a location and a racially mixed stereotype of a dastardly criminal. The sketch is still pretty laid out to plan, but the most shocking moment of the evening comes when an audience member takes part in the piece in a very unique way. He or she gets a prop gun and gets to take shots at the criminal, or whomever they decide to shoot. It's like sketch comedy meets arcade shooter game.
The show would be nowhere near as effective without the musical direction of Jesse Case. He's there providing the gun shots, piano underscoring, ukulele playing, pace-defining drum beats, and more. His work is as much of an integral part of the success of this show as anyone.
I'd be eager to see Hovde hold our attention on sketches for a little longer, digging slightly deeper, in the future—but, the fun part is that Sky's the Limit (Weather Permitting) is a bit like Chicago weather: if you don't like one joke, wait ten minutes (or 10 seconds).
Rating: ★★★½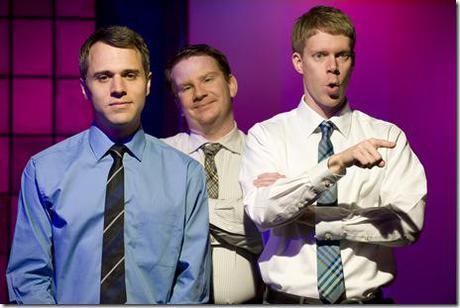 Tickets for Sky's the Limit (Weather Permitting) are available by phone at 312-337-3992 or online at www.secondcity.com. The show schedule and ticket prices are as follows: Tuesday (August 2 – 30) 8PM, Wednesday (July 6 through August 31) 8PM, Thursday 8PM, Friday and Saturday 8PM & 11PM, Sunday 7PM. All tickets are $22, except Friday and Saturday when they are $27.
All photos by Michael Brosilow 
---
artists
cast
Tim Baltz, Brendan Jennings, Mary Sohn, Aidy Bryant, Jessica Joy, Michael Lehrer
behind the scenes