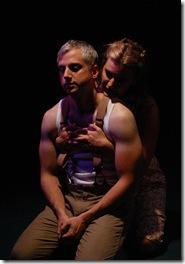 Skin Tight 
Written by Gary Henderson
Directed by Victoria Deiorio
at A Red Orchid Theatre, 1531 N. Wells (map)
thru Sept 25  |  tickets: $15   |  more info
  
Check for half-price tickets 
  
  
   Read entire review
  
---
'Skin Tight' is powerfully provocative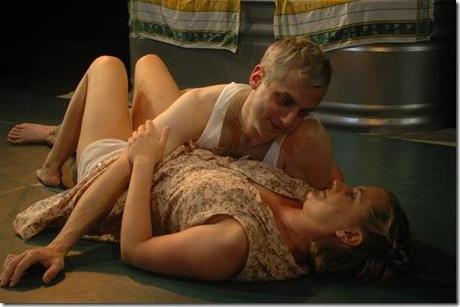 Cor Theatre presents
Skin Tight
Review by Katy Walsh 
I love the Carl and Ellie montage in the movie "UP."  It's their relationship lifespan condensed into a four minute story.  It makes me cry every time I see it.  Life goes so fast.  What is it that we will remember?  What makes the moment unforgettable?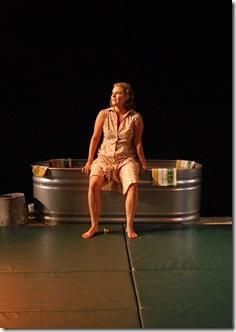 Cor Theatre presents its inaugural production with the Chicago premiere of
Skin Tight
.  This is Tom and Elizabeth's sixty minute montage.  From first time to last time, the couple narrates their love story.  But make no mistake,
Skin Tight
isn't a pretty little romantic cartoon. The flirting, the fighting, the loving, the hating – it's all there in a tightly-packed, highly-personal, emotionally-charged, relationship snippet. 
Skin Tight
is two people melded together inside-out.  
This show captivates from lights up.  Tosha Fowler (Elizabeth) and Tony Bozzuto (Tom)come out fighting…literally! Fight choreographers Scott Cummins and Julia Neary stage a sadomasochistic smack-down.  The stage is covered in mats for a reason. The fighting is frighteningly authentic!  Fowler and Buzzuto have equal ferocity as they kick, bite, punch, claw, wrestle, kiss,…
The domestic violence turns into an aphrodisiac.  Under the direction of Victoria Deiorio, the lines are blurred between love and hate.  The violent sexual action is equally disturbing and fascinating… because it *is* a love story.  Within their passionate frenzies, Fowler and Bozzuto show complete trust.  Their intimacy is shocking and endearing.  Their response is primal and honest.  Sound Designer Lindsay Jones creates an exhilarating soundtrack to set the mood for grappling with the relationship, both physically and verbally.  
Playwright Gary Henderson has written a cliffnotes version of a marriage, extracting moments in the couple's life and introducing them in fragments.  But understanding the actual story becomes secondary to just being immersed in this tumultuous eroticism.  I've never felt more like a voyeur in my life. 
Skin Tight is powerfully provocative.
Rating: ★★★
Skin Tight continues through September 25th at A Red Orchid Theatre, 1531 N. Wells (map), with performances Sundays-Tuesdays at 8pm.  Tickets are $15, and are available by phone (866-811-4111) or online through OvationTix.com (check for half-price tickets at Goldstar.com). More information at CorTheatre.org.  (Running time: 60 minutes, no intermission)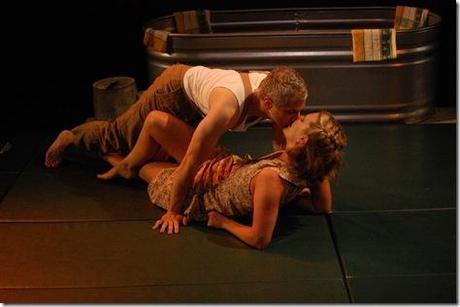 Photos by Victoria Deiorio, Jason Fassl 
---
artists
cast
Tony Bozzuto (Tom); Tosha Fowler (Elizabeth)
behind the scenes
Victoria (toy) Deiorio (director, photos); Scott Cummins, Julia Neary (fight directors); Jason Fassl (lighting, photos); Lindsay Jones (original music, sound design); Samantha Umstead (costumes); Sarah Brew (dramaturg); Liz Fiala (stage manager)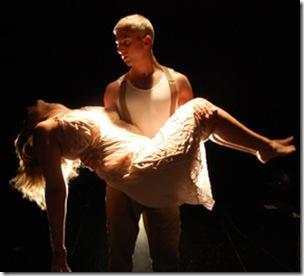 12-0832