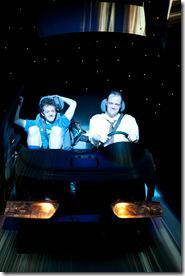 Sixty Miles to Silver Lake 
Written by Dan LeFranc
Directed by Sarah Moeller
Flat Iron Arts Bldg., 1579 N. Milwaukee (map)
thru May 27  |  tickets: $25   |  more info
  
Check for half-price tickets 
  
  
   Read entire review
  
---
A father and son travel from past to present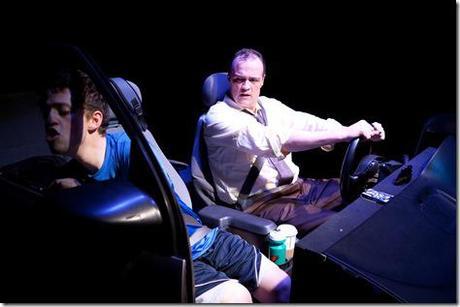 Collaboraction presents
Sixty Miles to Silver Lake
Review by J.H. Palmer
The set of Sixty Miles to Silver Lake takes the audience right into the story – specifically, right into the car that Ky (Sean Bolger) is driving with his son, Denny (Ethan Dubin) to Silver Lake. Before the action begins, old home movies are projected onto a car door and trunk which are suspended from the ceiling, with accompanying outdoor sounds. Ky and Denny step into the car, a vehicle that has been disassembled for easy viewing – there is no roof, windshield, or tires, but the gas and brake pedals are visible from the audience, the front blinker lights are operational, a pair of sunglasses and a pack of gum rest on the dashboard, and a cup of Starbucks sits in the cupholder between Ky and Denny. Ky starts the car and a video of an expanse of road is projected onto the floor of the set, placing the story quite literally in motion.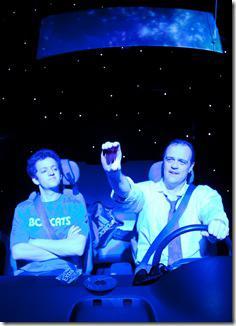 For the first several minutes of the play there is no dialogue, just knowing looks exchanged between father and son as they begin their journey. The first line of dialog is spoken by Denny: "Is there anything fun to do in Silver Lake?" From there we learn, in snippets, that Ky has divorced Denny's mother, and is driving them to Silver Lake, where he has relocated. The dialog is clipped, Ky asks questions of Denny that become a background refrain in the way that conversations between parents and children become rote over time: "How's your mom? She get a job? She seeing anybody?" Ky's language gets progressively filthy and inappropriate over the course of the piece, asking questions like: "She ever tell you about all the blow she did in the 80's?", "You know how a girl gets pregnant?" and unprompted soliloquies on sexuality like: "When I was a kid all we had was magazines, but nowadays there's the Internet, which s a great resource."
It took about half the play for me to realize that Denny is aging as the play goes on, something I figured out when Denny's answer to his father's question about who he is dating changes four times in less than a minute. Denny has his own refrains, that range from "I so wish you weren't my dad," "I play sweeper," "Can't we stop at In & Out Burger," to the more desperate and confusing: "How do we know it's safe?" A question that gets asked at least three times, but it's never quite clear what's being referred to. I kept expecting a car crash, or some other shocking revelation, but nothing ever materializes from that line of conversation.
Dubin evokes the squirmy discomfort of a wise adolescent from the passenger side seat, puts his dirty soccer cleats up on the dashboard in defiance, and in quieter moments draws with his finger in the condensation on his window, which show up as projections on the disembodied car door and trunk that have been suspended from the ceiling. His answer to his father's question "You guys win?" Is perpetually answered with a shrug.
As Ky, Sean Bolger has an air that has touches of James Gandolfini and Tommy Lee Jones, and becomes less and less likeable as the play progresses – his line of questioning devolving from safer, more universal subjects like sports to graphic and specific discussions of sexual acts. It's a line that Ky blurs; one moment he's asking about Denny's soccer game, the next he's instructing his adolescent son on finger fucking techniques.
The journey to Silver Lake is sixty miles, and spans roughly five years over the course of ninety minutes. Denny transforms from a pre-teen to a senior in high school, Ky goes from a spurned husband who has been kicked out of the house for having an affair with a barista to moving in with the woman he had an affair with, and Denny's mother eventually finds professional success of her own. It's a darker piece, and brings the audience uncomfortably close to the reality of what happens to families affected by divorce. The ending left me befuddled, but it certainly was an interesting journey!
Rating: ★★½
Sixty Miles from Silver Lake continues through May 27th at Flat Iron Arts Building, 1579 N. Milwaukee (map), with performances Fridays and Saturdays 8pm, Sundays 7pm.  Tickets are $25, and are available online at secure.force.com (check for half-price tickets at Goldstar.com). More information at Collaboraction.org.  (Running time: 90 minutes, no intermission)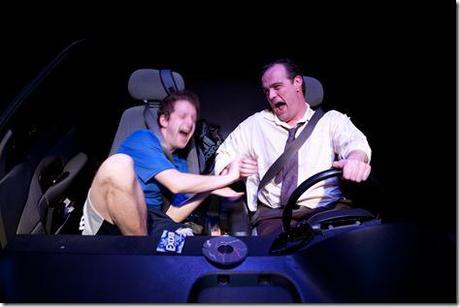 All photos by Saverio Truglia 
---