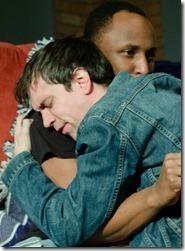 Six Degrees of Separation 
Written by John Guare  
Directed by David Belew
at Athenaeum Theatre, 2936 N. Southport (map)
thru March 17  |  tickets: $22-$27   |  more info
  
Check for half-price tickets 
  
  
   Read entire review
  
---
Intelligent and smart breakout from new company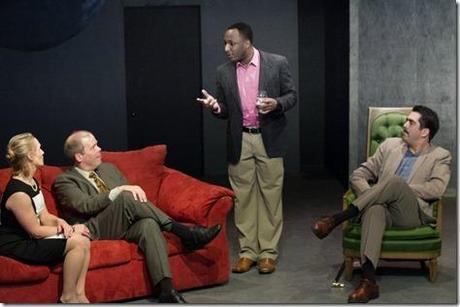 Eclectic Theatre Company presents 
Six Degrees of Separation
Review by Lauren Whalen 
It's so easy to be someone else. In an age where everyone lives behind a screen, one only needs Google and a couple of mouse clicks to invent an entirely new life. But two decades ago, such a con was both easier and more challenging. One could fabricate away with no online trail. However, the faker had to be even more convincing, with only their face and voice as "proof". Eclectic Theatre Company's production of John Guare's masterful Six Degrees of Separation is a sharp, funny and often sad look at con artistry in the pre-Internet era, and the resulting emotional losses, on both sides, when the mask is lifted.
Guare based Six Degrees on the experiences of several friends, who were swindled by a young man claiming to be the son of Sidney Poitier. (Read The New York Times article here.) The fictional Flan (David Elliott) and Ouisa (Julie Partyka) are an affluent New York City couple. One night they are trying to woo old friend Geoffrey (Keith Emroll) into investing in a Cezanne painting (Flan is an art dealer) – when a bleeding young man knocks on their door. Paul (Bear Bellinger) claims to know Flan and Ouisa's children at Harvard and has just been robbed of his wallet and his thesis on "Catcher in the Rye." He's gregarious and effete, whipping up dinner while charming all three adults with tales of his screen legend father, who'll be in town tomorrow to cast the film version of Cats. But is Paul all he seems? If not, how does he know details of Flan and Ouisa's life, and blend in so seamlessly? And what happens when Paul cons the wrong couple, and when Ouisa finds herself more attached to Paul than her own children?
At its core, Guare's script is about secrets and lies, but encompasses issues of race (Paul is black, and is never seen using drugs, but the words "crack addict" are tossed around), class (the victims are wealthy urbanites who think they should know better) and sexuality (early in the play, Paul is caught in bed with a male hustler). It's at once disturbingly funny – witness Flan and Ouisa's opening freakout – and lovingly poignant, as Ouisa realizes how attached she's become to someone who lies and steals for a living. As evidenced by its title (the theory that everyone is connected by six or less individuals), Six Degrees looks at the intimacy of the universe, and the comfort and chaos found within it.
Because it's such a strong script, it's easy to wreck in production. Luckily, director David Belew relies on simple staging – the actors sit in the front row to avoid awkward entrances and exits, allowing Guare's smart, quick dialog to take center stage. Stripped-down production values (especially Pat Iven's set and Julane Sullivan's costumes) recall the early 1990's and emphasize the play's central themes just enough, trusting the audience to connect the dots. In many ways, Six Degrees is ideal for a young company on a budget, but it requires thoughtful execution, which Eclectic provides in spades.
By compiling a robust ensemble, Belew brings to life a group of coddled, confused New Yorkers. Julia Weed and Eric Ryan Swanson are nasty fun as the victims' spoiled offspring, and Carl Lindberg and Greg Foster give touching, vulnerable performances as closeted young men. Elliott gives the blustery Flan a snarky wit. This Six Degrees, however, belongs to Bellinger and Partyka. Bellinger's Paul is conniving and manipulative, but deeply insecure. It's not just money he wants – it's validation. It's likely at times he believes his own stories, and the revelation is heartbreaking. And as Ouisa, Partyka is the soul of the show. She can play the constant game of New York City, but she's tiring of the alienation. She's both thrilled to find a surrogate son, and horrified by what he represents.
Eclectic is new to the Chicago theater scene, which is currently bursting at the seams. I've said before that the best and worst thing about Chicago is that anyone can put up a show. It's enough to make a jaded grouch out of the most enthusiastic critic. I went into Six Degrees – one of my favorite plays, and Eclectic's second production – with a healthy amount of trepidation. Thanks to simple production values, a deep respect for the text and Partyka's tour-de-force performance, I emerged a convert. Welcome, Eclectic. It's nice to have you here.
Rating: ★★★½
Six Degrees of Separation continues through March 17th at the Athenaeum Theatre, 2936 N. Southport (map), with performances Thursday-Saturday at 8pm, Sunday 2pm.  Tickets are $22-$27, and are available by phone (773-935-6875) or online through OvationTix.com (check for half-price tickets at Goldstar.com). This play contains adult language and situations; brief nudity. More information at Eclectic-Theatre.com.  (Running time: 90 minutes, no intermission)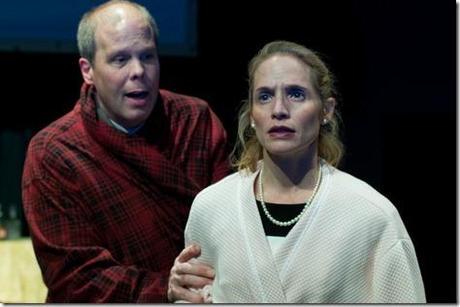 ---
artists
cast
Bear Bellinger (Paul), Braden Coucher (Detective), David Elliot (Flan), Keith Emroll (Geoffrey, Dr. Fine), Jessica Lauren Fisher (Kitty), Greg Foster (Trent), Jeffrey Gitelle (Doorman, Policeman), Royen Kent (Woody), Carl Lindberg (Rick, The Hustler), Julie Partyka (Ouisa), Charles Rasmussen (Larkin), Nelson Rodriguez (Doug), Eric Ryan Swanson (Ben), Julia Weed (Tess), Michelle Annette (Elizabeth)
behind the scenes
David Belew (director), Alyssa Jaksa (stage manager), Pat Iven (set, lighting), Julan Sullivan (costumes), Angela Woods (props wrangler), Jeff Irlbeck (tech director), Bob Boord, Neil Tobin (marketing), Jesslyn McVicker (publicity), Julie Partyka (Programs)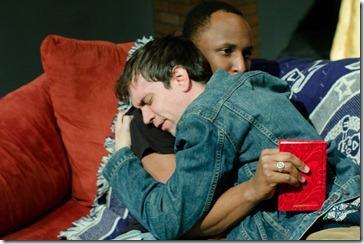 13-0256