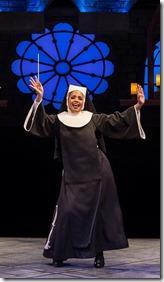 It would be a sin to miss this!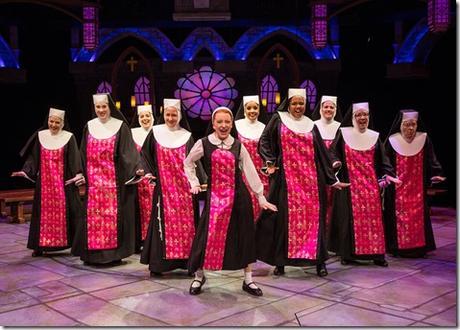 Sister Act will never be lauded as particularly profound, or even intelligent. It's a goofy tale involving nuns crushing it Vegas-style in sequined habits and gangsters whose cold-blooded executions play as slapstick comedy. There's a Monsignor who sounds like a Wrestlemania announcer, and a flashypants, gum-cracking starlet wannabe who worships at the altar of fame. The characters are as broad as the seating section of a mega-church and about as deep as a discount Baptismal font. Moreover, there's never any doubt that everything will turn out hunky dory for everyone but those villainous gangsters.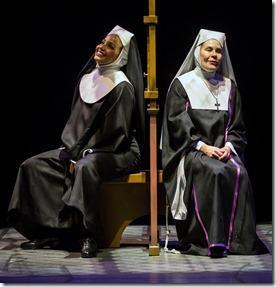 Directed by
Don Stephenson
for
Marriott Lincolnshire
,
Sister Act
is also a major hoot. You'll be grinning like an idiot before the superfox aspiring star Deloris Van Cartier (
Stephanie Umoh
) gets to the bridge of her opening showstopper, "Take Me to Heaven." Would that Mass were this engaging, the Catholic Church wouldn't be losing legions of congregants with every passing generation.
Created by Alan Menken(music), Glenn Slater (lyrics) and book writers Douglas Carter Beane and Cheri and Bill Steinkellner (based on the Joseph Howard movie), the plot is equal parts ridiculous and hilarious. Set during the funky fab late 1970s, the story begins on blast, with brick house babe Deloris performing at a nightclub run by her no-good married gangster boyfriend Curtis (Byron Glenn Willis). Complications ensue when she accidentally witnesses Curtis breaking the sixth commandment (the one about murder).
After scampering to the cops, Deloris finds herself in the care of Officer Eddie Souther (Jonathan Butler-Duplessis) aka "Sweaty Eddie" - a name he earned in high school on account of how he started sweating profusely every time Deloris strutted by. Sweaty Eddie doesn't have the nerve to carry a gun, so his powers of protection are suspect at best. But he puts Deloris into hiding in a convent, much to the dismay of the Mother Superior (Hollis Resnik). The convent is on the verge of being shuttered, the nun's choir seems beyond redemption, and attendance at Mass is abysmal. Can Deloris bring the choir up to showstopper standards, fill the pews and save the day? Is the Pope Catholic? (Spoiler alert: Yes. Also, His Holiness makes a cameo too.)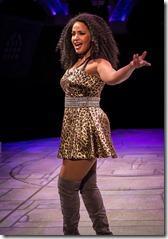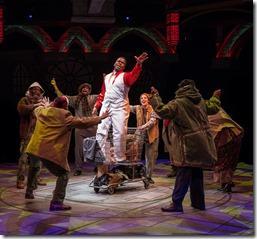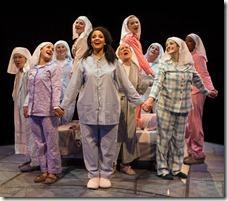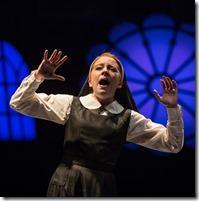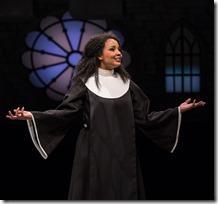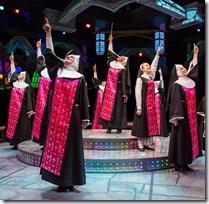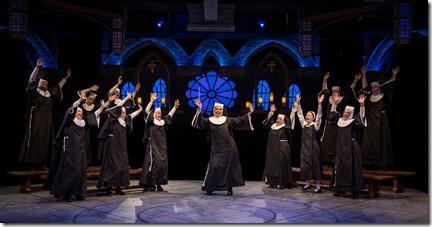 What drives - and what makes it so g. d. enjoyable - is the exuberance that shows up both in 's musical direction and in Stephenson's fabulous cast. It also benefits from Melissa Zaremba's choreography, which completely captures the shagadelic grooviness of the era. In Act Two, there's a three-man seduce-a-thon ("Lady in a Long Black Dress"), with a trio of would-be Lotharios (Jason Slattery, Mark Hoodand Todd Horman) showing off their slickest moves. It's the dance equivalent of a bachelor pad pimped out in fake bear skins, purple shag carpeting, flocked orange love seats, black lights and velvet paintings, with K-Tel Top 40 Romantic Hits playing on the 8-track. The number is bladder-control-medication hilarious.
The dancing nuns are equally fantastic, shaking it like they're Mary Magdelene during the Act Two opener "Sunday Morning Fever." Watch for Sister Mary Lazarus (Mary Robin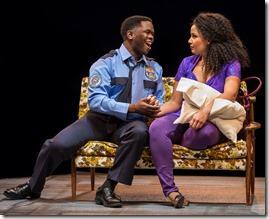 Roth) to bust out with a rap that shows both virtuosic comic timing and some serious rhythmic gifts. Roth is one of a trio of supporting nuns that propel
Sister Act
to such heavenly heights (forgive me).
Lillian Castillo
's Sister Mary Patrick has charisma and exuberance of a dozen apostles on the loose in an after-life amusement part. Also terrific is
Tiffany Tatreau
as a postulate who belts through an anthemic 11th hour number with the force of cyclone.
Still, the show belongs to Resnik's Mother Superior and Umoh's Deloris. Resnik brings compassion and humanity to a part that could turn into a ruler-whapping stereotype. And Umoh is an effervescent fireball of energy and vocal power. From the heels of her purple stiletto FM boots to her halo of bouncing curls, she's the kind of vibrant woman who could turn the apocalypse into a party. As for unlikely hero Sweaty Eddie, Butler-DuPlessis delivers a mix of low comedy and sincere emotion. When he lets loose in a Walter Mitty-like fantasy "I Could Be That Guy," he'll turn into your imaginary boyfriend on the spot.
Nancy Missimi's costumes are spot-on recreations of the wide-lapel leisure suited glory that defined the well-dressed man through the 1970s. Trigger warning: If you are of a certain age, you will have a Prom Circa 1977 Flashback when the guys start strutting their stuff.
Hell, we're going to come right out and say it: Sister Act is a praise worthy effort all around. It'd be a sin to miss it.
continues through April 3rd at Marriott Theatre, 10 Marriott Drive, Lincolnshire (map), with performances Wednesdays and Thursdays at 1pm and 8pm, Fridays 8pm, Saturdays 4:30mp and 8pm, Sundays 1pm and 5pm. Tickets are $50-$55, and are available by phone (847-634-0200) or online through their website (half-price tickets available at Goldstar.com ). More info at MarriottTheatre.com. (Running time: 2 hours, includes an intermission)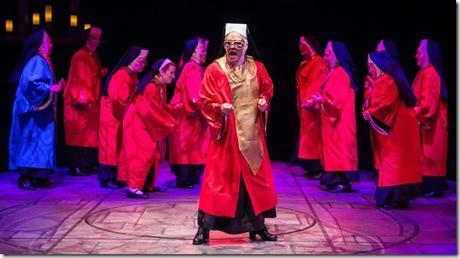 Photos by Liz Lauren
Stephanie Umoh (Deloris Van Cartier), Sharriese Hamilton (Michelle, ensemble), Keely Vasquez (Tina, ensemble), Byron Glenn Willis (Curtis), Todd A. Horman (Joey), Jason Slattery (Pablo), (TJ), Don Forston (Monsignor O'Hara), Aaron Holland (Ernie, the Drag Queen, ensemble), Tommy Lucas (Joey Finnochio, altar boy, ensemble), Jonathan Butler-Duplessis (Eddie), Paris Alexander Nesbitt (cop, cab driver, ensemble), Hollis Resnik (Mother Superior), Tiffany Tatreau (Mary Robert), Lillian Castillo (Mary Patrick), Mary Robin Roth (Mary Lazarus), Marya Grandy (Mary Martin-of-Tours, waitress, ensemble), Anne Gunn (Mary Theresa), Eric A. Lewis (altar boy, ensemble), Dara Cameron, MacKenzie Curran, Molly Kral, Christine Mild, Eugene Peabody, Paris Alexander Nesbitt (ensemble).
Patti Garwood (musical supervisor, conductor, keyboard), Kevin Reeks (assistant conductor, keyboard), Dominic Trumfio (reeds), Zack Thomas (trumpet), BJ Levy (trumpet), Steve Duncan (trombone), Felton Offard (guitars), Trevor Jones (bass), Andy Wilmouth (drums).
behind the scenes
Alan Menken (composer), Glenn Slater (lyrics), Cheri Steinkellner, Bill Steinkellne, Douglas Carter Beane (book writers), Joseph Howard (writer, original motion picture "Sister Act"), Don Stephenson (director), (music director), Melissa Zaremba (choreographer), Eugene Peabody (dance captain), Thomas M. Ryan (set design), (lighting design), Nancy Missimi (costume design), Robert E. Gilmartin (sound design), Sally Weiss (props), Michael Hendricks (stage manager), David Siegel (orchestral reductions), Liz Lauren (photos)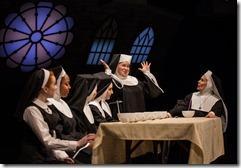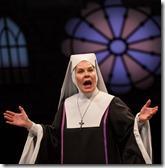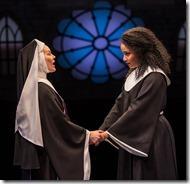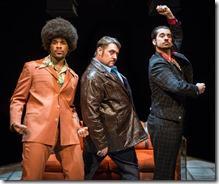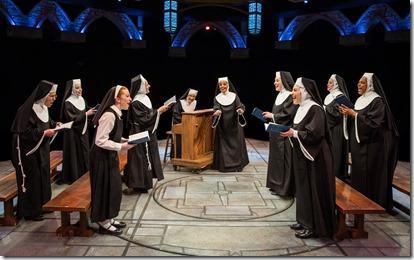 Tags: 16-0242, Aaron Holland, Alan Menken, Andy Wilmouth, Anne Gunn, Bill Steinkellne, BJ Levy, Byron Glenn Willis, Catey Sullivan, Cheri Steinkellner, Chicago musical theater, Chicago Theater, Christine Mild, Dara Cameron, David Siegel, Dominic Trumfio, Don Forston, Don Stephenson, Doug Peck, Douglas Carter Beane, Eric A. Lewis, Eugene Peabody, Felton Offard, Glenn Slater, Hollis Resnik, Jason Slattery, Jesse Klug, Jonathan Butler-Duplessis, Joseph Howard, Keely Vasquez, Kevin Reeks, Lillian Castillo, Liz Lauren, MacKenzie Curran, Mark Hood, Marriott Theatre, Mary Robin Roth, Marya Grandy, Melissa Zaremba, Michael Hendricks, Molly Kral, Nancy Missimi, Paris Alexander Nesbitt, Patti Garwood, post, Robert E. Gilmartin, Sally Weiss, Sharriese Hamilton, Stephanie Umoh, Steve Duncan, Thomas M. Ryan, Tiffany Tatreau, Todd A. Horman, Tommy Lucas, Trevor Jones, Zack Thomas
Category: 2016 Reviews, Alan Menken, Catey Sullivan, Marriott Theatre, Musical