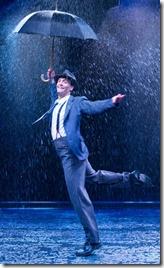 Despite showing its age, 'Singin' delivers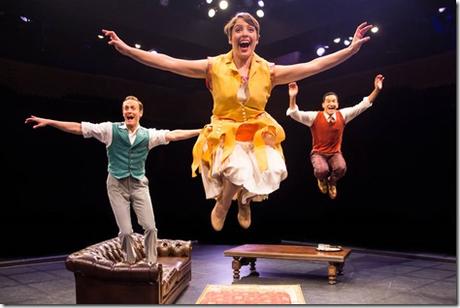 Review by Catey Sullivan
In the world of musical theater, Singin' in Rain is a sacred cow. I don't care. It's also showing its age. Running through New Year's Eve at the Marriott, Singin' in the Rain hits its marks in director William Brown's take on the beloved show based on the 1952 movie. Yet almost 65 years after Singin' in the Rain premiered on the big screen, the show is uber-retro, and not in a good way.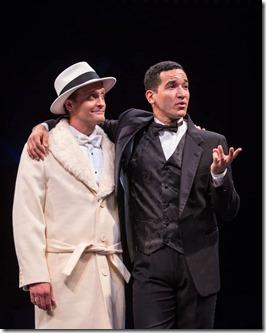 You can't argue but that
Tammy Mader
's choreography is top rate. If the pshow were a dance concert anchored by the likes of "Moses Supposes," "Good Morning" and the infectious title tune "Singin' in the Rain," this would be a four-star endeavor. Fans of the iconic movie won't be disappointed in the Marriotot's production.
But Singin' in the Rain isn't a dance concert. It has a story and many characters. Well, it sort of has characters. Look at any of them even a scratch below the surface, and you'll find stereotypes that are about as backwards as you can get in terms of gender roles, and a plot that's similarly out-of-tune. Here's a quick exercise that you can apply to any show In order to determine whether it's point of view is strictly hetero-male or whether the women in it are anything other than props for the men: Imagine how the show would play if men were cast in the female roles and vise versa. If the reversal seems preposterous, you've got a show where the women are probably little more than appendages to the guys.
Consider, for example, the "Singin' in the Rain" scene when good girl ingenue Kathy Seldon is asked to dub the vocals for the screechy-voiced Lina Lamont. Kathy stands silent. Her movie star boyfriend Don Lockwood, on the other hand, puffs up like an angry rooster before righteously exclaiming something along the lines of "I won't let you do it!" So Don is the one calling the shots in Kathy's career? Ok, then. Got it.
Now ponder how it would play if Kathy was the larger-than-life movie star and self-appointed protector of Don Lockwood, a younger, shorter male chorine helplessly in love with her. What if Don was the one jumping out of a giant cake wearing only tighty whities and then tap dancing for a room full of Hollywood mucketymucks? The scene would become ridiculous, that's what. Audiences wouldn't believe it could ever happen. Girls jumping out of cakes = plausible. Men doing the same = As. If.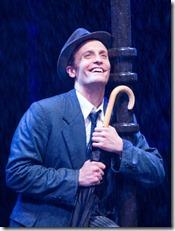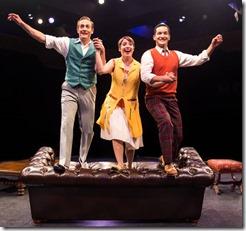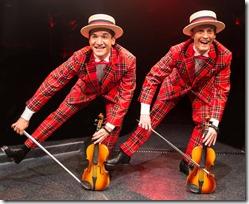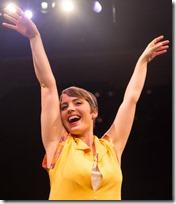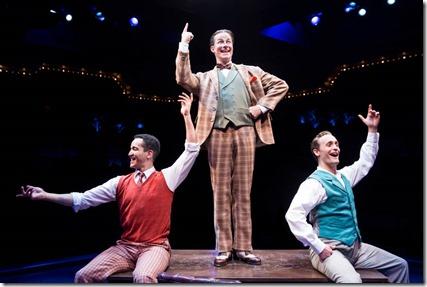 Then there's Lina Lamont, the silent film star with the IQ of a sack of wet hammers and a voice like a yowling cat. Beyond the voice and the stupidity, Lina is defined by precisely three things: Her delusional belief that Don loves her, her single minded determination to destroy Kathy Seldon, and her desperate desire to remain a movie star.
When it comes to furthering the plot, Lina Lamont does nothing but scheme against Kathy. When it comes to developing Lina's character, there's nothing to develop because she's nothing but a ridiculous voice and a Jessica Rabbit-like figure. Kathy Seldon might lack agency whenever Don is within spitting distance, but Lina Lamont and agency are never even on the same backlot.
Looks, I understand that Singin' in the Rain isn't Top Stoppard. I get that it's a lighthearted confection about dancing and Golden Era Hollywood and not an exegesis on gender roles. But still. It's worth noting that Lina's peaches-on-a-platter bodices are integral to her character as anything she actually says or does.
It's also worth nothing that we know Kathy Seldon is the good-girl-next-door because she's partial to Peter Pan collars and hems that reach the knee. As far as female characters go, Singin' in the Rain is just another example of the Madonna/Whore dichotomy. Kathy's the former, Lina's the latter and when Lina is utterly destroyed and humiliated in the final scene, it's because she's a tart who deserves it. And another thing: Neither of the leading women in this show get a big, showstopper solo number. That's the male gaze for you: Unoriginal, objectifying and oh so very, very tired.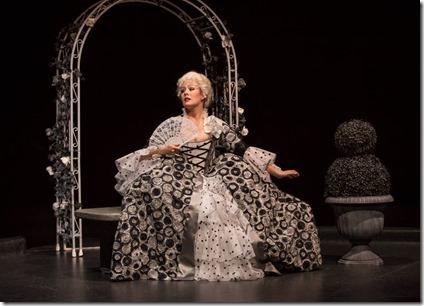 The men, meanwhile, aren't so two-dimensional. Cosmo Brown is a comic genius. Don Lockwood is a powerful movie star whose golden voice will ensure that he transitions to the talkies. Both of them get show-stopping solos. Neither has to strip down to his skivvies.
Brown's direction delivers a Singin' in the Rain that's pleasing. He's dispensed with the video the show usually uses to depict the black-and-white movies that Lamont and Lockwood make for Monumental Pictures. Instead, we get live action cinema, cleverly rendered in black and white with crucial help from costume designer Nancy Missimiand set designer Tom Ryan.
As Kathy, Mary Michael Patterson delivers the wholesome, perky, safely-sassy-but-not-too-sassy young woman the story demands. Alexandra Palkovich is an appropriately ditzy/delusional/dumb Lina Lamont. Danny Gardner brings charm and a toothpaste-ad smile to Don Lockwood, while Richard Riaz Yoder makes Cosmo Brown an amiable sidekick. Opening night, neither Yoder nor Gardner had the effortless ease needed for their standout numbers - "Make 'Em Laugh" and "Singin' in the. Rain." You could see the work going into both. Hopefully that will become less apparent as the run continues.
As for the storm that falls during the Act I climax, the Marriott creates an impressive, 600-gallon-a-show deluge without so much as spattering the audience.
As musicals go, the Marriott's Singin' in the Rain is fine. The songs are marvelous, the dancing is terrific, the cast is likable. But once you realize that the women in the story spend almost all of it A) trying to undercut each other or B) going goggly-eyed over some man, you'll be left longing for a classic musical that wasn't entirely filtered through the male gaze, circa 1952.
Singin' in the Rain continues through December 31st at Marriott Theatre, 10 Marriott Drive, Lincolnshire (map), with performances Wednesdays at 1pm & 8pm, Thursdays-Fridays 8pm, Saturdays 4:30pm & 8pm, Sundays 1pm & 5pm, with select Thursdays 1pm. Tickets are $50-$55, and are available by phone (847-634-0200) or online through Ticketmaster.com (check for half-price tickets at Goldstar.com ). More information at MarriottTheatre.com. (Running time: 2 hours 25 minutes, includes an intermission)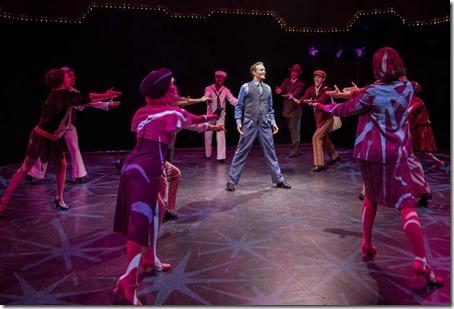 Danny Gardner (Don Lockwood), Mary Michael Patterson (Kathy Seldon), Richard Riaz Yoder (Cosmo Brown), Alexandra Palkovic (Lina Lamont), Jason Grimm (R.F Simpson), Gabriel Ruiz (Roscoe Dexter), Amanda Tanguay (Zelda Zanders), Lamont Brown, Annie Jo Ermel, Jackson Evans, Sean Michael Hunt , Danielle Jackman , Ian Liberto, Mandy Modic , Thomas Ortiz, Katheryn Patton, Collin Sanderson , Catherine Smitko, Brandon Springman , Richard Strimer, Jessica Wolfrum (ensemble).
behind the scenes
William Brown (director), Tammy Mader (choreography), Ryan T. Nelson (music director), (set design), Nancy Missimi (set design), (lighting design), Bob Gilmartin (sound design), Sally Weiss (props design), Patti Garwood (musical supervision and orchestra conductor), Amanda Tanguay (dance captain), Justin Barbin , Liz Lauren (photos)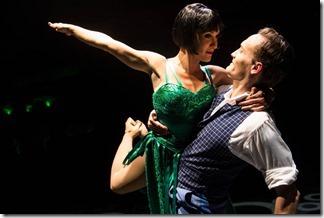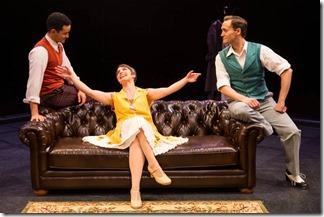 Tags: 16-1103, Adolph Green, Alexandra Palkovic, Amanda Tanguay, Annie Jo Ermel, Arthur Freed, Betty Comden, Bob Gilmartin, Brandon Springman, Catey Sullivan, Catherine Smitko, Chicago musical theater, Chicago Theater, Collin Sanderson, Danielle Jackman, Danny Gardner, Gabriel Ruiz, Ian Liberto, Jackson Evans, Jason Grimm, Jesse Klug, Jessica Wolfrum, Justin Barbin, Katheryn Patton, Lamont Brown, Liz Lauren, Mandy Modic, Marriott Theatre, Mary Michael Patterson, Nacio Herb Brown, Nancy Missimi, Patti Garwood, post, Richard Riaz Yoder, Richard Strimer, Ryan T. Nelson, Sally Weiss, Sean Michael Hunt, Tammy Mader, Thomas Ortiz, Tom Ryan, William Brown