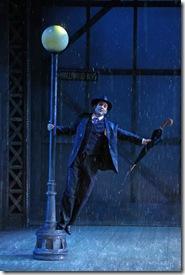 Singin' in the Rain  
Adapted by Betty Comden and Adolph Green
Nacio Herb Brown (music), Arthur Freed (lyrics)
Directed by Bill Jenkins
Drury Lane Theatre, Oakbrook Terrace (map)
thru Jan 13  |  tickets: $35-$46   |  more info
  
  
---
A splashy production of a film favorite
Drury Lane Theatre presents
Singin' in the Rain
Review by Leah Zeldes 
Closely based on the 1952 film starring Gene Kelly, Donald O'Connor and Debbie Reynolds, Singin' in the Rain, the stage musical now in lavish production at Drury Lane Theatre, has a tough act to follow. After all, these days anybody can call up favorite scenes on YouTube for free and download the familiar songs —"Good Morning," "Make 'em Laugh," "Moses Supposes" and "Singin' in the Rain" — off the net for instant comparisons. So why go to the theater? Because for a modest price, you get to see Maggie Hoffmann's lovely period costumes, some fabulous dancing, maybe get splashed with water as it rains down on the set, and generally have a fun night out.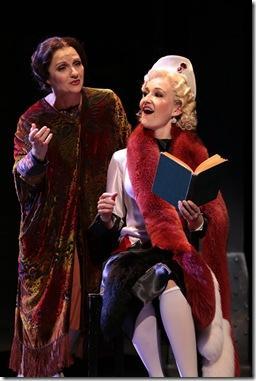 With most of the better bits coming straight off the screen, staged versions of movies often seem like so much aping, or at best, an homage. This one falls in between. Adapted in 1983 by
Betty Comden and Adolph Green
from their own screenplay, the dialogue and score stick tightly to the filmed story about the denizens of a 1920s Hollywood film studio at the advent of talkies. About all that's added is an overture and entracte.
Choreographers Amber Mak and Matthew Crowle don't stick exactly to the film's arrangements, though they get in many of the memorable moves, such as the sofa (in this case, a park bench) flipping over in "Good Morning" and the leading man's splashy leaps off a lamppost in the namesake number, for which patrons in the first three rows are given plastic ponchos to protect them from flying drops. For those of us farther back, the raining scene seems disappointingly dampened in comparison to Kelly's original, and little of the choreography elsewhere quite compares, either. That said, it's delightful dancing, and the live immediacy of it makes up a good deal for its less elaborate and smaller scope.
Leading man Tony Yazbeck, who stepped in as Don Lockwood just before opening (in lieu of the injured Sean Palmer), and Crowle, as his pal Cosmo Brown, kick things off with a lively "Fit as a Fiddle." The two seem to have more chemistry together than Yazbeck and Jenny Guse, who plays Kathy Selden, the girl Lockwood falls in love with. Crowle's dynamic, mobile-faced, boneless legged, utterly engaging performance throughout, a voice reminiscent of Al Jolson, exceeds his film's counterpart.
Guse has a lovely voice and dances beautifully, and Yazbeck's polished performance is equally good, especially in light of his limited rehearsal time, but coupled the two don't quite gel. Yazbeck's goofy gazes at Cara Salern, dancing provocatively as the sultry Lady in Green, seem more smitten.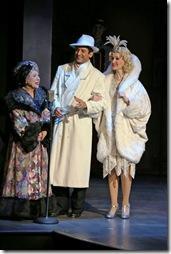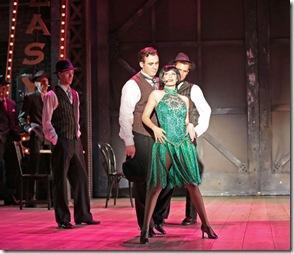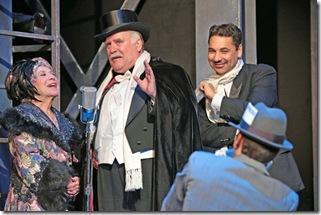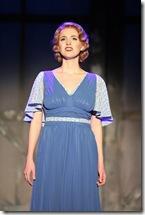 Melissa van der Schyff as Lina Lamont, the strident and vindictive silent-film star, does a notable job with "What's Wrong Me?" one song that doesn't come out of the film. The supporting cast, including Don Forston as R.F. Simpson, the blustering studio head; Scott Calcagno as Roscoe Dexter; John Reeger as Diction Coach; Catherine Lord as Miss Dinsmore; Renee Matthews as Dora Bailey and the ensemble are all first-rate. Drury Lane spares no expense in this show, from cast to costumes to set. Debbie Reynolds even shows up in a self-referential filmed bit part.
Of course, one of the best things about going to any show at Drury Lane is the whole experience of visiting the theater itself: foregathering in the spacious lobby under crystal chandeliers, having a pre-show cocktail in the bar or dinner in the restaurant or, even better, the expansive brunch before a Sunday matinee, and pre-ordered drinks waiting at intermission — it's a class act all the way.
Rating: ★★★
Singin' in the Rain continues through January 13th at Drury Lane Theatre, 100 Drury Lane, Oakbrook Terrace (map), with performances Wednesdays at 1:30pm, Thursdays at 1:30pm and 8pm, Fridays at 8:30pm, Saturdays at 5pm and 8:30pm, Sundays at 2pm and 6pm.  Tickets are $35-$46, with lunch and dinner theater packages ranging from $49.75 to $68 depending on the day of the week; reservations are essential. Student tickets start at $20 and senior citizen tickets start at $29.  Purchase tickets via phone (630-530-0111) or online through Ticketmaster.com (check for half-price tickets at Goldstar.com). More information at DruryLaneOakbrook.com.  (Running time: 2 hours 20 minutes, includes an intermission)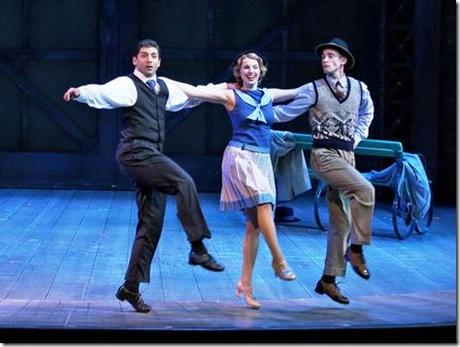 Photos by Brett Beiner 
---
artists
cast
Tony Yazbeck, Jenny Guse, Matthew Crowle, Melissa van der Schyff, Don Forston, Scott Calcagno, John Reeger, Catherine Lord, Renee Matthews Salern, William Carlos Angulo, Karissa Barney, Johnson Brock, Gary Calson, Daniel Coonley, Megan Farley, Allyson Graves, Kyle Halford, Katie Huff, Jonathon Kwock, Katie Mazzini, Willie Mellina, Alexandra Palkovic, Laura Savage, Will Skrip, Brandon Springman, Amanda Tanguay, Alexandra Van Paris, George Andrew Wolff, Zach Zube
orchestra 
Ben Johnson (conductor, keyboards); John Kornegay (picolo, flute, clarinet, alto saxophone, orchestrations); Michael Favreau (flute, clarinet, bass clarinet, tenor saxophone); Crey Deadman (trumpet, flugelhorn, orchestrations); Marty Tiltion (trumpet, flugelhorn); Art Linsner (trombone, bass trombone); Marc Hogan (bass); Rich Trelease (drums, percussion); Alan Bukowiecki (associate conductor).
behind the scenes
Bill Jenkins (director); Roberta Duchak, Ben Johnson (music directors); Amber Mak (choreography); Matthew Crowle (additional choreography); Christie Zimmerman (asst. director/choreographer); John Tovar (fight choreographer); Kevin Depinet (set); Julie Mack (lighting); Maggie Hoffmann (costume coordinator); Ray Nardelli (sound design); Palmer Jenkins (asst. sound design); Bobby Richards (video); Joel Lambie (props); Christina Carlson (wig design); Juli Walker (production manager); Kristi J. Martens (Equity stage manager); Jeremy Drechny (technical director); Robyn Robbins (company manager), Brett Beiner (photos).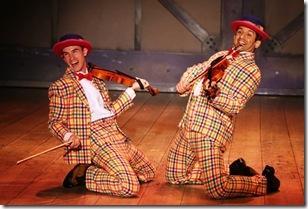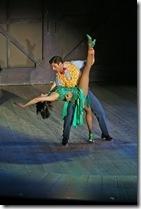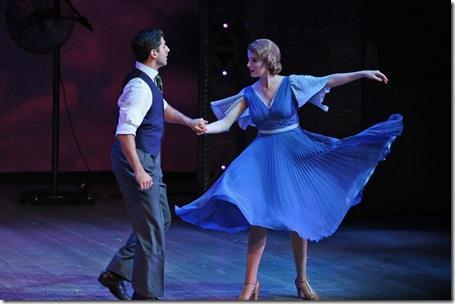 12-1176