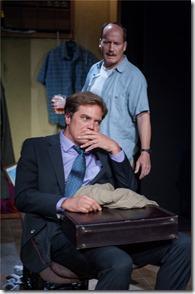 Simpatico 
Written by Sam Shepard 
Directed by Dado 
A Red Orchid Theatre, 1531 N. Wells (map)
thru Aug 25  |  tickets: SOLD OUT   |  more info
  
Check for half-price tickets 
  
  
   Read entire review
  
---
Quirky characters propel tale of deception, betrayal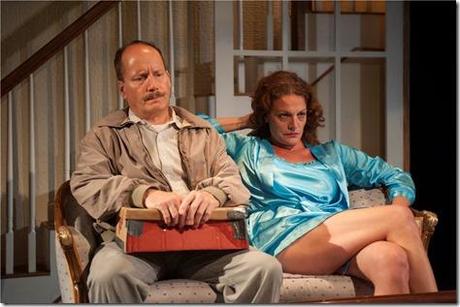 A Red Orchid Theatre presents
Simpatico
Review by Katy Walsh 
Director Dado uses cinematic flair to begin this play. The stark stage is preset with only a folded bed. The music blares. And the set is dressed with opening movie credits-like panache. Chairs crash in. Windows drop in. A sofa swirls in. This all happens in moments as the words "Simpatico" and "Sam Shepard" are projected on the backdrop. Then, suddenly, the music stops and we are in a room strewn with trash and clutter. What happened? Dado's intro hints at an action-packed ride that ends in squalor.
Sam Shepard penned a tale about the aftermath of a crime 15 years in the past. The band of untried felons is reunited in unexpected encounters. The audience pieces together the original scam through the characters' confrontations. Shepard developed quirky characters that may not have personal depth but certainly have plenty of personality width. Under Dado's direction, the mood transformations are instant, often, repeated and exhausting.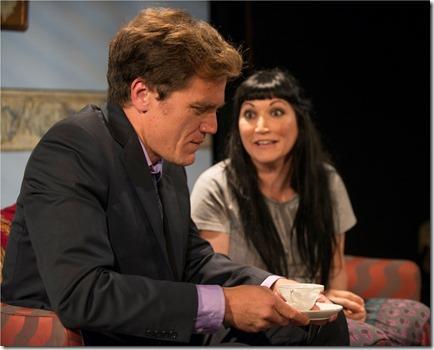 At the crux of the heist repercussions is Michael Shannon (Carter) and Guy Van Swearingen (Vinnie). In the first scene, Shannon towers over Van Swearingen reinforcing the control he has in the situation. Van Swearingen plays it perfectly skeezy. His double talk fuels Shannon's ongoing eruptions. Their individual and relational metamorphism over the course of the play is hilariously and impressively portrayed by these two talented actors. An eccentric Mierka Girten (Cecelia) plays the Safeway clerk that stumbles into multiple cons. Girten uses natural earnestness and comedy timing to heighten the humor. As Shannon rants with ferocity, an unfazed Girten offers him tea. Later, her interaction with a self-assured Doug Vickers (Simms) has a Red-Riding-Hood-Meets-The-Big-Bad-Wolf quality. Her innocence is continually endearing and funny. Jennifer Engstom (Rosie) deliciously struts her erratic, boozy self. Shepard wrote an emotionally needy drama. This gifted ensemble effortlessly morph into their bottomless personas.
Set Designer Grant Sabin takes us from lowlife to highlife in a flick of the wrist. Sabin utilizes a movable backdrop to establish locale. A door rolls to the side to reveal a staircase, office bookshelves, or a pile of dirty clothes. A special nod to Properties Designer and Set Decorator Linda M. Laake: she effectively grosses out the audience with Vinnie's garbage collection.
Simpatico is a fascinating story about deception and betrayal. Knowing that, it would be wrong for me not to be completely honest. Despite captivating interactions, Shepard's script is long. His six scenes span nearly three hours. Dialogue is repeated often. Even during the heated exchanges, the repetitiveness creates a lulling zone. It's easy to 'check out' for a respite. The actors may attack the content with tireless fervor. The audience doesn't always receive it with the same commitment.
Still, Simpatico is pretty simpatico.
Rating: ★★★
Simpatico continues through August 25th at A Red Orchid Theatre, 1531 N. Wells (map), with performances Thursdays-Saturdays at 8pm, Sundays 3pm.  Tickets are SOLD OUT. For standby tickets, please come to the box office one hour before curtain for any performance and tickets will be released on a first-come-first-serve basis. More information at ARedOrchidTheatre.org.  (Running time: 2 hours 45 minutes, includes an intermission)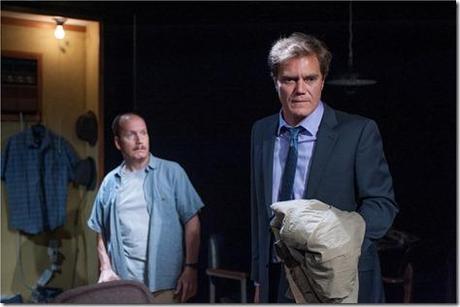 Photos by Michael Brosilow 
---
artists
cast
Michael Shannon (Carter), Guy Van Swearingen (Vinnie), Mierka Girten (Cecilia), Jennifer Engstrom (Rosie), Doug Vickers (Simms), Kristin E. Ellis (Kelly).
behind the scenes
Dado (director), Grant Sabin (set design), Linda Laake (props design, set decorator), Michael Brosilow (photographer)
13-0708
\