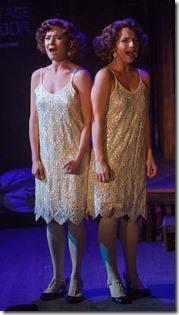 Side Show 
Written by Henry Krieger (music)
  and Bill Russell (book, lyrics)
at Stage 773, 1225 W. Belmont (map)
thru Oct 25 | tix: $39-$45 | more info
  
Check for half-price tickets  
  
---
Revised 'Side Show' a compelling work of astounding true story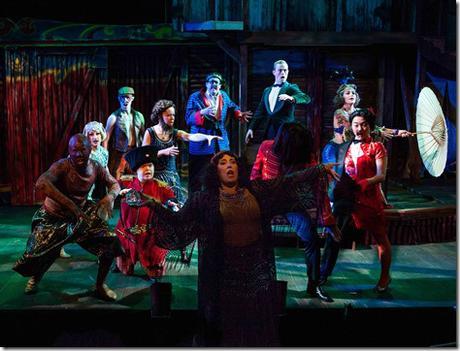 Porchlight Music Theatre presents
Side Show
Review by Lauren Whalen 
When Side Show premiered on Broadway in the late 1990's, it was rather unusual in scope. Based on the true story of Daisy and Violet Hilton, conjoined twins who rose to fame on the vaudeville circuit and died in relative poverty and obscurity, the show is a curious mix of the sweeping and the subtle. The musical's opening number entices the audience to "come look at the freaks," but underneath the flashy production numbers is a simple story of two women forever bound together (literally and figuratively). Each longs for independence while clinging to the only one who will ever fully understand her. A newly-revised version of Side Show – with added songs, characters and details of the Hiltons' story – enjoys a stunning post-Broadway debut at Porchlight Music Theatre. This beautiful, full-bodied production of a difficult show is thoroughly thought-provoking and satisfying from beginning to end.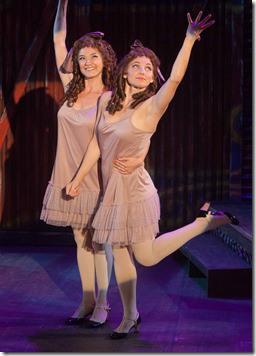 In the 1930's, entertainment in the form of human oddities reigned supreme, and two women found themselves at its epicenter. Born conjoined by a strip of skin, the Hilton twins aren't just spectacle – they're also talented singers, dancers and musicians – but the sisters suffer exploitation and abuse at the hands of their vicious guardian Sir (
Matthias Austin
). Vivacious Daisy (
Colleen Fee
) dreams of stardom, while more introverted Violet (
Britt-Marie Sivertsen
) wants a husband and family of her own, but both yearn to escape Sir's death grip. And when vaudeville producers Terry (
Matthew Keffer
) and Buddy (
Devin DeSantis
) arrive at the San Antonio freakshow the girls call home, Daisy and Violet are thrown into a glamorous new world – but can they handle the pressures of fame? Will they ever find autonomy from their cruel master, and more importantly, from each other?
According to press materials, the authors of Side Show (one of whom, Bill Russell, was present on opening night) personally invited Porchlight to present the new version, which premiered in Chicago in 2014. Russell and composer Henry Krieger chose well: Porchlight productions are strong yet intimate, entertaining and intelligent. After seeing this Side Show, I can't imagine the show would be nearly as effective in a larger venue. All the big budgets and splashy production values in the world would run the risk of overwhelming the relatively quiet story that Porchlight spotlights so well. Though Act II runs a little long (I don't necessarily need to get into every major character's head), Side Show has a wonderful score that challenges performers and audience members alike. Even sillier vaudeville-style songs like "Typical Girls Next Door" and "One Plus One Equals Three" have an undercurrent of sadness, and Violet and Daisy's duet "I Could Never Leave You" has lingered in my mind and heart ever since last Friday night.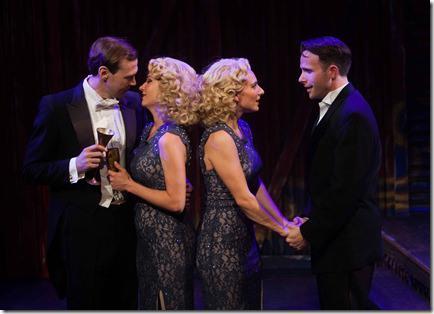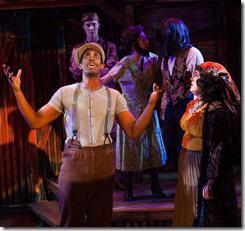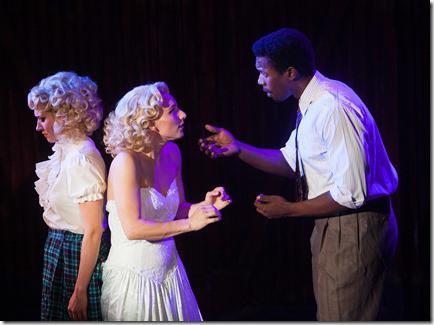 As always, Porchlight assembles a sterling production team and cast. Aaron Benham's music direction is thoughtful and precise, choreographer Andrew Waters perfectly captures 1930's vaudeville style and director Michael Weber brings out humanity in even the most minor freak-show characters. Scenic designer Megan Truscott captures a well-worn circus atmosphere with startling accuracy, and Bill Morey's costumes strike the perfect balance between sparkling and roughhewn. A strong ensemble plays a variety of roles, most notably Ben Kaye as a bloodthirsty "geek" and budding pastry chef and Deanna Myers as the maternal Half-Man Half-Woman. Keffer is appropriately slick as enterprising producer Terry, and DeSantis plays an empathetic Buddy, who struggles with his feelings for Violet and the identity he wants to openly claim. As Jake, the Hilton sisters' caretaker and confidante who has secrets of his own, Evan Tyrone Martin soars. And as the Hilton sisters, separately and together, Fee and Sivertsen are a revelation. The two actresses are joined at the hip for 99 percent of the show, appear in almost every scene, and must often think and act as one while never ignoring each sister's individual complexities. Fee's Daisy is equal turns feisty and contemplative, and Sivertsen's soulful Violet is the true heart of the piece.
It's difficult to know what the Hilton sisters would think of Side Show. Perhaps they'd see it as further exploitation, perhaps they'd perceive the show as a loving interpretation of their phenomenal life story. I like to think the real Daisy and Violet would appreciate the heartfelt care taken by everyone involved, from composer to lyricist to director to lead actresses. Porchlight's Side Show is a jewel in Chicago's bustling new theater season, a gift not to be taken for granted.
Rating: ★★★½
Side Show continues through October 25th at Stage 773, 1225 W. Belmont (map), with performances Thursdays at 7:30pm, Fridays 8pm, Saturdays 4pm and 8pm, Sundays 2pm.  Tickets are $39-$45, and are available by phone (773.327.5252) or online through Stage773.com (check for half-price tickets at Goldstar.com). More information at PorchlightMusicTheatre.org.  (Running time: 2 hours 20 minutes, includes an intermission)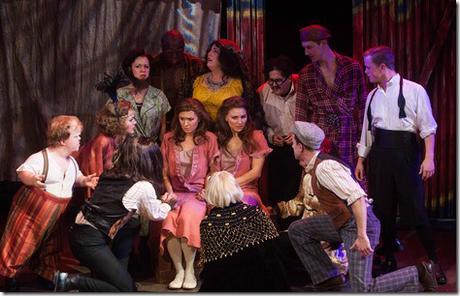 Photos by Anthony Robert LaPenna
---
artists
cast
Colleen Fee (Daisy Hilton), Britt-Marie Sivertsen (Violet Hilton), Matthew Keffer (Terry Connor), Devin DeSantis (Buddy Foster), Evan Tyrone Martin (Jake), Matthias Austin (Sir), Johnson Brock (The Human Pincushion, Doctor, Ray, Ensemble), Colin Funk (The Dog Boy, Harry Houdini, Suitor, Ensemble), Veronica Garza (The Fortune Teller, Doctor, Ensemble), Amanda Hartley (The Bearded Lady, Auntie, Ensemble), Peter Eli Johnson (The Roustabout, Judge, Sir's Lawyer, Tod Browning, Ensemble), Ben Kaye (The Geek, Doctor, Ensemble), Courtney Mack (The Tattoo Girl, Ensemble), John Marshall Jr. (The Three-Legged Man, Doctor, Suitor, Ensemble), Deanna Myers (The Half-Man Half-Woman, Ensemble), Kristen Noonan (Venus di Milo, Ensemble), Ben Saylor (The Cossack, Ensemble), Jeremy Sonkin (The Lizard Man, Doctor, Suitor, Ensemble), Dan Gold, Jake Ganzer, Greg Zawada, Andrew Spatafora, Samantha Eileen Mitchell (understudies)
musicians
Aaron Benham (conductor, piano), Adam DeGroot (reed), Charles Russell Roberts (trumpet), Elena Spiegel (violin), Ben Dillinger (bass), Tony Scandora (percussion)
behind the scenes
Michael Weber (director, artistic director), Aaron Benham (music director), Andrew Waters (choreographer), Megan Truscott (scenic design), Bill Morey (costume design), Greg Freeman (lighting design), Robert Hornbostel (sound design), Jay Tollefsen (properties design), Ross Hoppe (projections design), Jessica Forella (stage manager), Aaron Shapiro (production manager), Kevin Barthell (wig designer), Kimberly Morris (specialty makeup designer), Maria Coss (makeup design assistant), Kate Setzer Kamphausen (costume design assistant), Alexandra Garfinkle (dramaturg), Anthony Robert LaPenna (photos)
15-0933