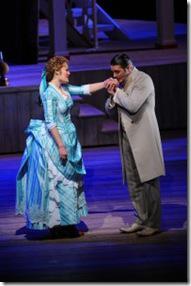 Show Boat
By Jerome Kern and Oscar Hammerstein II 
Conducted by John DeMain
Directed by Francesca Zambello 
at Civic Opera House, 20 N. Wacker (map)
thru March 17  |  tickets: $44-$254   |  more info
  
Check for half-price tickets 
  
  
   Read entire review
  
---
Climb aboard this glorious 'Boat'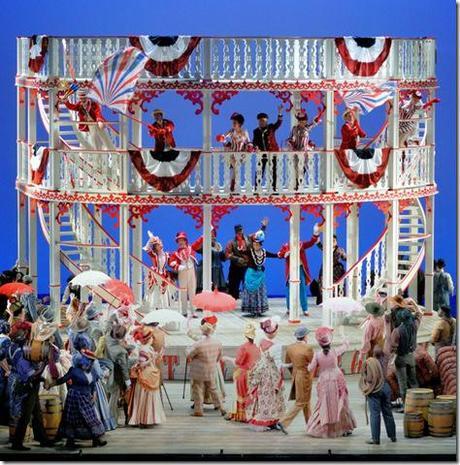 Lyric Opera of Chicago presents
Show Boat
Review by Lauren Whalen 
Musical theater can be more than fluff?  By answering with a resounding "yes," Show Boat broke a large amount of ground. Debuting in 1927, the Kern/Hammerstein musical adaptation of Edna Ferber's novel strayed from the Broadway trend of forgettable plots supplemented by sweet songs. Instead, Show Boat integrated challenging melodies with meaty storylines while taking a good, hard look at racial issues. Though the show may seem tame today, even old-fashioned, it paved the way for socially conscious ripped-from-the-headlines musicals such as The Cradle Will Rock, West Side Story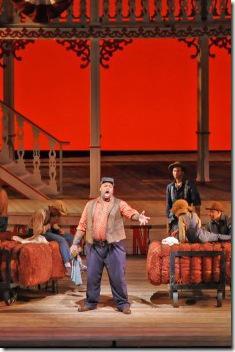 and
Rent.
It's a challenging show, requiring stellar voices and careful, skilled acting. With renowned opera singers and musical theater performers, a sound, diverse ensemble and dazzling production elements, Lyric Opera's
Show Boat
gives its audience three hours of pure emotion topped off with unbridled joy.
Spanning four decades, Show Boat revolves around the performance riverboat Cotton Blossom and its revolving inhabitants. Married melodrama stars Steve (James Farruggio) and Julie (Alyson Cambridge) hide a potentially dangerous secret. Comedians Frank (Bernie Yvon) and Ellie May (Ericka Mac) just want to get ahead. Jolly ship captain Andy Hawks (Ross Lehman) and his stubborn wife Parthy Ann (Cindy Gold) dote on their daughter Magnolia (Ashley Brown) – but she's powerless to the charms of gambler turned actor Gaylord Ravenal (Nathan Gunn). Meanwhile, Cotton Blossom cook Queenie (Angela Renée Simpson) and her husband Joe (Morris Robinson) observe the drama and the ever-present, ever-knowing river.
Show Boat is perhaps best known for Kern and Hammerstein's unforgettable songs, among them the jazzy ode "Can't Help Lovin' Dat Man" and the timeless and heartbreaking "Ol' Man River." But the plot is also notably affecting, ahead of its time and quintessentially human. The characters don't always do the right things. Ill-advised decisions have damaging repercussions. Even the best intentions only go so far, and (like its descendant Carousel) the show's ending is hopeful, but not necessarily happy. Yet even at its darkest, Show Boat is never depressing. Instead, engaging in the characters' journeys is captivating, uplifting and ultimately rewarding.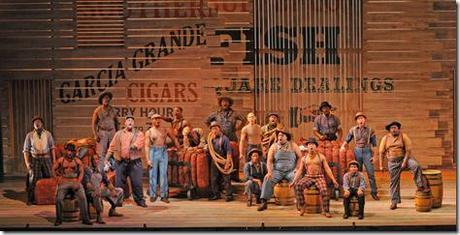 Director Francesca Zambello made a genius move in staging Show Boat at the Lyric: the principals are a blend of acclaimed opera performers, seasoned musical theater professionals and beloved Chicago stage actors. Show Boat can only work with trained voices of almost superhuman strength, but not at the expense of the story. With her powerhouse cast, Zambello has both, and the show is better for it. Stage actors Lehman and Gold are a believable couple, bickering but steadfast and devoted. Mac sparkles as ambitious comedienne and hoofer Ellie May: her catchy ditty "Life Upon the Wicked Stage" is one of the show's brightest moments.
As the roles grow bigger and more challenging, so does the talent. Gunn's achingly lovely tenor is equal parts exuberant and wrenching, and Simpson is bold and sharp with a hint of dread in the ominous "Mis'ry's Comin' Aroun'". And in the midst of a top-notch ensemble, the performances of Cambridge, Brown and Robinson alone are worth the price of admission. Cambridge's ill-fated actress Julie embodies the cathartic beauty of tragedy: when she falls apart, so does the audience. "Can't Help Lovin' Dat Man" has been interpreted countless times, but Cambridge brings passion, care and just the right amount of girlish glee to the old chestnut. The original Mary Poppins on Broadway, Brown's Magnolia progresses from carefree teenager to impoverished mother to woman on the verge with utter conviction and her trilling soprano never wavers. And Robinson's "Ol' Man River" is nothing short of revelatory: a searing exploration of everlasting nature amid troubled humanity, delivered with trembling weight in every syllable by a rumbling, haunting bass.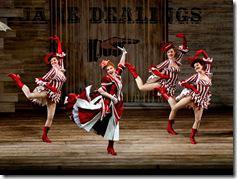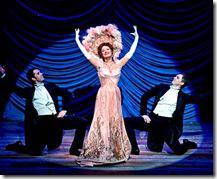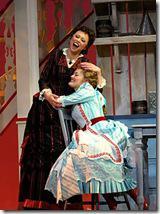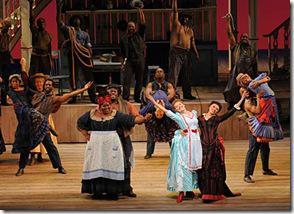 Show Boat's production values are as grand as its players. Chorus master Michael Black and choreographer Michele Lynch helm a vast, high-spirited chorus who are a consistent delight to behold. As if by magic, Peter J. Davison's sets conjure up the grand locations of Chicago's own Palmer House Hotel, the World's Fair and the Cotton Blossom in all its exquisitely crafted glory. And Paul Tazewell's costumes – flouncing petticoats, high stepping boots and feathery hats – are a supporting cast in themselves, with hints of bright red that complement the sets and create a moving work of art.
A few problematic elements exist in Lyric's Show Boat. The venue isn't used to spoken-word dialog and the sound is a bit patchy at times. Also, both Magnolia and her daughter Kim appear far too young at the end, taking into account how much time has passed. Overall, however, Lyric has revived Show Boat in a way that would surely please Kern, Hammerstein, Ferber and the god of theater himself, Dionysus. Intrigue, suspense, laughter, tears, visual and aural heaven: it's all here. Get on board!
Rating: ★★★½
Show Boat continues through March 17th at the Civic Opera House, 20 N. Wacker Drive (map).  Tickets are $44-$254, and are available by phone (312-332-2244 ext 5600) or online here (check for half-price tickets at Goldstar.com). More information, including a complete performance schedule, can be found at LyricOpera.org.  (Running time: 3 hours 15 minutes, which includes one 15-minute intermission)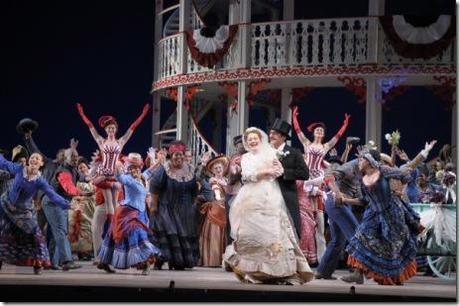 Photos by Robert Kusel
---
artists