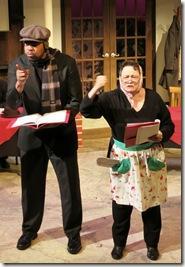 Sherlock Holmes and the Case
   of the Golden Goose 
Written by Michael Menendian & John Weagly
Directed by Michael Menendian
at Raven Theatre, 6157 N. Clark (map)
thru Dec 30  |  tickets: $15-$20   |  more info
  
Check for half-price tickets 
  
  
   Read entire review
  
---
A skillful production that certainly isn't 'elementary'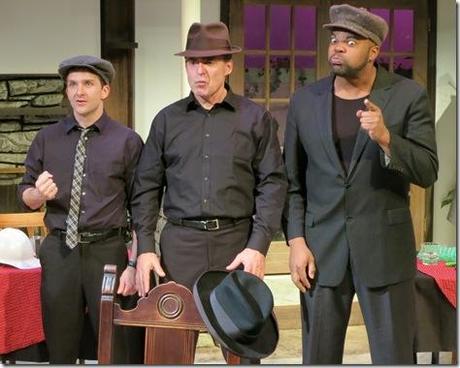 Raven Theatre presents
Sherlock Holmes and the Case of the Golden Goose
Review by Anuja Vaidya
Sherlock Holmes and the Case of the Christmas Goose involves the classic super-sleuthing duo from Arthur Conan Doyle's stories coming together to solve a classic mystery using the classic tactics of observation and deduction. But most unusually, the Raven Theatre's dramatization of this story is showcased as a classic radio play.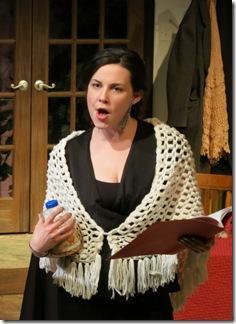 The audience becomes the "live studio audience" in a radio studio and the play itself is half read-out and half acted-out. Adapted from "The Adventure of the Blue Carbuncle" by
Arthur Conan Doyle
, the plot is, of course, a classic Holmes mystery. A seemingly insignificant incident strikes Holmes' fancy. He starts looking into the matter, only to find that it is linked to a very significant incident. In true Sherlock-style, nothing escapes his sharp eye and before you know it, he has cracked the case.
The most unique and entertaining aspect of this show is the execution. The ambient sounds are all created on stage by the actors who also act out bits of the story. The sounds are all precisely and accurately created, giving us a real sense of scene even though there is no set to speak of. One of the best examples of this is when Holmes and Watson "walk" out into a London street and the actors onstage create the sounds of horses clip-clopping, bells chiming, vendors shouting and people rushing about. You get the sense that a lot of rehearsal went into making sure that the integration of sound and movement on stage is spot on. And it was worth it, because it truly adds to the authenticity of this being a radio play.
Kudos to the cast as they do a commendable job overall, particularly with adopting British accents. Joshua J. Volkers as Watson makes a fitting foil for Ian Novak's Holmes. Watson is the narrator of the story and Volkers does a particularly good job at moving the story forward and making sure the audience is following every twist and turn.
Unfortunately, Novak as Holmes gave a slightly disappointing performance. While he portrays Holmes' curiosity and excitement well, at moments his performance feel almost too emphatic and aggressive. The laid-back assuredness that Holmes embodies in Doyle's stories are missing.
Nonetheless, this is certainly an enjoyable and family-friendly show. It also includes some Christmas songs that the audience is invited to join in on. Go in to sharpen your sleuthing skills and to see a skilled execution of a unique dramatization.
Rating: ★★★
Sherlock Holmes and the Case of the Golden Goose continues through December 30th at Raven Theatre, 6157 N. Clark (map), with performances Fridays and Saturdays at 7:30pm, Sundays 3pm.  Tickets are $15-$20, and are available by phone (773-338-2177) or online through TicketTurtle.com (check for half-price tickets at Goldstar.com). More information at RavenTheatre.com.  (Running time: 1 hour without intermission)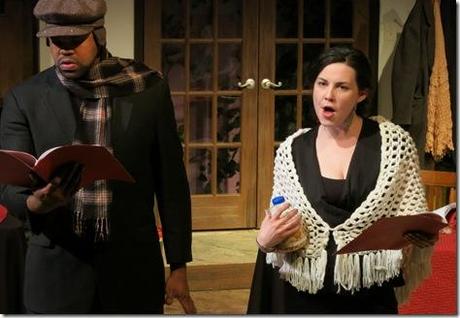 Photos by Michael Menendian 
---
artists
cast
Ian Novak (Sherlock Holmes); Joshua J. Volkers (Dr. Watson); Lawrence Carani, Stacie Doublin, Frederick Harris, Sophia Menendian, JoAnn Montemurro, Brian Plocharczyk, Jen Short, Antoine Pierre Whitfield
behind the scenes
Michael Menendian (Director, Producing Artistic Director, photos); Kiley Morgan (Stage Manager); Cathy Darrow (Lighting Design); Christa van Baale (Media Relations); JoAnn Montemurro (Co-Artistic Director); Teri McCaskill (Managing Director)
12-1230