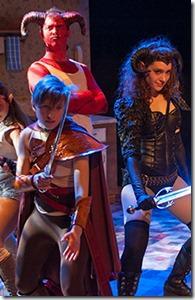 She Kills Monsters
Written by Qui Ngyuen  
Directed by Scott Weinstein
at Steppenwolf Garage, 1650 N. Halsted (map)
thru April 21   |  tickets: $   |  more info
  
Check for half-price tickets 
  
  
   Read entire review
  
---
A delightful, exuberant plunge into nerddom – and so much more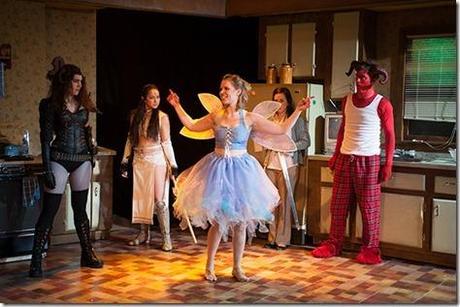 Buzz22 Chicago i/a/w Garage Rep 2013 presents
She Kills Monsters
Review by Catey Sullivan
If you were fortunate enough to see the late, great Defiant Theatre company in action with Action Movie! The Play, you'll be treated to a rollicking flashback to that gleefully raucous show with Buzz22 Chicago's staging of She Kills Monsters. Qui Nguyen's excursion deep into the geek-powered world of Dungeons and Dragons is a royal rumpus of a show, stuffed with fearsome battles, supernatural enemies and heroic quests. Not since the glory days of Defiant has there been such an audaciously, exuberantly physical hullabaloo seen on Chicago stages.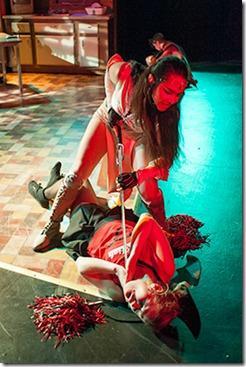 But
She Kills Monsters
is far more than just a delightfully immersive plunge into fantastical ruckus. Directed by
Scott Weinstein
,
She Kills Monsters
has depth as well as breadth. Herein, we have a coming-of-age story that tackles issues of bullying, coming out and bereavement.
She Kills Monsters
is about monsters both literal and figurative, succeeding as a story of substance as well as spectacle. Woven into a production defined by epic stage combat, gorgeous shadow-and-light shows and larger-than-life, otherworldly creatures, we have a deeply moving tale relationships between sisters, lovers and friends.
She Kills Monsters may be fraught with winged beasties and magical powers but at its core, it is a story about humans trying to forge connections with each other. They just happen to be fighting a valiant battle of good vs. evil in alternate universe of multi-headed dragons and killer fairies while forging those connections .
Set in 1995, the piece begins with a story in silhouette, gorgeously rendered by designers Lee Keenan (lighting) and Colleen Werle (puppetry.) We meet 25-year-old Agnes (Katherine Banks), the average-to-boring older sister of 15-year-old Tilly (Jessica London Shields), a youth with a seemingly limitless imagination and a defiantly different drummer attitude. It's not a spoiler to divulge that Agnes, a teacher, soon becomes the sole surviving member of her family after Tilly and their parents are killed in a car crash. It's post-crash that the story really begins, when Agnes finds Tilly's Dungeons and Dragons notebook. Document in hand, Agnes decides she wants to play and seeks out a Dungeon Master to initiate her into the elaborate role-playing game.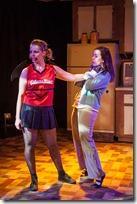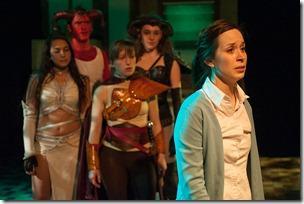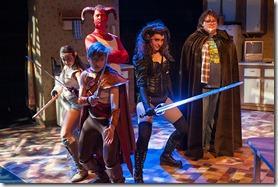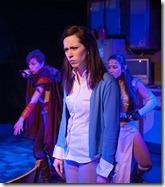 From there, it's off to fantasyland – except this version of fantasy quickly starts bleeding into real life. Tilly, it seems, has created characters for the game based on the relationships she cultivated (or shrank from) with actual flesh-and-blood friends and enemies. And so it is that Agnes begins for the first time to really get to know her late little sister.
Although She Kill Monster could use a little editing – the opening exposition feels a tad lengthy – Weinstein keeps the action non-stop and the introspection under high heat as the piece progresses. And while we aren't dealing with characters of profound depths, the cast is defined by memorable, high-energy performances. As Dungeon Master Chuck, Richard Traub simply slays as an uber-nerd with a wicked sense of comic timing. London-Shields' Tilly is a cross between Joan of Arc, vintage Kristy McNichol and Peter Pan. She's both a typically tormented teen and an empowered, fierce warrior battling mean cheerleaders and evil demons with equal fervor. Sara Sawicki is also a stand-out as a statuesque scene stealer in the mighty mode of Xena, Warrior Princess.
And as the young woman who succeeds in fostering a community created by her beloved sister, Banks makes Agnes – that very average, unremarkable young woman – into a hero in her own right.
It doesn't matter whether you're a D-and-D freak or whether you don't know a Harpie from a Hobbit. She Kills Monsters is great fun for gamers and average folk alike.
Rating: ★★★½
She Kills Monsters continues in repertory through April 21st at Steppenwolf Garage, 1650 N. Halsted (map) – full performance schedule here.  Tickets are $20, and are available by phone (312-335-1650) or online through Steppenwolf.org (check for half-price tickets at Goldstar.com). More information at Buzz22Chicago.com.  (Running time: 90 minutes, no intermission)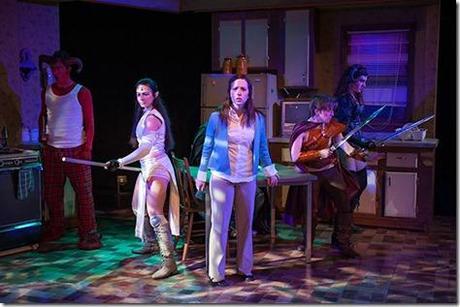 Photos by Michael Brosilow 
---
artists
cast
Katherine Banks, Rinska Carrasco-Prestinary, Daeshawna Cook, Fred Geyer, Jessica London-Shields, Allie Long, Morgan Maher, Jose Nateras, Ellie Reed, Sara Sawicki, Richard Traub
Understudies: Aurora Adachi-Winter, A'rese Emokpae, Landree Fleming, CJ Langdon, Zach Livingston, Ellie Reed, Ricky Staffieri, Casey Wortmann
behind the scenes
Scott Weinstein (director), William Boles (set), Rachel Goldberg (costumes), Lee Keenan (lighting), Daniel Carlyon (sound design), Christopher Leck (stage manager), Diana Raiselis (asst. director), Matt Deitchman (original music), Chuck Coyl (fight director), Jamie Karas (props design), Colleen Werle (puppetry design, puppetry coach), Alex Tey (gore design, asst. fight director), Lori Buchanan (choreography), Colleen Werle, Trina McGee (mask design), Manual Cinema (shadow puppet design), Mary Hungerford (production manager), Christopher Kristant (tech director), Rachel Stubblefield-Tave (asst. stage manager), Ryan Emens (asst. set design), Will Wilhelm (asst. costume design), Emma Deane (asst. lighting design), Trina McGee (asst. puppet design), Ben Gojer (asst. gore design), Jeff Glass (asst. production manager), Jon Woelfer (asst. tech director), Megan Kowalsky (run crew), Hannah Greene, Royer Bockus (marketing)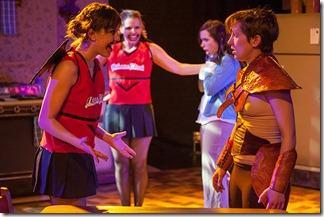 13-0307