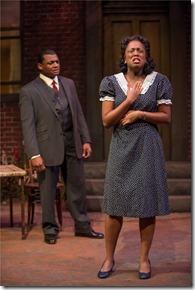 Seven Guitars
Written by August Wilson 
Directed by Ron OJ Parson 
at Court Theatre, 5535 S. Ellis (map)
thru Feb 16  |  tickets: $45-$65   |  more info
  
Check for half-price tickets 
  
  
   Read review
  
---
More literary than dramatic, 'Guitars' still a must see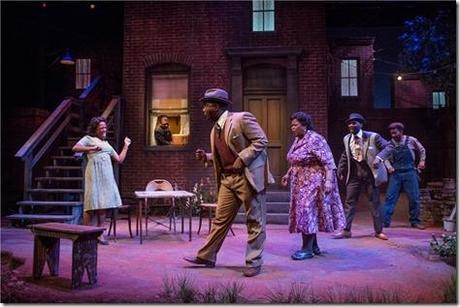 Court Theatre presents
Seven Guitars
Review by John Olson
I came to experience the plays of August Wilson later than many. My first viewing of a Wilson play was of King Hedley II (a sequel of sorts to Seven Guitars) at the Goodman in 1999. Their production of his magical Gem of the Ocean in 2003 was my second Wilson play, and since then I've been able to see six more of his ten "Pittsburgh Cycle" plays, each set in a different decade of the 20th Century and exploring the African-American experience of the era in which it's set. His plays are funny, sometimes tragic, sharply realistic and generally engrossing and entertaining as they deliver insights into African-American history as it has been lived by everyday people. I've looked forward to each new Wilson production in the area and I believe Wilson's words will be heard long after we are all gone.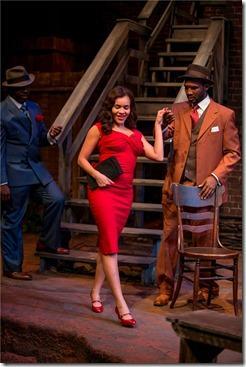 That said,
Seven Guitars
is now my eighth most-favorite of the eight Wilson plays I've seen. There's still the trademark Wilson humor, poetic language, philosophy and ability to make audiences feel for characters whose lives may have been very different from their own. I found it to be more work to get to the good stuff, though.
Seven Guitars
is less plot-driven than the others I've seen (which for the record also includes
Radio Golf
,
Joe Turner's Come and Gone, Ma Rainey's Black Bottom, The Piano Lesson
and
Jitney
– the last three at Court), especially in the 90-minute first act. While the plot picks up in the second act, the first half – being more concerned with character development and waiting for the crisis that would provide some forward motion (a crisis that doesn't really arrive until after intermission) – is challenging, even though Wilson creates some fascinating characters.
The action is set in 1948, in the backyard of a multi-unit home in Pittsburgh's Hill District, center of the African-American community for decades. A group has just returned from the burial of their friend Floyd "Schoolboy" Barton, a blues musician with a hit record whose cause of death isn't immediately revealed. The story is told in flashback and we meet Barton (Kelvin Roston, Jr.), a singer guitarist with one hit record and the chance to make more if he can get back to Chicago for a recording session. He's trying to reconcile with Vera (Ebony Wimbs), the girlfriend he cheated on while in Chicago and who is struggling to decide whether or not to give Floyd a second chance. Their landlady is the loud, assertive and funny Louise (Felicia Fields) – older than most of the other characters and skeptical about the ability of scoundrels like Floyd to change. Another neighbor is the 59-year-old King Hedley (Allen Gilmore), a Jamaican immigrant who may be schizophrenic. Though viewed compassionately by the neighbors, Hedley frequently says and does odd things that puzzle the neighbors as much as it does the audience. Hedley (King is his first name) has unresolved issues with his dead father and still hopes to sire a son who would be a messiah and lead the African-American people out of oppression. Louise's niece Ruby (Erynn Mackenzie) arrives from the south, having left her home to avoid complications from two lovers, one of whom has impregnated her. Completing the cast of seven are Canewell (Jerod Haynes) and Red Carter (Ronald Conner), Floyd's sidemen.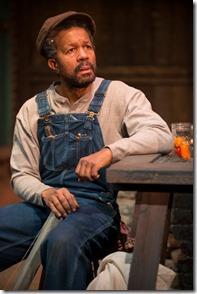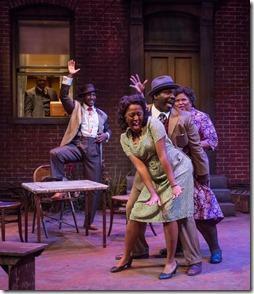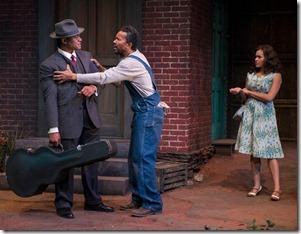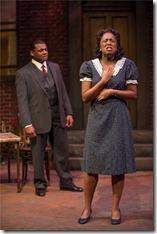 Director Ron OJ Parson's actors are immensely watchable – with Fields, Gilmore and Roston commanding the stage whenever they're on it. The characters (the men, particularly) discuss hope for a better life in this postwar era when wealth is attainable for at least superstar blacks in music and sports. A professional heavyweight boxing match by Joe Louis figures into the action, and, it can be noted, Jackie Robinson broke into baseball's major leagues the year before this story takes place. It's frequently powerful stuff – but getting to it, particularly in the long first act when not a lot actually happens, takes some concentration and patience given the slim story line. Seven Guitars feels more literary and less dramatic than Wilson's other works.
Now, I would never want to discourage anyone from seeing such a first-rate production of a Wilson play, especially one that is among his less frequently produced works. By all means, see Seven Guitars and as many of the Pittsburgh Cycle as you can. If this is your first, though, know that the others are more captivating and entertaining than this one. They'll lift you up and carry you with their own power whereas this is more of an intellectually lyrical work.
Rating: ★★★½
Seven Guitars continues through February 16th at Court Theatre, 5535 S. Ellis (map), with performances Wednesdays and Thursdays at 7:30pm, Fridays 8pm, Saturdays 3pm and 8pm, Sundays 2:30pm and 7:30pm.  Tickets are $45-$65, and are available by phone (773-753-4472) or online through their website (check for half-price tickets at Goldstar.com). More information at CourtTheatre.org.  (Running time: 3 hours 10 minutes, includes an intermission)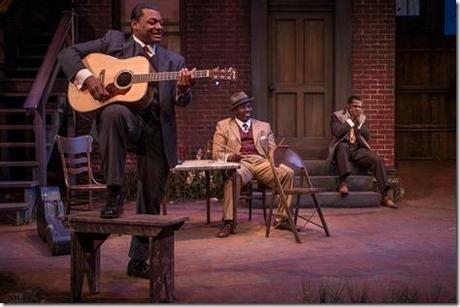 Photos by Michael Brosilow 
---
artists
cast
Ronald Conner (Red Carter), Felicia Fields (Louise), Allen Gilmore (Hedley), Jerod Haynes (Canewell), Erynn Mackenzie (Ruby), Kelvin Roston Jr. (Floyd Barton), Ebony Wimbs (Vera), John Hoogenakker (Voice – Fight Announcer)
behind the scenes
Ron OJ Parson (director), Regina Garcia (scenic design), Christine Pascual (costume design), Marc Stubblefield (lighting design), Joshua Horvath (sound design), Joe Court (associate sound designer), Martine Kei Green-Rogers (dramaturgy), Sara Gammage (production stage manager), William Collins (stage manager), Donald Claxon (asst. stage manager), Matt Hawkins (fight choreographer), Aaron Mays (assistant director), Cristin Carole (movement consultant), Christina Carlson (wig design), Michael Brosilow (photos)
14-0128