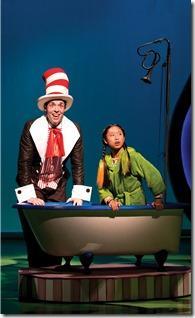 Seussical
Written by Stephen Flaherty and Lynn Ahrens 
Directed by Scott Weinstein 
at Chicago Shakespeare, Navy Pier (map)
thru Aug 17  |  tickets: $18-$25   |  more info
  
Check for half-price tickets 
  
  
   Read review
  
---
Warning: may lead to life long addiction to musical theater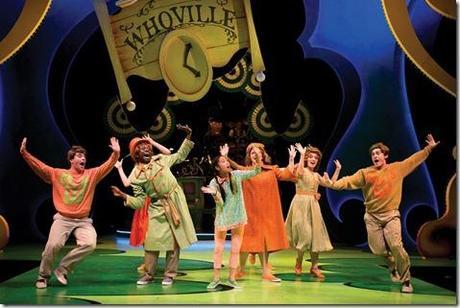 Chicago Shakespeare presents
Seussical
Review by John Olson
By my count, this is the 13th year of summer musicals for kids at Chicago Shakespeare and their second time around with Seussical, Stephen Flaherty and Lynn Ahrens' 2000 Broadway musical based on some of the writings of Dr. Seuss. Reviewing last year's production of Shrek: the Musical, I noted that the show wasn't just for kids. This year….well, we all love Dr. Seuss, don't we, or who ever really wants to leave those books behind? But where Shrek had that sort of cool for adults sensibility – with jokes the parents will get, but the kids won't, Seussical is, to its credit, true to its source material, which is Dr. Seuss's stories written first and foremost for kids. That said, Chicago Shakes has once again delivered a Broadway musical designed for a young audience, but with all the showmanship of a first-rate Equity level production. Parents, be warned: bringing your kids to this show may lead them to a life-long addiction to musical theater.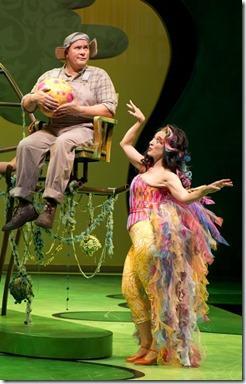 Director
Scott Weinstein
has brought together a most impressive team and cast, including House Theater's
Tommy Rapley
as choreographer and
Michael Mahler
as musical director. We can't really talk about any of these three in isolation – the work of all three is always on display throughout this all-singing, all-dancing (or at least movement) extravaganza. The energy never wanes as the 12-person cast works its way through 26 musical numbers by
Ragtime
's Ahrens and Flaherty. Whether working as an ensemble in the opening number ("Oh, The Thinks You Can Think"), specialty numbers like "Amazing Mayzie" (sung chastely and seductively by
Cory Goodrich
), athletic skating/dancing by the mischievously boyish monkeys the Wickersham Brothers (
Aaron Holland
,
Liam Quealey
and
Joseph Sammour
) or delivering ballads like " Alone in the Universe," (sung sweetly by
George Andrew Wolff
as Horton and
Emily Chang
as JoJo), the music and movement keeps coming at you in the most winning way.
Alex Goodrich is a gentle trickster of a Cat in the Hat – serving as ringmaster of sorts as he takes a young girl (Chang) into the story of "Horton Hears a Who," having her assume the role of JoJo – a kid who lives with her parents in a tiny planet no bigger than a speck of dust that only Horton the Elephant (Wolff) can see. (JoJo was cast, on Broadway as a boy, but there's no reason the role can't be given to a girl, especially one as delightful as the young Miss Chang). Wolff is wonderful and kind as the sensitive elephant – he's a terrific musical theater actor who ought to get more leads around town. Horton's love interest – the one-feather-tailed Gertrude McFuzz – is played by the estimable Lillian Castillo, the powerhouse singer/actress who starred as Tracy in Drury Lane's Hairspray a while back. She again brings her considerable charm and pipes to the role of another different and underestimated young female. It's not nearly the juicy role that is Tracy Turnblad, but Castillo's a joy whenever she's on stage.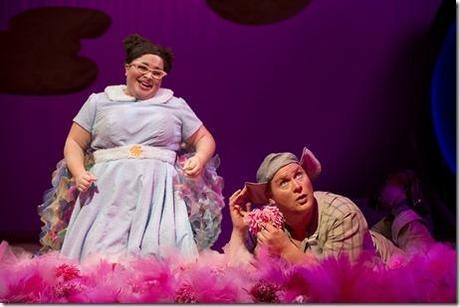 Weinstein plays out this high-spirited romp against the brightly colored set by Scott Davis and costumes by Theresa Ham that bring the look of Seuss's illustrations to the stage. Costumes and headgear are enough to suggest the actors are Seuss's humanoid animals, and you'll have no trouble imagining the full-sized Aaron Holland, Ericka Mac or the high school freshman Miss Chang as the microscopic residents of Whoville. The six-piece band, led by Alan Bukowiecki, does a great job of providing the musical glue that binds all the great short scenes and songs together.
The 75-minute production is an edited version of the Broadway original, and it focuses mostly on Horton, leaving behind some of the other tales included in the full-length version. This particular script, approved by the authors, is the "Theatre for Young Adults" version. Though there are a few standout numbers (like the haunting "Alone in the Universe" and "Solla Sollew"), it's not as rich a score as Flaherty and Ahrens songs for Ragtime (and what score is?) and I'd guess the piece could run out of steam over two hours plus as a full-length musical. There's an even shorter script that runs about 60 minutes called Seussical, Jr., but this version on stage at Chicago Shakes feels like just the right length for this piece. It's funny, flashy and carries a great message – that of tolerance and kindness – nearly as concisely and neatly as a Dr. Seuss book.
Rating: ★★★
Seussical continues through August 17th at Chicago Shakespeare Theater, 800 E. Grand, Navy Pier (map), with performances Thursdays-Sunday at 11am and 2pm.  Tickets are $18-$25, and are available by phone (312-595-5600) or online through their website (check for half-price tickets at Goldstar.com). More information at ChicagoShakes.com.  (Running time: 75 minutes, no intermission)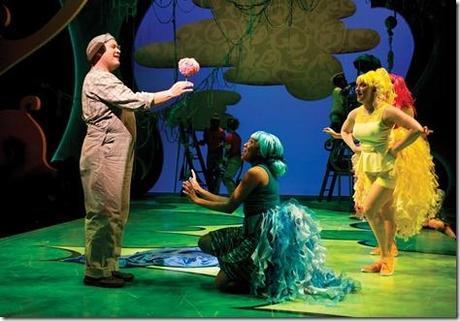 Photos by Michael Brosilow 
---
artists
cast
Emily Chang (Girl, JoJo), Alex Goodrich (Cat in the Hat through August 3), Jackson Evans (Cat in the Hat beginning August 6), George Andrew Wolff (Horton the Elephant), Lillian Castillo (Gertrude McFuzz), Cory Goodrich (Mayzie La Bird, Yertle the Turtle), Lisa Estridge (Sour Kangaroo), Aaron Holland (Mr. Mayor, Wickersham Brother), Liam Quealey, Joseph Sammour (Wickersham Brothers), Ericka Mac (Mrs. Mayor, Bird Girl), Allison Sill, Krystal Worrell (Bird Girls), Kasey Alfono, Ariana D. Burks, Matt Edmonds, Matt Frye, Garrett Lutz, Sierra Naomi, Jonathon Reichart, Demi Zaino (understudies)
orchestra
Alan Bukowiecki (associate music director, conductor, keyboard 1), Jo Ann Daugherty (keyboard 2), John Kornegay (woodwinds), Mike Pinto (guitar, banjo), Ethan Deppe (percussion)
behind the scenes
Scott Weinstein (director), Tommy Rapley (choreographer), Michael Mahler (music director), Scott Davis (scenic design), Theresa Ham (costume design), Jesse Klug (lighting design), James Savage ( sound design), Melissa Veal (wig and make-up design), Lolly Extract and Amber Marsh (puppet design), Bob Mason (casting), Matt Deitchman (orchestral reduction), Sean McNeeely (music contractor), Dennis J. Conners, Deborah Acker (production stage managers), Amber D. Johnson (asst. stage manager), Rick Boynton (creative producer), Barbara Gaines (artistic director), Criss Henderson (executive director), Michael Brosilow (photos)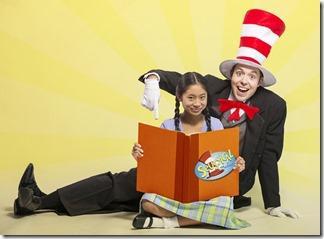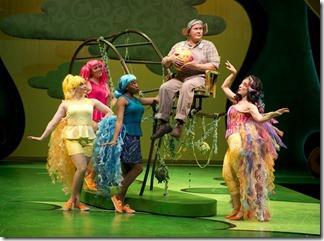 14-0706