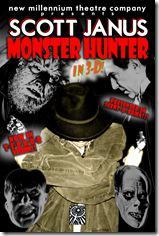 Scott Janus: Monster Hunter!
Written by Paul Czarnowksi
Directed by Sean Harklerode
at Theater Wit, 1229 W. Belmont (map)
thru Oct 30  |  tickets: $17-$20  |  more info
Check for half-price tickets
  
  
   Read entire review
---
High hopes lead to big disappointment

New Millennium Theatre presents
Scott Janus: Monster Hunter
Review by J.H. Palmer
Paul Czarnowksi's original play Scott Janus: Monster Hunter is an homage to the camp horror films of the 50's and 60's that were brought to the American screen by Roger Corman and William Castle, complete with an actress dressed as a naughty nurse who greets theatergoers in the lobby with a clipboard and survey to make sure nobody has any "conditions" that would prohibit them from seeing such a terrifying piece of theater.
Unfortunately, the most terrifying thing about this play is that it doesn't deliver. The playbill is full of promise with its images of Nosferatu, the werewolf, and Count Dracula himself, highlighted by phrases printed in bolded red spooky font like: "presented in scent-o-rama", and "now in terror vision."
The story premise begins with a teenage boy, Eddie Edderson (Chris Yearwood) who suspects his cape-wearing neighbor Mr. Nosferatsenberger (Donaldson) of nefarious deeds after spying on him raking leaves at night. While reading his favorite comic books, Eddie comes across a classified ad for Scot Janus, Monster Hunter (Nick Cardiff), and hires him to investigate the situation. Woven into the story is a teen romance between Eddie and Beverly Garland (Ashley Echevarria), and a rivalry between Eddie and local bully Roger Romero (Robert Alan), who happens to be the son of Officer Andrea Romero (Laura Coleman).
A late-night Halloween show relies on campy, over-the-top acting and melodrama, and while there's nothing wrong with the script itself, it is simply under-acted. With the exception of Donaldson's performance as Mr. Nosferatsenberger, and the uncredited Gygax the Destroyer, who appears onscreen as alien delivering orders from outer space, I had a hard time believing anybody on stage in their respective roles. Lines that were meant to instill suspense and fear into the audience came off as nonchalantly as coffee orders at Starbucks, and I found myself waiting impatiently for the final, predictable scene, and had stressful dreams about what to say about it in my review.
I had high hopes for this play; past main stage shows from New Millennium include such laugh-out-loud titles as Plans 1 Through 8 From Outer Space, and Cubicle! An Office Space Musical (our review), and it comes with all the trappings of high-camp comedy, but it simply doesn't deliver.
Rating: ★½
New Millennium Theatre's Scott Janus: Monster Hunter continues through October 30th at Theater Wit, 1229 W. Belmont (map), with performances at 11pm, Fridays and Saturdays. Tickets are $17 in advance, $20 at the door, and can be purchased by phono (773-975-8150) or online at TheaterWit.org. There are a limited number of half price tickets available through GoldStar.com and Hottix.org. $5 discount for theatergoers who attend the show in a Halloween costume. More information at www.nmtchicago.org (Running time: 70 minutes without intermission)
---
artists
cast
Nick Cardiff, Laura Coleman, Donaldson, Ashley Echevarria, Robert Ertel, Linsey Falls, Sam Greszes, Robert Alan, Christina Irwin, Ken, Jessica Rae, Alex Reynolds, Tom Scheide, Chris Yearwood
behind the scenes
Sean Harklerode (director) Paul Czarnowksi (playwright, board operator); Adam Rosowicz (sets); Chad Wise (producer); Ellen Domonkos-White (props, producer); Meagan Piccochi (asst. director, costumes); Na Le (stage manager); Jared Dennis (fight choreography);  Ky Rankin, Erica Ayche'le (hair): Donaldson (puppet deisgn/operator); Alex Reynolds (puppet operator)