SCARRIE is a big bawdy bucket of fun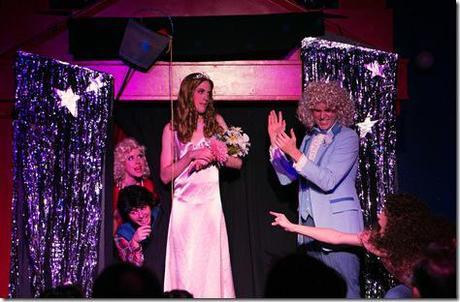 In the making of a good parody, certain elements are indispensable: an iconic pop-culture subject, an irreverent love of that subject, intelligent writing, and lots of talent. Hell in a Handbag's SCARRIE: The Musical, has all of this in spades.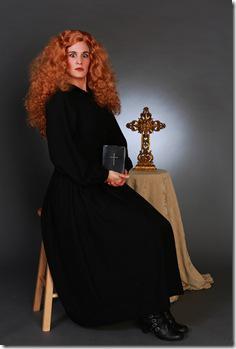 In 1976, Brian DePalma directed a screen adaptation of "Carrie", Stephen King's book about a tormented high-school misfit raised by a mentally unstable and religiously fanatical mother, and who, as she hits puberty, develops telekinetic powers. It is the mother of all bullying cautionary tales, and even those who have not seen it are generally familiar with the elements of the story, so powerful is its place in cult moviedom. With its extreme personalities and overdramatic action, it also lends itself perfectly to parody, and to the loving care of the mind that watched someone drop a bucket of pig's blood on Carrie White's head and said, "You know what this story needs? Some good musical numbers!"
This isn't some vulgar camp parody; this is a vulgar, fantastically inventive camp parody. Using the tiny stage in Mary's Attic, David Cerda and company deliver a send-up masterpiece that is as well written and performed as it is riotously trashy.
From the classic opening scene in the girls' locker room (hello audience participation: tampons are handed out with tickets) to the final curtain, not a moment of this show is anything but side-splitting genius. Alex Grelle's Carrie is the epitome of gawky pariah, aided in no small part by the worst clothing ever; Steve Love's Amy-Irving-as-Susan-Snell is so dead-on that a three-second vapid stare has the audience in hysterics. Margaret White, Carrie's religiously fanatical and emotionally abusive mother, is perfectly rendered by Danni Smith channeling Piper Laurie. As lead popular girl, slut, bully, and all-time super-bitch Chris Hargenson, Aubrey Stanton is so good that my inner Latin-club nerd felt a pang of PTSD whenever she was on stage.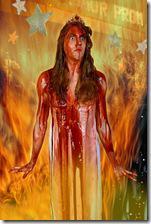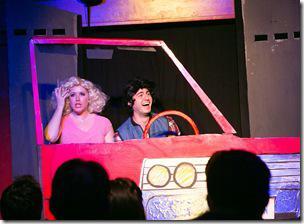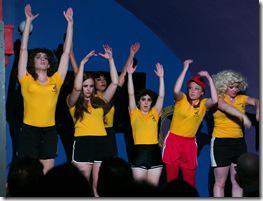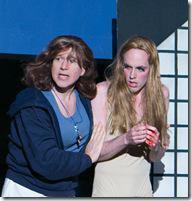 The entire cast is fantastic, and the singing tremendous. Under the direction of Cheryl Snodgrass and the scenic effects of Lolly Extract, the small-budget inventiveness of the production is more entertaining than any big-budget special effects could ever be. The intimacy of Mary's Attic in Andersonville makes the whole experience into a party: the cast is close up and personal, and the bar is right behind the audience.
I saw SCARRIE… and I liked it!
Rating: ★★★★
SCARRIE: The Musical continues through November 10th at Mary's Attic, 5400 N. Clark (map), with performances Thursdays-Saturdays at 7:30pm.  Tickets are $22-$35, and are available online through BrownPaperTickets.com (check for half-price tickets at Goldstar.com). More information at HandbagProductions.org.  (Running time: 90 minutes, no intermission)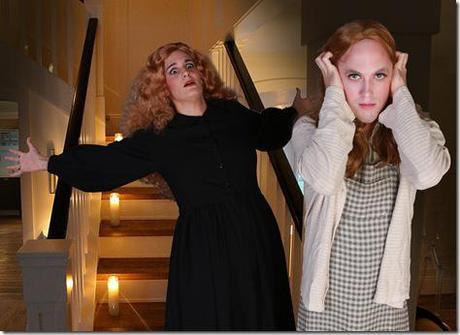 Photos by Rick Aguilar Studios 
---
artists
cast
Kelly Baskin (Candy Burns), David Cerda (Principal Maria Gonzalez), Sadie Rose Glaspey (Norma Watson), Sydney Genco (Debbie Campanelli), Alex Grelle (Carrie White), Ed Jones (Miss Collins), David Lipschutz (Billy Nolan), Steve Love (Sue Snell), Susan Sjodin (Diana Goins), Danni Smith (Margaret White), Aubrey Stanton (Chris Hargenson), AJ Wright (Tommy Ross), Amanda Bloom (female swing), Rachel Pallante (understudy)
behind the scenes
Cheryl Snodgrass (director); Kristen Smiley (choreography); Josh Walker (music director); Kate Setzer Kamphausen (costumes); Derek Rienzi Van Tassel (asst. director); R. Christopher Maxwell (stage manager); Lolly Extract (set, effects); Amber Marsh (asst. set and effects); Mikey Moran (sound design); Jacob Green (wigs); Chris Carpenter (violence design); Jeff Shields (props); Michael S. Miller (graphics); Danni Quider (box office); David Cerda (executive producer); AJ Wright (associate producer); Rick Aguilar Studios (publicity, photos)