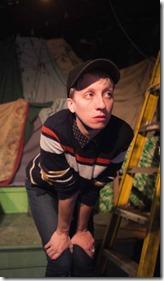 Touching, but uneven, world premiere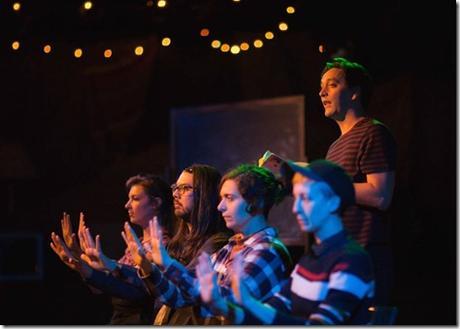 Review by Lauren Whalen
The term "Saturn return" describes the planet's 29-year journey around the sun, which has both astronomical and astrological implications. Many describe the "Saturn return" as a year of changes when an individual turns 29, then 58, then 87. Saturn Returns is part of The Neo-Futurists' new work residency , and held open workshops and showings in the past year before a final performance at The Neo-Futurist Kitchen: a micro-festival on art and performance and now, its month-long run at the Neo-Futurarium. According to its writer-performers, Saturn Returns is a project two years in the making. The show has high hopes and lofty goals, attempting to marry the celestial and the intimate. Sometimes it works, sometimes it doesn't, though the three female cast members are dynamic and compelling.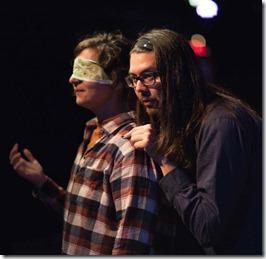 Saturn Returns creator Tif Harrison begins the show with a chronicle of her 29th year, which involved the death of her father, her mother's cross-country move to be with a lover she'd dated for three months, and Tif's own breakup after a five-year relationship. In turn, the other three actors share the adventures of their late twenties - including funerals, illnesses and a year cancer-free - and the one actor who hasn't yet turned 29 examines his future. In true Neo-Futurist style, the script is written by the actors and includes copious personal narrative coupled with performance art, including movement, music and crude but ingenious set, lighting and sound design.
Saturn Returns' main issue is its inconsistency. Personal narrative has become an increasingly prevalent aspect of live theater, and when done right, individuals' stories can be universal and affecting, helping audience members feel less alone. Indeed, certain parts of Saturn Returns accomplish this goal with funny, purposeful grace, mainly when the stories involve the three women in the cast. Late in the show, Lily Mooney - who in her 29th year was forced to completely change her diet due to a stomach illness - narrates a lovely piece about her complex relationship with food and how she learned to find joy in cooking. Kirsten Riiberlost her brother in her mid-twenties, and spoke at his funeral: her reflections on that difficult time are authentic and moving. And I would watch Harrison do a one-woman show any day: her relatable nervous energy and puckish movement quality pair well with her role as this production's driving force.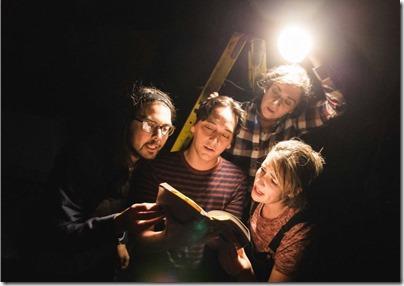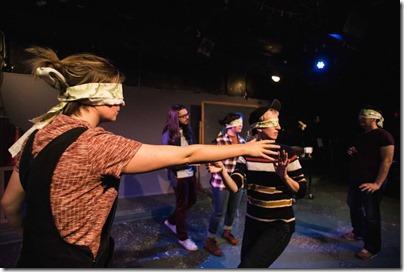 Where Saturn Returns falls down is its weaker moments, where personal narrative gives way to indulgence. Many sequences range from long-winded to just plain incomprehensible. The show could have been at least 10 to 15 minutes shorter, and despite a two-year process, actors noticeably stumbled upon or completely forgot dialogue several times. The two men in the cast, Andrew Thamand Neo-Futurists Artistic Director Kurt Chiang, don't seem to take the concept as seriously as their female counterparts, and their sequences have a lazier feel.
There's a lot to like about Saturn Returns : the show had me reflecting on my own 29th year, during which I started a blog, began freelance writing and was awarded my first artist residency. Harrison and company present a thoughtful, comprehensive look at the major life changes of one's late twenties. If only Saturn Returns weren't bogged down by superfluous scenes, overly twee devices and stumbling through dialogue, the production would be that much stronger and more memorable.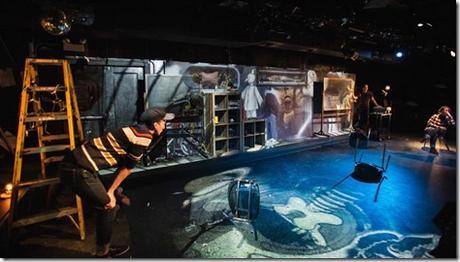 Saturn Returns continues through November 19th at The Neo-Futurarium, 5153 N. Ashland (map), with performances Thursdays-Saturdays at 7:30pm. Tickets are $10-$25, and are available by phone (773-878-4557) or online through their website (check for half-price tickets at Goldstar.com ). More information at NeoFuturists.org. (Running time: 90 minutes, no intermission)
behind the scenes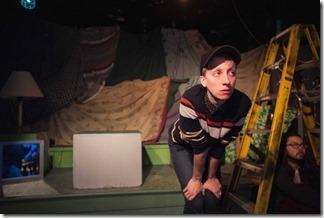 Jen Ellison (director), Brita Thorne (assistant director), Ashley Ann Woods (scenic design), Jason Richards (composer), Spencer Meeks (sound design), Claire Chrzan (lighting design), Trent Creswell (stage manager), Ashley Elander (graphic designer), Smooch Medina (projection design), (photographer)
Tags: 16-1036, Andrew Tham, Ashley Ann Woods, Ashley Elander, Brita Thorne, Chicago Theater, Claire Chrzan, Jason Richards, Jen Ellison, Joe Mazza, Kirsten Riiber, Kurt Chiang, Lauren Whalen, Lily Mooney, Neo-Futurarium, Neo-Lab, post, Smooch Medina, Spencer Meeks, The Neo Futurists, Tif Harrison, Trent Creswell
Category: 2016 Reviews, Lauren Whalen, Neo-Futurarium, Neo-Futurists, New Work, World Premier