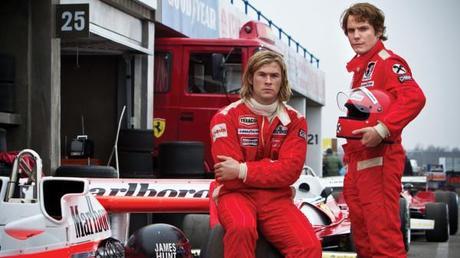 Define thrilling. Is it running to the train at exactly the last-minute? Is it performing that first dive into a pool? For the men in Ron Howard's Rush, it's all about the thrill of driving. Chris Hemsworth and Daniel Brühl play Formula One champions James Hunt and Nicky Lauda on their hunt for victory.
In all ways, James Hunt is an arrogant man. Good things seem to go his way whether it is because of his cunning looks or fearless attitude. Getting women and free booze is all in a days work for the racer. On the other side of the coin, Nicky Lauda has a different lifestyle. While he wasn't nearly as dashing as Hunt, Lauda came from a wealthy family and had all the opportunity in the world to make his life something spectacular. This would've been great for Lauda, but his family disagreed with his racing aspirations and Lauda had to work for all his success.
Rush details the events leading to the exciting 1975 and 1976 seasons where the rivalry between Hunt and Lauda came to a head. James Hunt had married Suzy Miller (Olivia Wilde) on whim and the relationship was extremely short-lived. Nicky Lauda had met his first wife, Marlene (Alexandra Maria Lara) during a party and quickly won her over. She is depicted in the film as being a very supportive wife during difficult times for Nicky Lauda in 1976. If you know anything about the men depicted in drive, it's quite likely that you've read about Nicky Lauda's accident in 1976. It is shown in great detail in the film and creates a turning point about who to really root for in the race results.
All that wouldn't be possible without the performance of Daniel Bruhl. Easily one of the most overlooked performances of 2013, Bruhl carries the film on his back and really gives the drama some weight. While Chris Hemsworth is a fine actor, his character didn't call for the same dramatic work that Bruhl worked with. Nicky Lauda was so determined to win another championship he was back into racing just a few weeks after a horrific accident. Bruhl shows just how much pain and determination Lauda must have endured to get back into racing.
On a whole, Rush was a film that was overlooked in 2013. There were just too many good films that came out and while not one of the best of the year, Rush is a fantastic film worthy of attention. The performance of Daniel Bruhl as Nicky Lauda is career-making and it's exciting to imagine what future performances Bruhl will take on next.