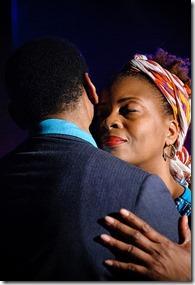 Ruined
Written by Lynn Nottage  
Directed by Aaron Todd Douglas
Athenaeum Theatre, 2936 N. Southport (map)
thru May 25  |  tickets: $18-$28   |  more info
  
Check for half-price tickets 
  
  
   Read review
  
---
Brilliant script imbued with heart-wrenching, heartwarming performances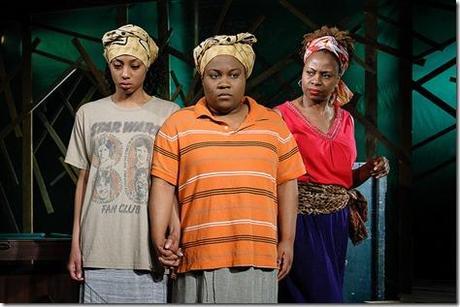 Eclipse Theatre presents
Ruined
Review by Clint May 
There's a pernicious aspect of the human psyche that works on the subconscious of even the most enlightened of thinkers. Known as the 'just-world hypothesis,' it most disturbingly creates a blindness to victims of violence—say, a belief that a rape victim somehow, on a cosmic level, deserved what they got. This phenomenon is perhaps most baldly visible in the so-called "ground zero of rape," the war torn Democratic Republic of the Congo. The atrocious fallout of this fallacy is the central theme of the Pulitzer Prize winning Ruined. Eclipse Theatre Company has chosen to begin their Lynn Nottage season with her most powerful work, an unflinching personal portrait of exiled women who must rebuild some semblance of a life on the blasted wasteland of their past.
Mama Nadi (TayLar) runs a bar/brothel on the outskirts of a mine (the Congo's wars are fueled by their vast mineral wealth). She's a flinty mistress who takes in a few of the thousands of women who have become a tool of war demoralization. Shunned by their families and villages for a wrong they had no ability to prevent, they drift about, surprisingly "lucky" to have found work in a place where they are at least paid for the use of their bodies. Make no mistake, Mama's interests are mercenary. Her liaison to the outside world, a poet-spouting man named Simon (Anthony Conway), has brought Mama two new potentials: a former "bush wife" (sex slave) Salima (Brittneylove Smith) and his own niece, the 'ruined' Sophie (Krystal Mosley) – "ruined" by a bayonet to her vagina, Sophie is a shell of her former self just barely of out of puberty. Reluctant to take in what she considers an ill-omen, she accepts the beautiful Sophie on the basis of her singing voice and ability to please the eyes of patrons (and she comes at a hefty discount.)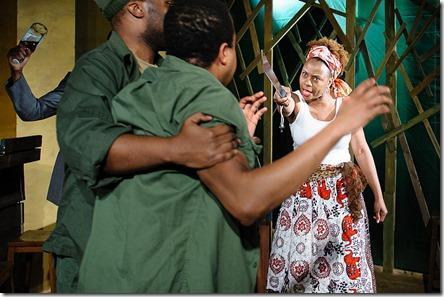 More conventionally structured than its avowed inspiration, Mother Courage and Her Children, Nottage lulls us into a familiar set of story and characters to reveal a world of unconventional malice. Though anchored in Mama Nadi's world, it's a series of interwoven stories taking place over an indeterminate span of time. Mama Nadi must keep an ever tenuous détente in her territory, trying to assert authority in a world where women have little. Salima tells of the horrors of months spent chained to a rebel faction while her husband (Michael Harris) waits in the rain for Mama to release her back to him after his initial shunning. Sophie must make peace with a life that is far from the university she once thought to attend, filching bits of money to save for reconstructive surgery. The question of whether any of these stories of post-traumatic life can have a happy ending provides a through line of tautness as each of their stories crests and collides with an implacably indifferent universe.
This form leads to some pacing lulls in the first act that haven't entirely been smoothed out under Aaron Todd Douglas' direction. Still, it can be forgiven for the power of the female leads and a much more intense second half. Smith's heartbreaking Salima is perhaps the most devastating as she wonders about the nature of love and acceptance in the face of a husband returned. She even nails a rather engineered line reading that marks a few moments in Nottage's script that border dangerously on meta-aware melodrama. Fragile and winsome, Mosley gives a nuanced perspective to a woman with limited options, and her growth next to Mama Nadi provides the key emotional connection of the production. Holding it all together is the gravitas of the omnipresent TayLar. Originally the understudy for the role in the 2008 Goodman premiere—for which Ruined was commissioned—she arrives with an otherworldly grace in the starring role as a fully-realized, complex and pragmatic woman. She manages a respectful sympathy even while spouting such harsh rules as "When times are good we all get a little. When times are bad, Mama eats first." Hagan's multi-tiered and permeable set—the outside jungle can never be kept truly at bay—provides a cunningly economical backdrop.
Based on Nottage's own interviews with women in refugee camps, it's hard to believe the stories on display could be real, that they could still be getting made anew on a daily basis. To throw back the curtain of our theoretically just world and personalize the horror that seems too large to comprehend awakens a renewed awareness of the here and now. If there is to be justice in the world, it begins when we take off the blinders.
Rating: ★★★½
Ruined continues through May 25th at Athenaeum Theatre, 2936 N. Southport (map), with performances Thursdays, Fridays and Saturdays at 7:30pm, Sundays 2pm.  Tickets are $18-$28, and are available by phone (773-935-6875) or online through OvationTix.com (check for half-price tickets at Goldstar.com). More information at EclipseTheatre.com.  (Running time: 2 hours 20 minutes, includes an intermission)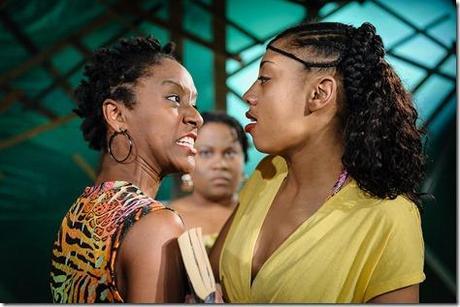 Photos by Tim Knight 
---
artists
cast
Anthony Conway (Simon), Celeste M. Cooper (Josephine), Michael Harris (Fortune), Ashley Hicks (Emilene), Brian Keys (Laurent), Krystal Mosley (Sophie), Michael Pogue (Kisembe), Ron Quade (Mr. Harari), Brittneylove Smith (Salima), TayLar (Mama Nadi) Andre Teamer (Christian), Antoine Whitfield (Osembenga)
behind the scenes
Aaron Todd Douglas (director), Kevin Scott (managing director, co-producer), Nathaniel Swift (aristic director, co-producer), Kevin Hagan (scenic design, lighting design), Susanne Hufnagel (stage manager), Isabel Ellison (assistant director), Samantha Jones (costume design), Matthew Reich (sound design), Vivian Knouse (properties), Sarah Moeller (dramaturg), Linda Gates (vocal director), Kathleen Purcell Turner (choreographer), JP Pierson (casting director), Tim Knight (photos)
14-0433