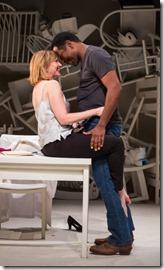 Strong performances relay disturbing, compelling drama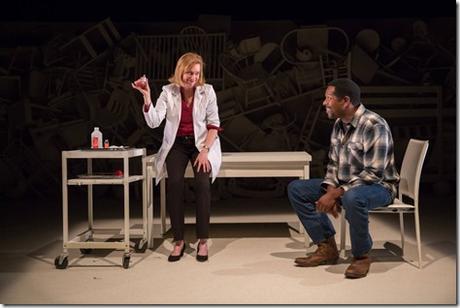 Review by Catey Sullivan
Blood money is at the heart of Victory Gardens' disturbing, compelling and ultimately tragic Roz and Ray . That's not a metaphor. While Big Pharma made trillions by selling tainted blood products to U.S. hospitals treating hemophilia, the children dependent on them for survival wasted away from AIDS. When it became clear that blood supplies in the U.S. were killing people, the pharmaceutical giants packed up their toxic product and began selling it in less regulated markets overseas.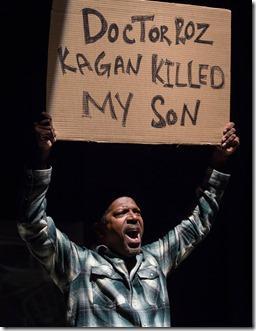 "Maybe someday someone will care that this happened," says Roz, the pediatric hematologist/oncologist in
Karen Hartman
's upsetting drama. But "someday" never arrives in "Roz and Ray," which follows the fates of twin hemophiliac boys under the care of Dr. Roz.
We never actually see the twins in Hartman's two-person drama. Instead, we see Ray, the twins' father, and Roz, their profoundly caring doctor. In a series of scenes between Roz and Ray, the action moves from the mid-1970s to 1991.
Hartman's time-skipping structure illuminates the conflict early. We meet the Roz (Mary Beth Fisher) and Ray (James Vincent Meredith) in the 1970s, as the doctor is showing Ray's seven-year-old boys how to inject themselves with "Factor 8," a near-miraculous treatment for hemophiliacs.
Before Factor, Hartman's authentically conversational exposition explains, hemophiliacs in crisis had to spend hours or even days in the hospital receiving hundreds of bags of blood transfusions. The treatment left them weak and in pain. Their restricted lives - no sports or rigorous physical activity of any kind, endless tears over the constant pain - led to the cruel nickname "hemo homo."
As Dr. Roz explains, Factor 8 will allow the boys to live normal lives. Under the new treatment, the average lifespan for a hemophiliac is 70. In the first scene, Ray embraces Factor as a godsend and Dr. Roz as a savior.
But with the second scene, Hartman paints a far different portrait. It is 1991, and Ray is protesting outside the hospital where Roz works, waving a placard proclaiming her a murderer. The primary tension in lies in Hartman's exploration of what went so horribly wrong between the 1970s and the 1990s.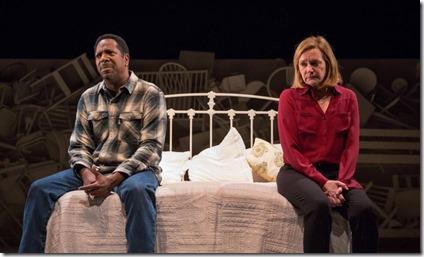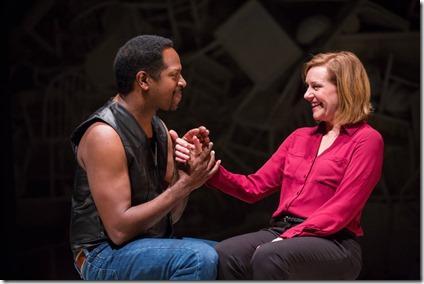 It doesn't take long to figure out. AIDS happened. For hemophiliacs injecting themselves three times a day with a blood product created from 60,000 different donors per dose, the results were cataclysmic. By 1987, 97 percent of the country's hemophiliacs were also HIV positive. Those who weren't positive were faced with a harrowing dilemma: Go back to the dark ages of transfusions, lengthy hospital stays, constant pain and severely restricted lives or pay double for "heat treated Factor," which was, presumably, safer.
Through her deep dive into both characters, Hartman exposes the staggering evil perpetrated by pharmaceutical companies (how else to describe the practice of selling something you know is deadly to desperate people who believe it will cure them?) and the murky, uncharted ethical dilemmas Dr. Roz faces as the devastating impact of AIDS becomes nightmarishly clear.
Ray comes to believe that Roz is a murderer, plain and simple. She allowed his boys to inject themselves with tainted blood, and for that, he is determined to make her pay dearly. But there's nothing plain or simple about Roz's relationship with her patients and the endless layers of hospital politics she has to navigate in order to treat them.
Her efforts are complicated by the fact that she's a woman in a male-dominated field. Minus proof, Roz's early gut feeling that "the bug" could have a catastrophic impact on hemophiliacs will be dismissed as the whims of a typically emotional female.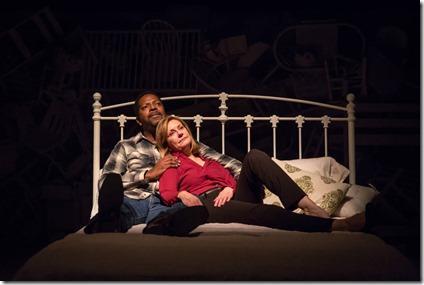 Even after the bug gets a name, nobody seems to care about the devastation it unleashes. Ronald Regan, Hartman notes in her dialogue, never even uttered the word "AIDS," even as tens of thousands of healthy people across the country were dying of the pandemic. For Roz, treating a deadly disease that the uppermost levels of society won't even acknowledge exists becomes an all-consuming, tragically Sisyphean task.
Director Chay Yew's got two of Chicago's finest actors in Fisher and Meredith, and he brings out the best in both of them. Fisher is wholly believable as a besieged doctor facing an impossible task. Her exhaustion and her passion is palpable. So is her anger at having to fight sexism on top of everything else. Meredith is ferocious as a father who will do anything to keep his children safe. Rendered all but powerless against a medical industrial complex that doesn't give a damn about anything but revenue, Ray's rage is intense and contagious.
Unfortunately, Hartman dilutes the power of both the story and its characters by having Roz and Ray embark on a red hot romance. That side of their relationship never rings true and distracts from the central narrative.
Hartman's final scene also seems highly unlikely and is further marred by a tone that lurches weirdly between deadly serious and sitcom-jokey. Hartman ties things up a bit too neatly, especially where Ray is concerned. It seems mighty unlikely that he'd do a 180-degree flip in the course of a single conversation. And Roz's ultimate offer of sacrifice feels more like the action of someone stuck in an overheated melodrama.
Those flaws aren't deal-breakers though, and is well worth seeing. Pay close attention to set designer Timothy Mackabee artful scenic design. He's created a world where all the accoutrements of childhood - rocking horses, football helmets, toy trucks, tricycles - are bleached white. The effect is one of ghosts and bones, a silent testimony to all the young hemophiliacs whose treatment turned out to be a death warrant.
is sobering and upsetting. It is also commands your attention. Hartman has captured a world of injustice in the drama, and in her characters, a pair of mighty warriors.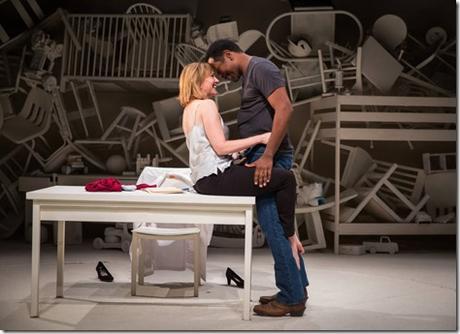 continues through December 11th at VG Biograph Theater, 2433 N. Lincoln (map), with performances Wednesdays-Fridays at 7:30pm, Saturdays 3pm & 7:30pm, Sundays 3pm. Tickets are $20-$60 (students: $15), and are available by phone (773-871-3000) or online through PrintTixUSA.com (check for half-price tickets at Goldstar.com ). More info at VictoryGardens.org. (Running time: 90 minutes, no intermission)
Photos by Liz Lauren
behind the scenes
(director), Timothy Mackabee (scenic design), Christine Pascual (costume design), Diane Fairchild (lighting design), Christopher Kriz (sound design), Alec Long (properties design), Arianna Soloway (assistant director), Isaac Gomez (dramaturgy), Amanda Davis (production stage manager), Liz Lauren (photos)
Tags: 16-1146, Alec Long, Amanda Davis, Arianna Soloway, Biograph Theater, Catey Sullivan, Chay Yew, Chicago Theater, Christine Pascual, Christopher Kriz, Diane Fairchild, Isaac Gomez, James Vincent Meredith, Karen Hartman, Liz Lauren, Mary Beth Fisher, post, Timothy Mackabee, Victory Gardens Theater
Category: 2016 Reviews, Biograph Theatre, Catey Sullivan, Victory Gardens