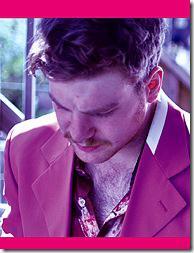 Romeo Juliet 
By William Shakespeare and Felice Romani
Adapted and Directed by Sean Graney 
at Chopin Theatre, 1543 W. Division (map)
thru July 1  |  tickets: $36   |  more info
  
Check for half-price tickets 
  
  
   Read entire review
  
---
Not your mother's R & J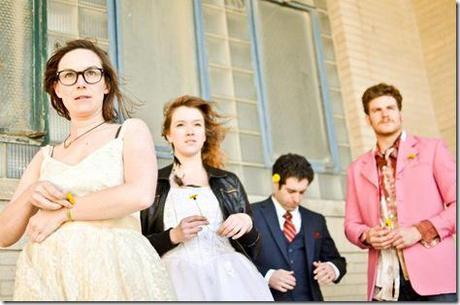 The Hypocrites presents
Romeo Juliet
Review by Lauren Whalen 
The tale of star-crossed lovers from inexplicably warring families is perhaps the most interpreted and re-interpreted in all of theater. I've seen countless versions, but never have I quaffed tea with the cast, doffed my shoes on the way in, and shared an orange with my neighbor while swordfights raged not two feet in front of me – on shag carpeting, no less. Designed and performed by a lively quartet, Sean Graney's Romeo Juliet takes many liberties with a classic text for a breathless and boldly unique 80 minutes.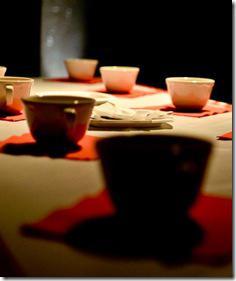 Romeo Juliet begins not with a rising curtain, but a tea service. Audience members are escorted to picnic tables, where they sip tea and chat with the friendly cast and crew, who encourage them to make valentines and post them on a white wall while Leonard Cohen croons away. Spectators are then encouraged to remove their shoes as they're escorted into a 1970's era basement-cum-circus tent, with blue gingham curtains, fluffy white carpet and a coffee table with four swords protruding from it. Then the story begins.
Romeo Juliet retains the original text's themes of romantic love versus family loyalty and violent culture threatening to override positive emotion. However, this version – adapted from the Shakespeare play and Felice Romani's libretto for the opera I Capuleti e I Montecchi – is condensed to about five characters, one of whom is kept alive far longer than in Shakespeare. Several plot points and character traits are glossed over or completely eliminated. Lines of Shakespearean dialog are used at different moments, with contemporary language liberally peppered throughout. Purists be warned: Romeo Juliet is a riff on the original story, not a direct interpretation. Some changes work: rather than hurried impetuous exchanges, Romeo and Juliet have a couple of intelligent, touching interactions that suggest a genuine connection. Some changes do not: the Montagues appear to be rebelling against the Capulets (so much for "two households both alike in dignity").
With this nontraditional script comes an equally nontraditional experience. Audience members are in close quarters with the cast, often subject to high fives, asides and the occasional piece of fruit. Once we are in the space watching the story unfold, the production's interactive elements make more sense. Love is intimate, as are family issues – here, up close and personal makes sense. I couldn't quite figure out the pre-show tea party, but I liked being part of the action in the oddly comfortable basement-tent.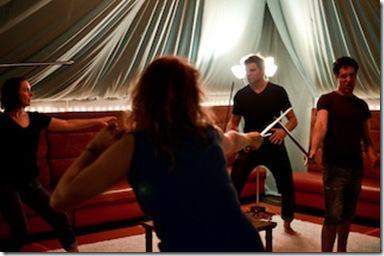 Graney challenged his four actors to design the production as well, and the quartet is as nimble fighting with swords as they are creating a distinctive space. Zeke Sulkes gives Mercutio a combative nature combined with frat-brother brashness that works well. Though sometimes relying too heavily on the text and not her own emotions, Lindsey Gavel is a gleefully nasty Tybalt and a thoughtful, mature Juliet who has a real chemistry with Walter Briggs' hulking yet sensitive Romeo. Only Tien Doman occasionally overplays the Nurse, as if the character's auditioning for Second City instead of protecting the young woman she's single-handedly raised since babyhood.
Comfortable in its own weirdness, Romeo Juliet is not for everyone. Be prepared to talk to actors, straddle a picnic table bench (as I did, in a skirt) and listen to fun.'s "We Are Young" twice. That said, Graney and company take the most familiar of plays and thrust it into the unknown. And though the results aren't always explicable, open minds yield fascinating results.
Rating: ★★★
Romeo Juliet continues through July 1st at Chopin Theatre, 1543 W. Division (map), with performances Thursdays and Fridays at 7:30pm, Saturdays 7:30pm and 10pm, Sundays 3pm.  Tickets are $36, and are available by phone (773-989-7352) or online at Tix.com. Seating availability is very limited due to reduced audience capacity in order to create greater intimacy. More information at the-hypocrites.com.  (Running time: 80 minutes with no intermission)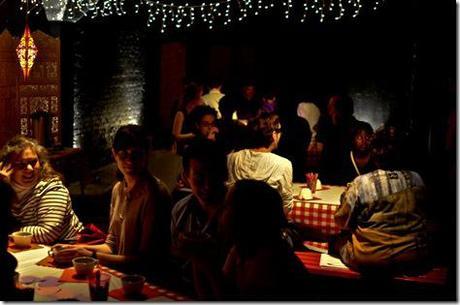 All photos by Ryan Bourque 
---