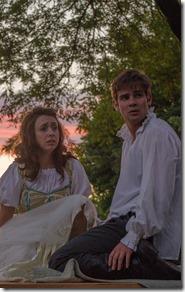 Romeo and Juliet 
Written by William Shakespeare  
Directed by Beth Wolf
at Schreiber Park (map) and Touhy Park (map)
thru Aug 18  |  tickets: FREE   |  more info 
  
  
  
   Read entire review
  
---
A wonderful 'mudsommer' night with Romeo and Juliet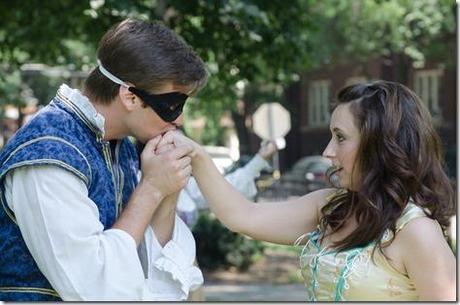 Midsommer Flight presents
Romeo and Juliet
Review by Anuja Vaidya
Shakespeare's classic and tragic tale of two star-crossed lovers is more than just a famous play – it is the epitome of love stories. It has captured the imaginations of generations and has been performed and adapted many times over – so much so that making a performance of Romeo and Juliet seem fresh is a challenging task. Midsommer Flight's Romeo and Juliet, however, manages to do exactly that, while still using period costumes and Elizabethan English.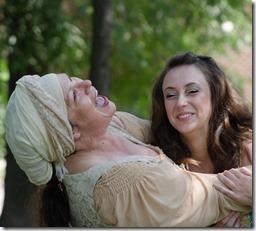 The plot of the play is perhaps the most well known of all Shakespeare's plays. Romeo meets Juliet at a costume party. It is love at first sight as he falls head-over-heels for the lovely Juliet, who feels the same way about him. After a romantic conversation over a balcony, the two lovebirds decide that they must get married. This would have been a picture-perfect union of kindred souls, had it not been for the tiny but vital fact that their families are sworn enemies. Skirmishes between the two families result in the usually gentle Romeo being drawn into a fight with Juliet's cousin, Tybalt. Romeo gets the better of Tybalt. But this sets in motion an unfortunate series of events that ends tragically for the young couple and those who love them.
Performed in Schreiber Park, this theater experience is laid-back, and the production seems to foster a true sense of community as families who wandered into the park to play, were drawn to the show. It was also wonderful seeing young children in the audience, perhaps not quite understanding but seemingly enjoying the show.
The production itself is well executed. Having been to see a number of Shakespeare productions over the last few months, it was actually refreshing to see a production using period costumes, designed by Beth Laske-Miller, and the original dialog. I like a clever and thought-provoking adaptation of Shakespeare's work as much as the next person, but every once in a while it is nice to see straightforward execution of what, in this case, is a heart-wrenching script.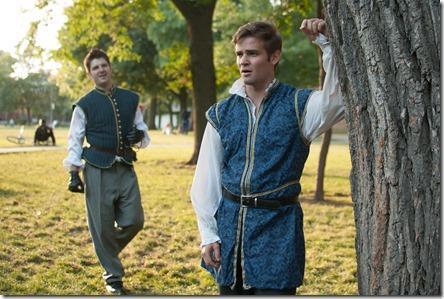 Most of the cast does a commendable job. I particularly enjoyed watching Ashlee Edgemon as Juliet. She gives a spirited and endearing performance, and in Juliet's happier moments, manages to exude a joy that is infectious. In the more somber moments of play, Edgemon's performance deftly transitions to mournful without feeling sudden or overdone. While Edgemon and Brian Scannell, who played Romeo, have great chemistry together, Scannell's performance isn't quite as believable in his scenes without her. Another thoroughly enjoyable performance is Molly Lyons as Juliet's nurse. Lyons' sincerity lends a sense of authenticity to Juliet's scenes with her, which are among the best in the play.
Overall, this clean-cut execution of possibly the most famous love story in the world wins because it gives you the play as is, straight up, just as Shakespeare intended it (or as close as we can get today!) Whether you have read "The Complete Works of William Shakespeare" or are only just beginning to dip into the Bard's works, this a great way to spend a relaxing midsummer eve.
Rating: ★★★
Romeo and Juliet continues through August 4th at Schreiber Park (map), and then Touhy Park (map) through August 18th, with performances Saturdays at 6pm, Sundays at 2pm.  This production is FREE to the public. More information at MidsommerFlight.wordpress.com.  (Running time: 2 hours, NO intermission)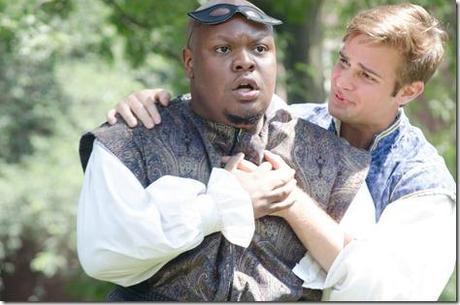 ---
artists
cast
David Cady, Jr. (Lord Montague), Ashlee Edgemon (Juliet), Nick Ferrin (Gregory, Peter, Paris' Page), John Ham (Benvolio), Brendan Hutt (Friar Lawrence), Kanome' Jones (Chorus, Prince), Nyle Kenning (Sampson, Friar John), Molly Lyons (Nurse), Mason Pain (Paris), J. Preddie Predmore (Lord Capulet), Rachael Proulx (Lady Montague), Brian Scannell (Romeo), Chris Smith (Tybalt), Julian Stroop (Mercutio), Adam Welsh (Abraham, Balthazar), Sheila Willis (Lady Capulet)
behind the scenes
Beth Wolf (director), Dylan S. Roberts (assistant director), Beth Laske-Miller (costume design), Ross Lemmon (props design), David Yondorf (violence design)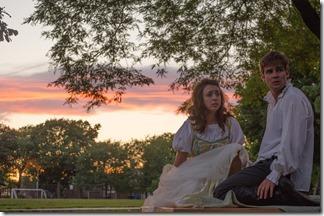 13-0728