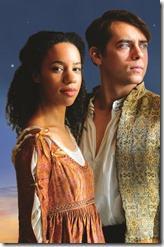 Sweet introduction to Shakespeare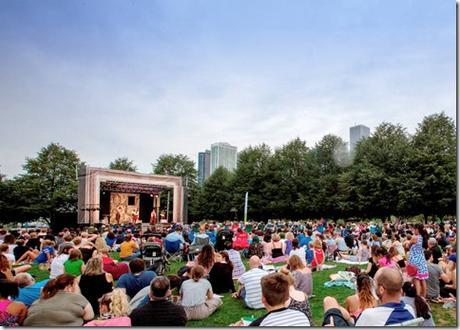 On a hot summer night, a lawnful of people at Navy Pier's new Polk Bros. Park gathered to enjoy an evening of Shakespeare. I ran into a fellow alum of Loyola University Chicago's theater department, as well as a hometown acquaintance who'd brought his summer literature class. Families with small children sat in front of and behind me, and couples and singletons alike spread out picnics on blankets. In today's worrisome political climate, where nothing is certain and human rights are at stake on a daily basis, the sight of so many people at opening night of was heartening to say the least. As always, Chicago Shakespeare Theater delivers, their free outdoor production of the star-crossed lovers' tale a sweet delight.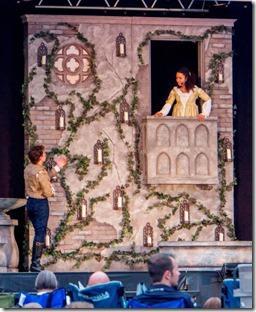 Director
Marti Lyons
also adapted the script, trimming Shakespeare's five-act play to just 70 minutes, that's manageable and friendly to all ages. The basic story remains the same: brooding teenager Romeo (
Nate Santana
) meets thoughtful Juliet (
Emma Ladji
) at a party and it's love at first sight. The only catch: their families are lifelong sworn enemies. Undeterred, the two teens woo and marry in secret, but trouble quickly arises when Juliet's combative cousin Tybalt (
Sam Pearson
) picks a fight that results in bloodshed, with Romeo banished from his home. Meanwhile, Juliet's parents are set on arranging her marriage to Count Paris (
Andrew L. Saenz
), unaware that she's already in love
and
legally wed.
Lyons' adaptation is fresh and lovely, keeping the show's "greatest hits" without sacrificing the building emotions that eventually destroy the protagonists' good and pure intentions. Her direction is energetic, showcasing the best of each actor, and the balcony scene has more than a spot of teenage goofiness, true to the characters' ages and lack of experience with love; one of the truest balcony scenes I've ever witnessed. (Ditto the wedding scene, not presented in every production but interpreted here with a bittersweet poignancy.) Actors periodically enter from and interact with the audience, giving the play a humorous "we're all in this together" feel without compromising its eventual intensity. There's just enough stage combat to keep things interesting (kudos to fight choreographer Matt Hawkins) and Mikhail Fiksel's sound design is an innovative blend of classic and contemporary. Courtney O'Neill's set design is simple but beautiful, as are Mieka van der Ploeg's Elizabethan-inspired costumes and masks.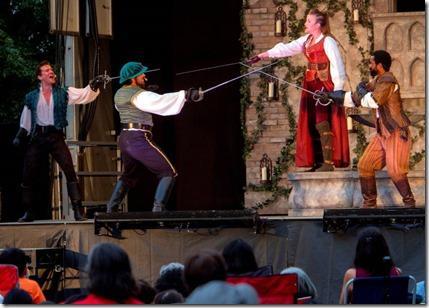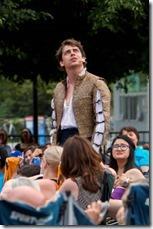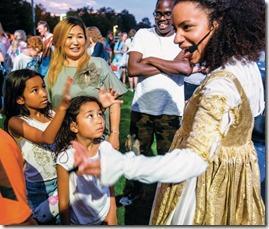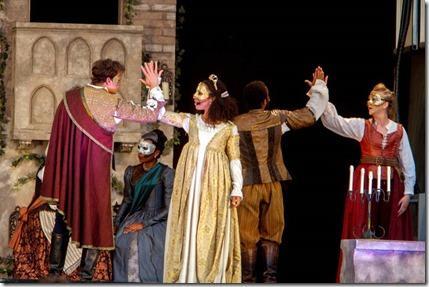 The cast is diverse and gifted, some performing multiple roles with aplomb. Lyons and Chicago Shakespeare casting director Bob Mason cast women in the roles of Benvolio and Prince, and though it's not the first time I've seen women in these roles, theirs was a decision well-made. Making her Chicago debut, Shae Palic displays "one of the guys" humor and excellent combat skills, and Lisa Tejero's Prince is a formidable leader who never backs down but also has a personal stake in the Montague/Capulet feud. Peter Sipla is hilarious in the small but pivotal role of Capulet servant Peter and Gail Rastorfer is a brilliant nattering Nurse. Both Ladji and Santana are beautifully cast, displaying palpable chemistry and youthful energy, while feeling each and every one of the consequences of their actions.
As with Chicago Shakespeare's previous "In the Parks" productions, Romeo and Juliet will be presented throughout the city at various parks, free of charge. Both delightful and tragic in its portrayal of young love and rash decisions, Lyons' adaptation is perfect for Shakespeare newbie and lifelong devotee alike. A solid production of Romeo and Juliet leaves me with a gamut of emotions, and this was no exception.
Romeo and Juliet continues through Aug. 27 at various Chicago Parks (dates and locations). Tickets are FREE. More information at ChicagoShakes.Com. (Running time: 70 minutes with no intermission)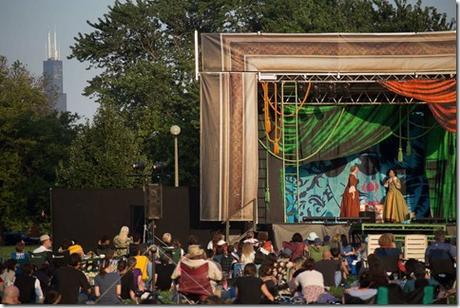 Photos by Chuck Osgood, Daniel Ribar and Michael Brosilow
UPCOMING DATES and LOCATIONS (rain or shine)
(Juliet), Lily Mojekwu (Lady Capulet), Ryan Kitley (Lord Capulet), Gail Rastorfer (Nurse), Sam Pearson (Tybalt), Peter Sipla (Peter), Lisa Tejero (Prince/Apothecary), Michael Perez (Friar Laurence), Brian Grey (Mercutio/Father John), Andrew L. Saenz (Paris), Nate Santana (Romeo), (Benvolio), Edgar Miguel Sanchez (Balthazar)
behind the scenes
(fight choreography), Stephanie Paul(choreography), Kathryn Walsh (verse coach), Marti Lyons (director/adaptation), Courtney O'Neill (scenic design), Mieka van der Ploeg (costume design), Mikhail Fiksel (sound design), Richard Jarvie (wig and makeup design), Matt Hawkins Bob Mason (casting), Dennis J. Conners (production stage manager), Chuck Osgood, Daniel Ribar, Michael Brosilow (photos)
Tags: 17-0736, Andrew L. Saenz, Bob Mason, Brian Grey, Chicago Shakespeare Theater, Chicago Theater, Chuck Osgood, Columbus Park, Courtney O'Neill, Daniel Ribar, Dennis J. Conners, Dvorak Park, Eckhart Park, Edgar Miguel Sanchez, Frank J. Wilson Park, Gail Rastorfer, Garfield Park, Hamilton Park, Humboldt Park, Kathryn Walsh, Lauren Whalen, Lisa Tejero, Loyola Park, Marti Lyons, Matt Hawkins, Michael Brosilow, Michael Perez, Mieka van der Ploeg, Mikhail Fiksel, Nate Santana, Peter Sipla, Ping Tom Memorial Park, Piotrowski Park, post, Richard Jarvie, Ridge Park, Ryan Kitley, Sam Pearson, Shae Palic, Steelworkers Park, Stephanie Paul, Tuley Park, various Chicago Parks, Welles Park
Category: 2017 Reviews, Chicago Park District, Chicago Shakespeare, Lauren Whalen, Navy Pier, Outdoor Performance, William Shakespeare