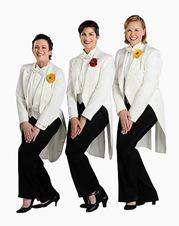 Rodgers & Hart:
   A Celebration
Conceived by Richard Lewine, John Fearnley
Based on music by Rodgers and Hart
Directed by Rudy Hogenmiller 
at Second Stage, 1420 Maple, Evanston (map)
thru Nov 6  |  tickets: $27-$42  |  more info
Check for half-price tickets 
  
   Read entire review
---
'Rodgers and Hart' sings out strong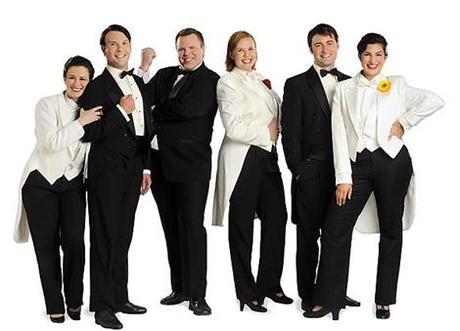 Light Opera Works presents
Rodgers & Hart: A Celebration
Review by Lauren Whalen 
One of my favorite theater professors, also a renowned Chicago director, would often yell at his students mid-scene to "trust the language." He encouraged young thespians to revisit the source material as often as possible, as all questions could be answered within the text. Said professor would highly approve, as I do, of Rodgers & Hart: A Celebration. With the help of an exuberant ensemble and the barest of production elements, Light Opera Works lets the legendary duo's legacy speak – or sing – for itself.
In his program note, director/choreographer Rudy Hogenmiller (also the company's artistic director) marvels that "the songs of Rodgers and Hart have a rare ability to stand on their own." It's true: even out of their original context, the music of Richard Rodgers and lyrics of Lorenz "Larry" Hart convey strong and relatable emotions ranging from pure giddiness to unbearable longing. As snippets of narration inform the audience, Hart was especially familiar with the latter. An alcoholic who passed away in his mid-forties, Hart was a manic and dedicated songwriter but forever unlucky in love. Even his happier tunes never outright utter the words "I love you." Indeed, while numbers such as "I Didn't Know What Time It Was" and "Any Old Place With You" inspire smiles; songs like "It's a Lovely Day for a Murder" reveal a darker sensibility. And the team's best-known tunes, among them "Blue Moon" and "Bewitched, Bothered and Bewildered," are filled to the brim with angst, disappointment and loss.
Richard Lewine and John Fearnley's adaptation strikes just the right emotional balance, making the audience sigh happily just when the sadness gets to be too much. Executed only by voices, piano (conductor Linda Slein) and bass (Joseph Krzysiak), the music is powerful and rich, with no need for embellishment. Keeping with the simple spirit, costume designer Darcy Elora Hofer clothes the cast in black formalwear with accents of red, providing a flattering effect without distracting from the source material. Finally, Rudy Hogenmiller directs and choreographs with a sure hand, effortlessly guiding the performers around Light Opera Works' Second Stage. The smaller space is perfectly suited for a musical revue, giving the audience an intimate –but not suffocating – experience.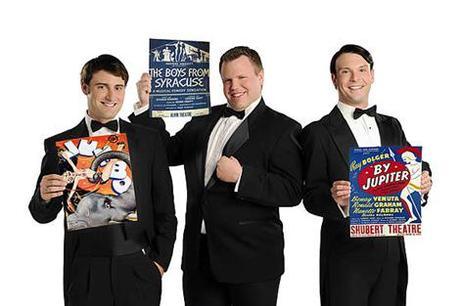 The music of Rodgers and Hart sounds deceptively easy: while the lyrics are catchy, the melodies and interpretations are quite complex. However, Rodgers & Hart's six-member cast is up to the daunting task. Equally strong in solo and ensemble pieces, they glide across the stage and nail impressive high notes, while interpreting each song in a thoughtful, true manner. Tiffany Desmond's gravity-defying soprano shines in songs silly ("To Keep My Love Alive," the cheerful narrative of a "black widow") and gut-wrenching ("Little Girl Blue," later revived by Janis Joplin). Bethany Thomas' wide smile and powerful range are put to good use in "The Lady is a Tramp." Jon Landvick's able tenor stands out in "Nobody's Heart". Though they possess excellent voices, Amy Brophy and David Geinosky sparkle in dance-heavy duets such as "This Can't Be Love" and "He and She," exuding a charm not often found in modern-day performers. And the ever-suave Rob Riddle gives each lyric a Frank Sinatra flair, especially in the wistful "I Could Write a Book."
A powerful team in their multi-decade collaboration, Rodgers and Hart combined light melody with words often gritty and grave. Thankfully, their songs live on and productions such as Rodgers & Hart: A Celebration serve as a tangible reminder of the duo's lasting impression on musical theater. With subtle production elements and a terrific ensemble, Rodgers & Hart: A Celebration is well worth the trip to Evanston. Jupiter forbid you miss this gem.
Rating: ★★★½
Light Opera Works' Rodgers & Hart: A Celebration continues through November 6th at Light Opera Works Second Stage, 1420 Maple Avenue, Evanston (map), with performances Fridays-Saturdays at 8 pm., Sundays at 3pm. Tickets are $27-$42 (half price for theatergoers age 21 and under), and are available by phone (847-920-5360) or online. More information at LightOperaWorks.com. (Running time: 2 hours, with one 15-minute intermission)
---
artists
cast
Amy Brophy, Tiffany Desmond, Bethany Thomas, David Geinosky, Jon Landvick, Rob Riddle
behind the scenes
Rudy Hogenmiller (director, choreographer); Linda Slein (musical director, conductor, piano); Joseph Krzysiak (bass), Bobby Johnson (asst. director, asst. choreographer); Adam L. Veness (scenic design); Darcy Elora Hofer (costumes); Charles Jolls (lighting), Miles Polaski (sound), Rachel Levine (stage manager), Paige Keedy (production manager), Sienne Macedon-Kusek (hair, make-up), Mac Vaughey (master electrician), Casey Franklin (run crew), Daniel Black (sound board)