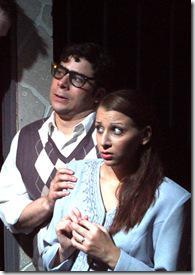 Rocky Horror
Directed by Wayne Shaw 
Heartland Studio, 7016 N. Glenwood (map)
thru Sept 17  |  tickets: $20-$25  |  more info
Check for half-price tickets
  
  
  
   Read entire review
---
Redemption!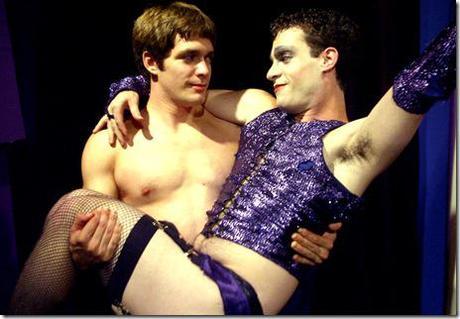 Ludicrous Theatre presents
Richard O'Brien's Rocky Horror
Review by K.D. Hopkins
I titled this review 'Redemption' because the last Ludicrous production I saw, Lilith, was not so great. Richard O'Brien's Rocky Horror is a great production of the Richard O'Brien classic. Ludicrous Theatre has staged this play as if the audience were in a failing movie house watching so-bad-it's-good science fiction. The theater becomes a porno house on some days. I was greeted by "Ma" in a dumpy cleaning lady get up. She ushered me to my seat and groused about how filthy the place was and how horrible pornography was. She proceeded to grudgingly clean up the sticky floors and wall sconces. It was a good pre-show bit. I loved the B-movie trailers and segments of "The Behemoth", "Them!", and "It Came From Outer Space 3D". Lines such as "I believe that what we are seeing is a Biblical prophecy come to life!" are perfect for the kitschy postmodern era portrayed in Rocky Horror.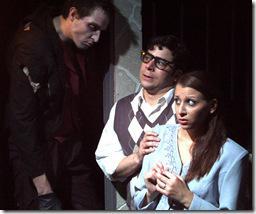 I was in college during the heyday of the "Rocky Horror Picture Show," when it played on weekends at the old Biograph Theater. To me that was crazy spectacle. It was outrageous, fun, and a really naughty for an old-school Catholic. I am happy to report that the Ludicrous production recalled all of those feelings.
To me, Rocky is foremost a musical. So I was thankfully stunned at the amazing quality of vocals in this show. Suzanne Bracken, as both Ma and Magenta, has a sultry cabaret style voice, and is perfectly cast. Filling the additional role of costume designer, Ms. Bracken made excellent choices for such a stylized and already well known show. The show looks like a cartoon and Mad Magazine come to life. Kirk Jackson and Mara Stewart as Brad and Janet are believable as sweet nerds who take a very wrong turn. The engagement scene is straight out of a Lawrence Welk Show segment, and is hilarious and actually touching in its sweetness.
Although I know the story, I was still pulling for them when they meet Kevin Buswell's Riff Raff – an excellent physical fit for his character. He projects a nice menace as well as humor when opening the door to Dr. Frank N. Furter's gloomy domain. Buswell sings the introduction to the classic "Time Warp". He's in fine voice in spite of misfiring on some high notes, but his performance is so perfectly ballsy it doesn't matter. The chemistry between him and Ms. Bracken is sizzling as the possibly incestuous alien siblings.
I was really geared up for the entrance of the mad doctor Frank N. Furter after rousing chorus of "Time Warp" sung by the Transylvestites. This chorus rocks! Perfect harmonies from the chorus, with choreography by Laura Wessland,  are worth the ticket alone. The wonderful masks created by Jeff Semmerling of Inside Out Art Studio are a visual delight. They enhance the madness and rather surreal quality of the production.
The role of Frank N. Furter is played by David Goodman, whose portrayal is a mixed bag. The role has become iconic as played by Tim Curry. Anyone stepping into those garters and platforms has to bring it, and Goodman is rather underwhelming as the sweet transvestite from Transsexual, Transylvania. I have seen drag performances that have burnt up the floor in Chicago; they have attitude and know how to work the shoes. Goodman does not yet have the strut that says 'I live in 6-inch heels'. He is good-looking and has a deft insouciance, but there needs to be a more of an assertive physical presence. There should be no holding back in this powerhouse cast.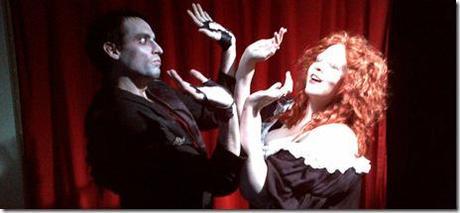 Speaking of powerhouses: Brian Elliot as Eddie and Dr. Scott has an operatic voice that comes as a surprise and a nice change from the movie portrayal by Jonathan Adams. Mr. Elliot did a one-up on Meatloaf from the movie as well. He is quite funny and has great timing in trying to mask a pesky automatic Nazi salute.
Likewise, J. Keegan Siebken is wonderful as Furter's creation Rocky Horror. He plays the naïve and compliant creation with a sly sex appeal and he sports a great set of abs. It takes some guts to work it in gold lame underpants and no shirt. Yes- he is the plaything but it's great when the monster comes out.
A very special shout out to the chorus of Transylvestites: Caitlin Jackson, Shawna McKeown, Katherine Glavin, Anthony Whitaker, and Lisa Coleman. I wanted to get up and dance the "Time Warp" with them. Director Wayne Shaw deserves praise for this production. It is a lean, funny, and fresh take on a cult classic. There were some ladies in my row that were really into the spirit of things. They brought the rice, newspaper and toilet paper. You had to have been there back in the day to get the meaning of those objects. Catch a midnight screening if it ever shows. In the meantime don't miss out on experiencing the Ludicrous production of "Rocky Horror Show!
Rating: ★★★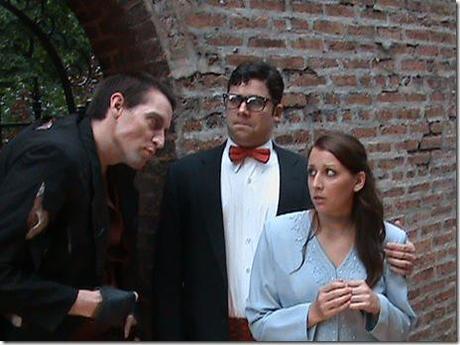 Ludicrous Theatre's Rocky Horror continues through September 17th at Heartland Studio Theatre, 7016 N. Glenwood (map), with performances Thursdays and Fridays at 8pm, Saturdays at 2pm and 8pm, and Sundays at 2pm. There is one midnight show on September 9th. Tickets are $20-$25, and can be purchased by phone (phonenumber) or online at BrownPaperTickets.com. More information at LudicrousTheatre.com.
---
artists
cast
Kirk Jackson (Brad); Maria Stewart (Janet); Suzanne Bracken (Ma, Magenta); Kelly Parker (Columbia); David Goodman (Frank); J. Keegan Siebken (Rocky Horror); Brian Elliott (Eddie, Dr. Scott); Wayne Shaw (Criminologist); Kevin Buswell (Riff Raff); Shawna McKeown, Katherine Glavin, Caitlin Jackson, Anthony Whitaker, Lisa Coleman (Transylvestites)