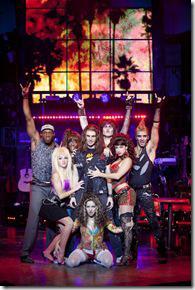 Rock of Ages 
Book by Chris D'Arienzo
Music by every 80's rock band imaginable  
Directed by Kristin Hanggi 
Broadway Playhouse, 175 E. Chestnut (map)
thru Aug 5  |  tickets: $70-$80   |  more info
  
Check for half-price tickets 
  
  
   Read entire review
  
---
It's loud, stupid – and terrific!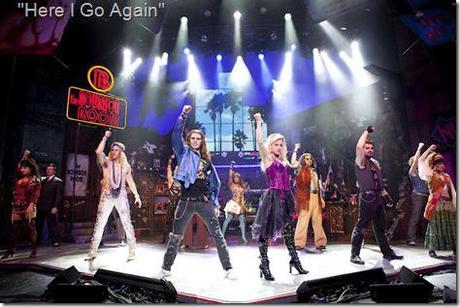 Broadway in Chicago presents
Rock of Ages
Review by Catey Sullivan 
You know when the book writer includes a gag about teabagging baby llamas that you're in a show that doesn't ask to be taken seriously. And so it is with Rock of Ages, back to provide boomers with a reason to whip out their lighters and rock out with a solid two hours of face-melting tuneage. The show works for two significant reasons: The cast truly does rock the bejeezus out of a dizzying array of hair-metal classics. And the show is very much in on the joke. Directed by Kristin Hanggi (with "direction recreated" for this road tour by Adam John Hunter), Rock of Ages is so over the top it makes "Spinal Tap" look like a model of elegant restraint. It's lewd, crude and totally hilarious. And while Rock of Ages might be non-Equity for its third trip to Chicago, it is a non-Equity cast that, well, rocks.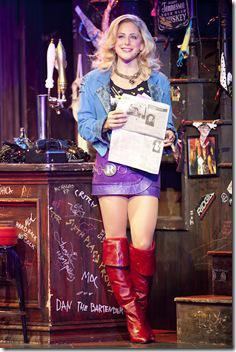 The story (book by
Chris D'Arienzo
) is pretty much beside the point, given that the plot has all the depth and intrigue of a three-chord chorus by Foreigner. That doesn't matter. What does matter is the catalog of 28 songs in play here, which include hits by Whitesnake, Quarterflash, REO Speedwagon, Journey, Styx and enough others to send an aging boomer into an ear-peeling nostalgia trip right back to the majestic acid washed era of circa 1985.
Our ostensible hero is Drew (Dominique Scott), barback at the legendary Bourbon Room (clearly modeled after the Whiskey a Go-Go where the Doors legendarily played in their early days) an aspiring rock star. In the boy-meets-girl plot, the girl is Sherrie (as in that insightful and provocative lyric, "Oh Sherrie, our love holds on. Hold on."), played with abtastic charisma by Shannon Mullen. (She's just a small town girl who took the midnight train, etc. etc. etc. ). As lung-busting as their vocals are, these ingénues take a back seat when the likes of preening front man Stacee Jaxx (Matt Nolan) takes the stage strutting in a tongue-waggling parody of excess and rock god decadence. As a puckish narrator/"stage conjurer," Justin Colombo is similarly scene-swiping whether he's cracking dirty, stupid jokes or showing the audience the crack in his ass as he hops across the stage like some kind of mutant, head-banging kangaroo.
There's another star here, and that's lead guitarist Chris Cicchino, who doesn't need dialog to be heard. He's been with the show since its Broadway days, and starts things off with a downstage guitar solo performed in front of a wind machine for maximum sex appeal. If you can get past the devil horns and posturing (and even if you can't) it's not hard to tell Cicchino has some serious string skills. He shreds his solos with both abandon and ear-splitting (in a good way) precision, making the finale of "Don't Stop Believin' " into a powerhouse fist-pumper that could set a legless man's feet to tapping.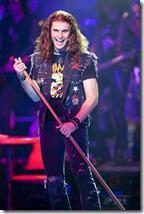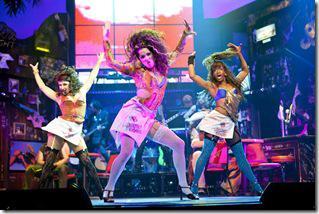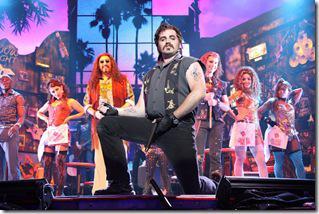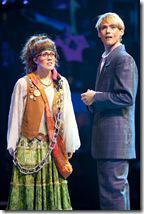 Then there's Stephan Michael Kane as Franz, the effeminate, brow-beaten son of a real estate developer (Philip Peterson) who would tear down the city built on rock and roll and replace its grungy charms with clean, efficient strip malls. It's not everyone who can nail the ridiculousness of lines like "Eminent domain. My tongue feels like Easter Morning when I say it," and do justice to a skin-tight, aquamarine unitard (with sparkles!), but Kane manages nicely, making Franz as endearing as he is preposterously silly.
And just when you think Rock of Ages' guilty pleasures couldn't get any guiltier, in comes Bourbon club owner Dennis DuPree (Jacob L. Smith, channeling a garish version of Duane Allman) shooting off a glitter cannon and a Fog Master 5000. In all, Rock of Ages is, to use the parlance of its era, rad. Which is to say it's loud, stupid and terrific.
Rating: ★★★
Rock of Ages continues through August 5th at Broadway Playhouse, 175 E. Chestnut (map), with performances Tuesdays-Fridays at 7:30pm, Saturdays at 2pm and 8pm, Sundays 2pm and 7:30pm.  Tickets are $70-$80, and are available by phone (800-775-2000) or through Ticketmaster.com (check for half-price tickets at Goldstar.com). More information at RockOfAgesOnTour.com.  (Running time: 2 hours 15 minutes with one intermission)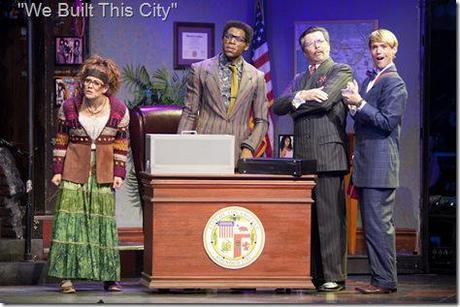 Photos by Scott Suchman and Kate Egan
---
artists
cast