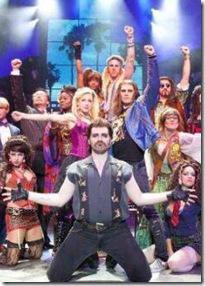 Rock of Ages 
Written by Chris D'Arienzo
Directed by Kristin Hanggi
at Oriental Theatre, 24 W. Randolph (map)
thru Nov 13  |  tickets: $18-$90   |  more info
Check for half-price tickets 
  
  
   Read entire review
  
---
A night in 80's heaven
 
Broadway in Chicago presents
Rock of Ages
Review by Lawrence Bommer
A jukebox musical is only as good as the songs you get for the tickets you buy. Judging from the opening night crowd for this return engagement of what should be called "Rock of '80s," it hits the hits they want to revel in to mark 30 years worth of nostalgia for the likes of Whitesnake, Pat Benatar, Foreigner, REO Speedwagon, Styx, and Journey. If those names don't make you melt, stick with Mamma Mia!
The title, of course, is a pun on rock music, not a reference to the famous hymn. The only "religion" fueling this shamelessly slick compilation of Reagan-era rock rumblers is L.A. showbiz circa 1987. Sherrie (Shannon Mullen), a small-town Michigan girl with big hopes and even bigger lungs, meets a would-be, deeply driven rocker Drew (Dominique Scott, shaking his locks along with the house).
Their dreams kick in at the Bourbon Room, a legendary Sunset Strip club that's facing the wrecking ball if L.A.'s very unhip mayor, wielding the weapon of eminent domain, succeeds in turning the area into a strip mall. Since boy-meets-girl is always followed by the obligatory separation, Sherrie is drawn to a sexy user named Stacee Jaxx (hardbodied heartthrob Matt Nolan), a muscular meanie and former headliner of the soon to be disbanded Arsenal band. When he beds her and then kicks her out of the club, she becomes a stripper, while, Drew, deprived of his muse, sinks into a "boyz" band.
But true love and good luck can defeat the wicked plans of venal record producers and greedy developers. Sherrie and Drew finally rock out together, with a little help from matchmaker and narrator Lonny (Justin Colombo, taking too many pauses for laughs that don't come). Adding texture to their predictable passion are assorted Tinsel Town types straight out of Central Casting and not worth more mention.
Deeply indebted to the likes of "Xanadu" and "Rocky Horror Picture Show," this 2009 Broadway import, nominated for 5 Tony Awards, is held together by a ferociously contrived book by Chris D'Arienzo that, like the much better one that connects the ABBA hits in "MM!," simply exists to excuse recreations of "Hit Me With Your Best Shot," "I Can't Find the Feeling" or "We're Not Gonna Take It"—but louder than you ever heard them before.
Which, as it turns out, is just what the opening night audience wanted, along with a cute video backdrop and a killer band. No question, the crowd was in 80s heaven. Their show of choice, after all, is a rock concert, not a bona fide Broadway musical with an original score and story. It helps if it's amplified to the orbit of Uranus (though the guitar playing was badly served by the sound system). Anyway, they get that beyond even their worst wish.
No question, Kristin Hanggi's rampaging staging, now in its second visit to Chicago in a year, delivers the goods, the jokes, the memories and the high- (and low) strutting rock charisma. Colombo plays Lonny like a steroid-infused version of the Kit Kat Klub's sardonic emcee. Mullen belts out her anthems exactly the way the composers must have imagined them.
This combination of implausible plot and unsinkable songs goes over the top so often it wears you down enough to enjoy it. Just put your brain in sleeper mode. Sway with the enthralled, beer-swilling audience members (though this time there were no imitation cigarette lighters provided for the crowd to wave). If it's not exactly the rock of ages, then the Reagan era, I guess, is eternity enough.
Rating: ★★★
Rock of Ages continues through November 13th at the Oriental Theatre, 24 W. Randolph (map), with performances Wednesday-Friday at 7:30pm, Saturday at 2pm and 8pm, and Sunday at 2pm and 7pm.  Tickets are $18-$90, and are available by phone (800-745-3000) or online here. (check for half-price tickets at Goldstar.com). More information at RockofAgesOnTour.com.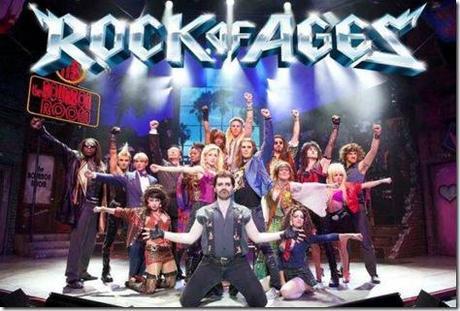 All photos courtesy of Broadway in Chicago 
---
artists