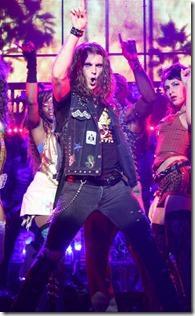 Rock of Ages
Book by Chris D'Arienzo
Original arrangements by David Gibb 
Directed by Kristin Hanggi
Bank of America Theatre, 18 W. Monroe (map)
thru March 16  |  tickets: $18-$85   |  more info
  
Check for half-price tickets 
  
  
   Read review
  
---
Bawdy 80's rock musical pulses with infectiously fun energy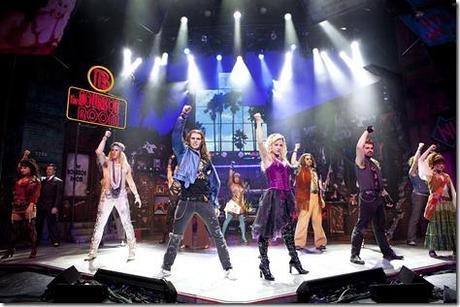 Broadway in Chicago presents
Rock of Ages
Review by Lauren Whalen 
Until last night, my only experience with Rock of Ages was watching the mostly-forgettable 2012 movie adaptation in a mostly-empty theater. (Tom Cruise's surprisingly inspired rendition of Def Leppard's "Pour Some Sugar on Me" was the only highlight, as well as a sad reminder of the negative effects of Scientology.) I wasn't expecting my life to be changed by the 80's-rock musical's latest touring production, and as a result, enjoyed Rock of Ages on stage much more than on screen. The plot is thin, sure, but the script is surprisingly funny, the score nostalgic and pleasing and the cast ripe with a game, infectious energy.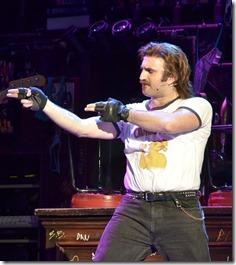 Set in Los Angeles in the mid-to-late 1980's,
Rock of Ages
follows a colorful set of characters in and out of legendary rock club the Bourbon Room. There are dreamers Drew (
Dominique Scott
) and Sherrie (
Shannon Mullen
), who of course will fall in love; the older but still hip club proprietor Dennis (
Brian Ashton Miller
); notorious frontman Stacee Jaxx (
Joshua Hobbs
) and a host of waitress-groupie-strippers. Unfortunately, the club may come to an end if a German father and son (
Travis Mitchell
and
Tanner Hussar
) get their way and turn the LA strip into a haven for economic and clean-cut living.  Meanwhile activist Regina (pronounced Re-JY-na), played by
Jessica Pucek
, is hell-bent on preserving what she feels is living history. Presiding over the action is Bourbon Room manager Lonny (
Andrew Sklar
), who never misses the opportunity for a party, a mullet and a T-shirt inscribed with a filthy pun.
Rock of Ages' score consists of David Gibb's original arrangements of hits from Journey, Styx, REO Speedwagon, Whitesnake and the like. If you sang along to it in 1987, chances are it's in the show. The production's first half fares better than the second, when too many attempts at plot and character development threaten to crowd out the initial fun spirit. And Rock of Ages shouldn't try to be anything more than it is: a slightly less family-friendly theme park show. Sure, the characters drop the f-bomb multiple times and there are sex jokes and scantily clad girls aplenty, but at its heart Rock of Ages has an innocent silliness that (when it's not trying to be serious) is eminently enjoyable.
)
That's not to say it's moronic. Chris D'Arienzo's book is appropriately self-deprecating, winking at the audience just enough. Kelly Devine's choreography makes good use of the two poles on stage, and brings the trashy nostalgia in spades. Gibb's arrangements are quite catchy, and Tony nominee Gregory Gale's costume design is straight out of a glam metal music video (with the exception of leading man Scott's terrible wig).
Rock's strongest suit, besides its unexpected wit and greatest hits score, is its cast. Several have performed in a cruise ship production, and it shows in their gung-ho liveliness and commitment to every bit of camp thrown their way. Gelsey Laurie makes good use of her mile-long legs in many demanding dance numbers, and displays nice comic timing in a small role as reporter Constance. Hussar's effeminate candymaker-turned-suit elicits many giggles, and Hobbs is every inch the 80's headbanger god, from his six-pack abs to sloping swagger. Miller is a lovable Papa Bear, and Scott has both an aw-shucks charm and a spot-on rock scream. But the real standout is Sklar as narrator Lonny: he never misses a chance for a pratfall, a double entendre or a gimmick, and his goofiness is utterly endearing.
At its best, Rock of Ages doesn't try to be more than what it is: a ride back in time to when the best hair was business up front and party in the back, electric guitars reigned supreme and trashing hotel rooms was still cool. The show ends with a song that's been used in a number of movies and television shows in the past several years – "Don't Stop Believin' – but when the audience is on their feet, singing and dancing along, and the onstage vocals soar, we know exactly why it ends this musical as well. No matter how many times you hear it, it's still a damn good song.
Rating: ★★★
Rock of Ages continues through May 16th at Bank of America Theatre, 18 W. Monroe (map).  Tickets are $18-$85, and are available by phone (800-775-2000) or through Ticketmaster.com (check for half-price tickets at Goldstar.com). More information at RockOfAgesOnTour.com.  (Running time: 2 hours 25 minutes, includes an intermission)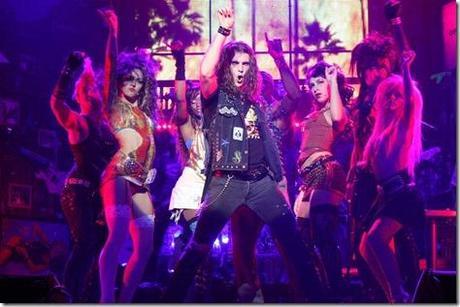 Photos by Susan Gould and Kate Egan
---
artists
cast
Dominique Scott (Drew), Shannon Mullen (Sherrie), Andrew Sklar (Lonny), Joshua Hobbs (Stacee Jaxx), Brian Ashton Miller (Dennis), Tanner Hussar (Franz), Kadejah Onè (Justice), Travis Mitchell (Hertz Klineman), Jessica Pucek (Regina, Candi), Sam Dowling (Joey Primo, ensemble), Gelsey Laurie (Constance, ensemble), Ashley McManus (Waitress #1, ensemble), Chris Sams (Mayor, Ja'Keith, ensemble), Madison Turner (Young Groupie, ensemble), Tim Shea, Cody Ryan, Leah Zahner (Ensemble)
band
Marshall Keating (conductor, keyboards), Paul Wiley (guitar 1), Maddox (guitar 2), Rigo Flores (bass), Bones Elias (drums)
behind the scenes
Kristin Hanggi (director), Kelly Devine (choreographer), Ethan Popp (music supervision, arrangements and orchestrations), Beowulf Boritt (set design), Gregory Gale (costume design), Jason Lyons (lighting design), Craig Cassidy (sound design), Zachary Borovay (projection design), Phoenix Entertainment (producer), Susan Gould, Kate Egan (photos)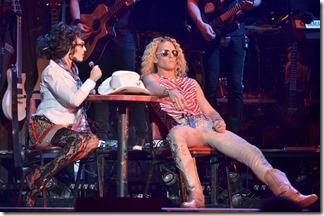 14-0327