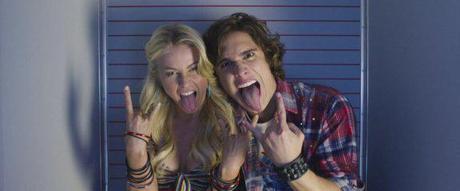 What a fun idea! Let's bring the musical Rock of Ages to the theaters and hope for the same success as Hairspray. That was the hope with having director Adam Shankman bring the hairband loving musical to the big screen. While it retains some of the spirit of the music and the supporting cast is notable, there's not much here to recommend due to an overabundance of cheesy scenarios and poor acting from the two young leads.
In the year 1987, hairbands ruled the radio. The Bourbon Room, run by owner Dennis (Alec Baldwin) and lackey Lonny (Russell Brand) are in dire need of a cash infusion. Their hopes lie in the ability of rock legend Stacie Jaxx (Tom Cruise) and his incredible last performance before going solo. Small town girl, Sherrie (Julianne Hough), is fresh off the singing bus to pursue her dreams of stardom. Once all her records get stolen, she is saved by Bourbon Room employee Drew (Diego Boneta) and the lighter is lit. The cast also includes the devilish manager Paul (Paul Giamatti) who tries to corrupt Drew. There's also Patricia (Catherine Zeta-Jones, in her first major screen role in forever), the wife of the Mayor of Los Angeles (Bryan Cranston) who tries her best to shut down the Bourbon Room.
You Give Love a Bad Name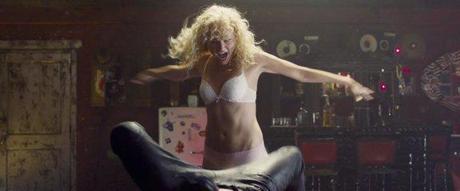 Rock of Ages features lots of depictions of love. Given how much of a rock legend Stacie Jaxx is how could he not have countless women around him. Constance (Malin Akerman) a Rolling Stone reporter determined to get the story behind Stacie Jaxx falls for his charms. There's nothing sexual about their romance even though they strip down to their underwear. Constance seems to have tongue issues as her tongue seems to sprawl out into Stacie Jaxx ear. It's so goofy, it's uncomfortable to watch. In an era where sex was rampant, Rock of Ages doesn't understand what audience it should really be appealing towards. Children aren't going to enjoy this movie since they won't know the songs and adults get a watered down version of the late 1980′s.
Once Bitten Twice Shy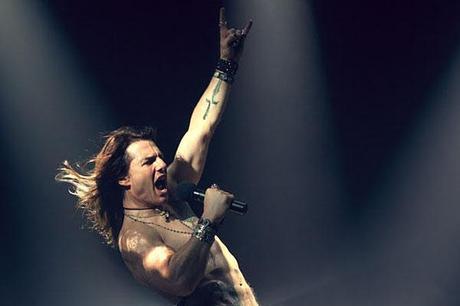 Maybe the endless cheese would be okay if the performances were good. The standouts are Tom Cruise as Stacie Jaxx in one of his best performances since Magnolia. His singing is good for the era he's depicting and he embodies a worn-out rock legend. Alec Baldwin and Russell Brand are fine in their roles, their duet being one of the strongest musical segments in the movie. That's where the acting praise ends though. Julianne Hough, best known for Entertainment Tonight and Dancing with the Stars, better forget that acting career. While she's the better of the two unknown actors, her character is poorly written. She's okay with being walked on and the lack of trust won't stop her relationship with heart-throb Drew. She's at her best when her character is broken and she begins work in a strip club. Diego Boneta (best known for Mean Girls 2) on the other hand has nothing redeeming about his performance. He should've just sat there and smiled instead of trying with this performance.
Look What The Cat Dragged In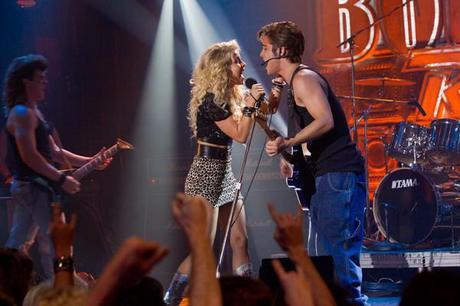 What should-be a fun time at the movies, gets watered down by poor performances from the unknown leads and extreme cheese. Thankfully, the outfits are authentic to the era and the music still holds up. While they try some fancy remixes that seem to be there just for something different, there's a good selection of music. While not a total disaster, Rock of Ages should-be better. It's better to stay home and listen to all of your favorite 80′s hairbands instead of going to the theater for this one.