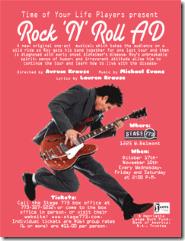 Rock 'n' Roll AD 
Written and Directed by Avrum Krause
Music by Michael Evans, Lyrics by Lauren Krause
at Stage 773, 1225 W. Belmont (map)
thru March 23  |  tickets: $16   |  more info
  
Check for half-price tickets  
  
   Read entire review
  
---
Groovin' for a good cause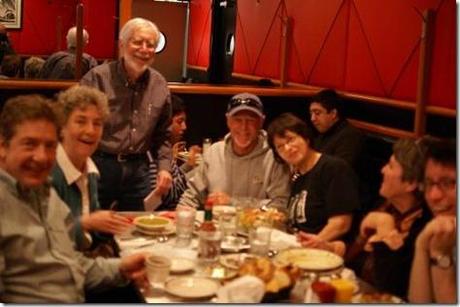 Time of Your Life Players presents
Rock 'n' Roll AD
Review by Lawrence Bommer
Only 50 minutes long but likable for its intent as much as its effect, Avrum Krause's heartfelt one-act ostensibly depicts a Baby Boomer reunion of a 60s rock band. "Rock 'n' roll never dies," as the opening anthem declares, but time takes its toll on its players.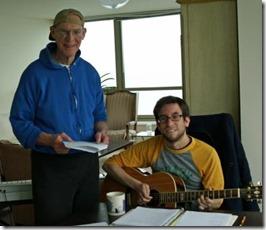 Alas, the former lead guitarist Roy (
Larry Hazard
) isn't 100% of what he was a quarter century before. He forgets things and people, loses his way, and, in a not so poetic way, lives in the moment. He's inevitably diagnosed with early onset of Alzheimer's disease, the progressive dementia that's been described as a living death or a walking coma. Apart from the show's entertainment value, it's critical to get the word out about an incurable but detectable disease that currently claims 5 million Americans. The sixth leading cause of death in the U.S., in just 38 years A.D. could hit as many as 16 million sufferers.
Krause's 12 peppy and pointed songs chronicle Larry's very conditional comeback, the support group ("Tuesdays at Two") that gives his misery needed company, the girlfriends who remind him of what he wants to retain ("Romeo Roy"), the clinical trials, the pills he takes and and the tour that triumphs over a debilitating disease, ending in a reprise of the contagious "Get Up and Dance."
Familiar fun, Krause's songs–nicely backed up by the ensemble on guitar, accordion, drums, and electric bass– are to music what comfort food is to dining. Also, following each matinee there's a talkback with a representative from the Alzheimer's Foundation. The byplay between the songs may be clumsy and stiff but a therapeutic show deserves the benefit of your doubts. If there's such a thing as geezer glory, it's eager to please in the Stage 773 cabaret.
Rating: ★★★
Rock 'n' Roll AD continues through March 23rd at Stage 773, 1225 W. Belmont (map), with performances Fridays and Saturdays at 2pm.  Tickets are $16, and are available by phone (773.327.5252) or online through Stage773.com (check for half-price tickets at Goldstar.com). More information at TimeOfYourLifePlayers.com.  (Running time: 50 minutes without intermission)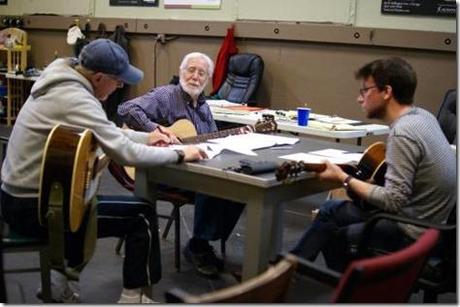 ---
artists
Avrum Krause (director), Aimee Bass (asst. director), Michael Evans (musical director),
Angelica Campbell (choreographer), Bill Lange (guitar), Michael Lieber (bass), Lauren Krause (lyricist), Ken Stefancich (drummer), Eileen Stachniak, Mary Gault, Larry Hazard, Steve Bishop, Tery Veras, Annie Kontak, Janice Cichowlas, Sandra Swantek, Nancy Pranckus, Judith Muench, Ester Lieber.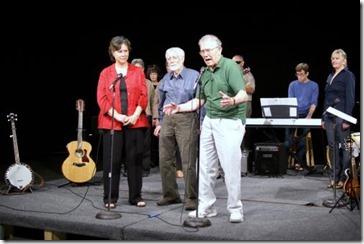 13-0261