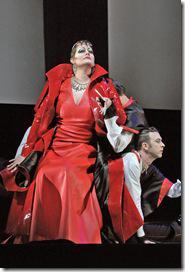 Rinaldo
Music by George Frideric Handel
Libretto by Giacomo Rossi 
with H. Bicket, conductor; F. Negrin, director
Civic Opera House, 20 N. Wacker Dr. (map)
thru March 24  |  tickets: $34-$234   |  more info
  
Check for half-price tickets 
  
  
   Read entire review
  
---
Understated finale to a gangbuster season!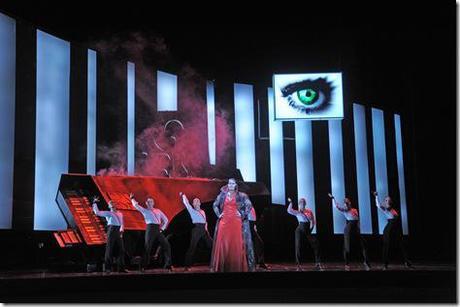 Lyric Opera of Chicago presents
Rinaldo
Review by Katy Walsh 
Lyric Opera of Chicago presents George Frideric Handel's Rinaldo, three acts performed in Italian.  It's the Christians versus Saracens.  The prize is Jerusalem.  Goffredo leads the Christians. King Argante rules Jerusalem.  Goffredo promises Rinaldo that he can marry his daughter Almirena if they are successful in taking Jerusalem.  Meanwhile, Argante seeks help from his sorceress lover, Queen Armida of Damascus.  Armida gets the word from Hades that Rinaldo is the key to victory.  To distract Rinaldo in his quest, Armida kidnaps his fiancé and tries to seduce him. To complicate matters more, Argante falls for the captured Almirena.  Love and lust are spoiling the war in progress.  Rinaldo has a few walls to overcome for victory.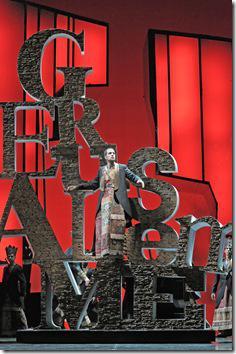 The final opera of the season doesn't have the traditional pageantry of the Lyric's hallmark.  (I'm still in awe over the
amazing Aida spectacle
.) Set and Costume Designer
Louis Désiré
goes for a contemporary look.  The backdrop is florescent walls of color.  The lights change from red to white, heightening the drama.  In the middle of the stage is a rocky pile of letters spelling out 'Gerusalemme.'  It's slightly comical and completely distracting. (I was constantly trying to spell other words from the oversized letters.)  Into this fairly stark space, a sorceress rises from below stage.  Pieces from a piano drop from the ceiling.  There are pink, white, blue helium balloons and a framed hanging eye picture.  The visual is bizarre and clunky.  The piano elements come together in the showstopper scene in the second act.  But until then, the clever decision goes unrealized and confuses.  After the decadent looks of the other operas this season,
Rinaldo
is disappointing.  Lengthy scenes show singers planning and pantomiming their crusade.  For war times and the Lyric, it's fairly dull.  There ARE serpents of fury!  Dancers are continually summoned as the flames of hell.  Choreographer
Ana Yepes
interjects stylish chorusline meets line dancing movements.  The aesthetic moments add some excitement.
This Handel opera is about high-pitched but exquisite music.  Within the seven principals, there are three countertenors, two sopranos and a contralto. The singing is beautiful but the testosterone days of Boris Godunov is missed.  Thank goodness for Luca Pisaroni (Argante) bringing his robust bass-baritone vocals for guy-guy interludes.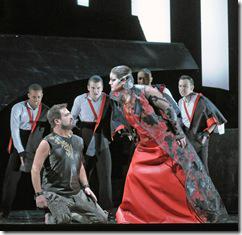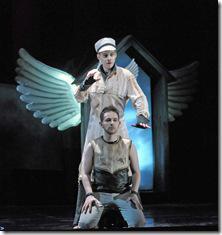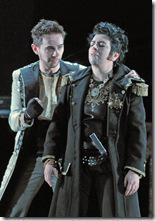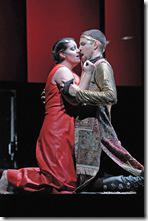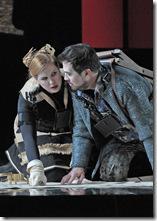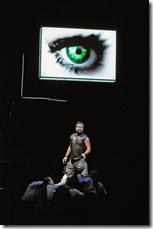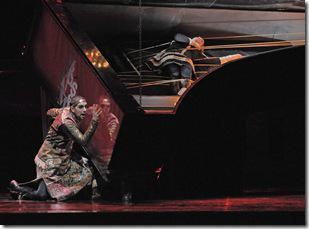 Under the baton of Harry Bicket, the orchestra works double-time to actualize the complex score.  In the best scene of the show, a fiery Elza van den Heever (Armida) faces off with orchestra.  Van Den Heever is perfectly hell-has-no-fury-like-a woman-scorned in the unforgettable conclusion to the second act.  She is diva-licious!
To quote the gentleman behind me, 'Rinaldo is my least favorite opera this season.'  But on a report card boasting primarily A+ and A's, the 2011-2012 Lyric Opera season will be remembered by me as a dazzling extravaganza. 
Rating: ★★½
Rinaldo continues through March 24th at the Civic Opera House, 20 N. Wacker  (map).  Tickets are $34-$234, and are available by phone (312-332-2244 ext 5600) or online here (check for half-price tickets at Goldstar.com). More information at LyricOpera.org.  (Running time: 3 hours 30 minutes, which includes two intermissions)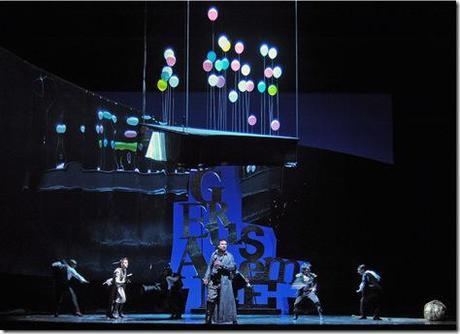 All photos by Dan Rest 
---
artists
lead roles