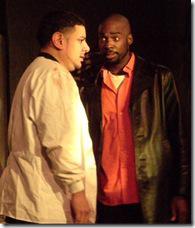 Riff Raff
Written by Laurence Fishburne
Directed by Richard Cotovsky  
Angel Island Theatre, 735 W. Sheridan (map)
thru Oct 30  |  tickets: $18-$22  | more info
Check for half-price tickets
   Read entire review
---
Tough guy is all bark, no bite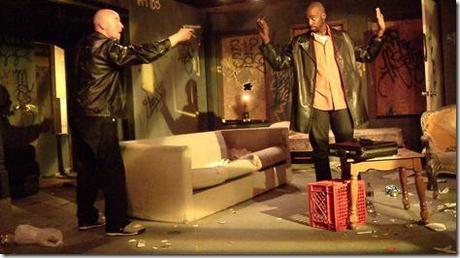 Mary-Arrchie Theatre presents
Riff Raff
Review by Keith Ecker 
While I welcome drama that tries to buck the stereotype that theater is an effete art form targeted to elderly wealthy white people, I would prefer it if the subversive work wasn't so hackneyed and derivative. But unfortunately, that's exactly what we get with Mary-Arrchie Theatre's most recent production, Riff Raff.
The play, which hones in on the lives of three men caught up in the gangster lifestyle, comes off as the product of a college film major who idolizes the movies of Quentin Tarantino but who possesses a modicum of the talent. Actor Laurence Fishburne is to blame for this script, which could easily have been written by anyone who has watched a few episodes of "The Wire". Every macho gangsta cliché is on display, including an endless stream of fronting and cursing. Even the moments that attempt to inject some element of emotional vulnerability, such as the slam-style poem executed by gangster-turned-good-guy Tony "The Tiger" (Eric Sherman Christ), is a false imitation of what slam poetry really is.
Riff Raff is about a heist gone bad. 20/20 Mike (Eduardo Martinez), whose nickname comes from his uncanny ability to detect danger all around him, and his companion Torch (Mike Cherry) are on the run after ripping off a couple of young thugs for several kilos of heroin. In an act of sheer idiocy and panic, Torch has murdered one of the kids, which certainly ensures there is now a price on both of their heads. In an effort to evade danger, the two seek shelter in an abandoned building on New York's Lower East Side.
Stuck in quite the pickle, Mike calls on his old partner in crime Tony for assistance. Tony, who has since moved to New Jersey and left the business of gang banging altogether, reluctantly comes to their aid. A series of revelations arise as friendships and loyalties are put to the test. In the end, we learn that the streets are tough and that crime is a hell of a way to make a living. Yes, this is as thought provoking as it gets.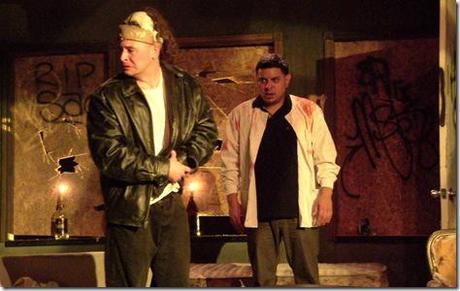 The only reason why this play gets two stars is because of Martinez' performance. That guy acted his heart out, desperately trying to turn a clunker of a script into something worth watching. Although 20/20 Mike's character doesn't really allow for extreme emotional depth, considering he's basically a two-dimensional tough guy archetype, Martinez manages to instill some humanity into the flimsy stick figure.
Mary-Arrchie founding member Richard Cotovsky directs. The fact the entire play takes place in cramped studio apartment doesn't seem to give Cotovsky a lot to work with. Characters pretty much just stand, pace and sit. All the action occurs in conversation only, which is really frustrating given that watching a drug deal go terribly wrong would be much more interesting than hearing about a drug deal gone terribly wrong on repeat. Cotovsky squanders his greatest opportunity, which is the aforementioned slam poem scene. Here's a bit of imagery-filled poetry in the midst of this crotch-grabbing manfest, and it is delivered in the most unimaginative conventional way possible.
Riff Raff has nothing special to offer other than a strong performance from its lead actor. The plot is a drag, and the characters are disingenuous. There is certainly a place for a tough guy gangster play, but to be watchable, it needs to not drench the audience in a tidal wave of testosterone.
Rating: ★★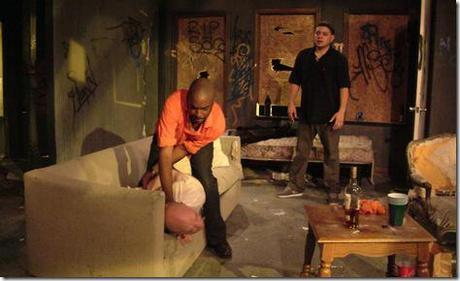 Mary-Arrchie Theatre's Riff Raff continues through Sunday, October 30th, at Angel Island Theatre, 735 W. Sheridan Road (map), with performances Thursdays-Saturdays at 8pm and Sundays at 7pm. Tickets are $18-$22, and can be purchased by phone (773-871-0442) or online at TicketWeb.com. More information at Mary-Arrchie.com.
All photos by Sid Branca
---
artists
cast
Mike Cherry, Eduardo Martinez, Eric Sherman-Christ 
behind the scenes
Richard Cotovsky (director); John Holt (set), Matt Gawryk (lights), Stefin Steberl (costumes), Joe Court (sound), Sid Branca (photos)