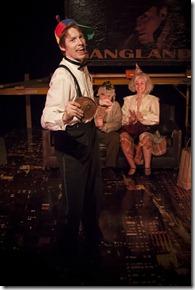 Rich and Famous 
Written by John Guare
Directed by Nate Silver
at The Den Theatre, 1333 N. Milwaukee (map)
thru March 16  |  tickets: $10-$15   |  more info
  
Check for half-price tickets 
  
  
   Read entire review
  
---
'Rich and Famous' gets long and tedious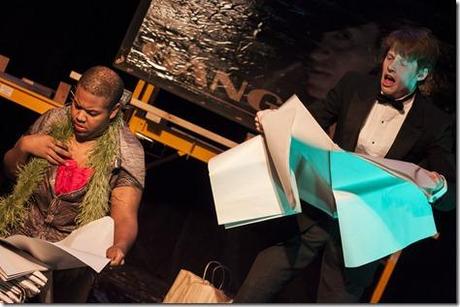 Jackalope Theatre presents
Rich and Famous
Review by Keith Glab
John Guare's plays are known for their absurdity, surrealism, and metatheatre, so it's easy to see the rationale behind Jackalope Theatre staging the opening of Guarre's Rich and Famous with the cast maneuvering set pieces, dancing, and chatting with each other in preparation for the show. These 15 minutes of half-hearted metatheatrical improvisation become problematic, however, when they are followed by another hundred minutes of directionless narrative.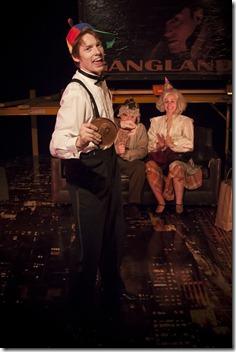 Bing Ringaling (
Andrew Swanson
) has finally gotten one of his plays produced on his 844th attempt. But he soon learns that the famous producer he's been working with intentionally staged a flop in order to mount a memorable comeback. Ringaling tries to enlist his old friend Tybalt Dunleavy (
Bernard Balbot
), who is now the biggest actor in the world, to replace the male lead in his show. With that effort failing, Leanara (
Baize Buzan
), his girlfriend and female lead of his play, leaves him to go to California.
An Odyssey of sorts follows, with Bing subsequently encountering the eccentric composer with whom he is collaborating on another project (Balbot), his ex-girlfriend Allison (Buzan), a Hare Krishna (Torian Miller), his parents (Balbot and Buzan), and finally Dunleavy, who is ready to jump off his own billboard after selling the rights to his suicide.
The whole thing unfolds as a dream, which conveniently explains away several plot inconsistencies. Many of the characters appear to be various aspects of Ringaling's own self, though the significance of these parallels is left unresolved. The play simply isn't well-crafted; it's little more than a series of "and then this happened" with some bafflingly lengthy scenes that do little to tie in with the rest of the play.
These major script issues aside, the Jackalope team executes their parts well. The cast heightens the humor in the play by creating endearingly quirky characters. Most notably, Balbot gives diva composer Anatol Torah a commanding presence, and makes the over-the-top character surprisingly believable. Although his scene went on too long and ultimately added very little to the show, I yearn for a spinoff in which Balbot's character is given an actual story. Buzan also deserves commendation for tackling all of the female roles, seamlessly moving between four characters and infusing them each with a distinct flavor. Henry Behel's set design proves both functional and eye-catching. Various set pieces are pulled on and off the stage while the Dunleavy billboard dominates the background and eventually becomes the stage of the play's climax (of sorts).
The Jackalope website advertises Rich and Famous as a musical, but it more closely resembles a play with music. A keyboard (Matt Edmonds), base (Liz Schmidt), and drum (Jed Feder) accompany the occasional song and punctuate the action onstage. The music is enjoyable and the singing is fine, but again the reason for their inclusion remains a mystery.
Director Nate Silver must have seen more in this story that what I gleaned from it. Perhaps a trimmed script with more emphasis on pacing could heighten the message as well as the humor. As presented, this production contains some enjoyable elements, but the whole of it winds up being less than the sum of its parts.
Rating: ★★½
Rich and Famous continues through March 16th at The Den Theatre, 1333 N. Milwaukee (map), with performances Thursdays-Sundays at 7pm.  Tickets are $10-$15, and are available by phone (773-340-2543) or online through their website (check for half-price tickets at Goldstar.com). More information at JackalopeTheatre.org.  (Running time: 1 hour 45 minutes, no intermission)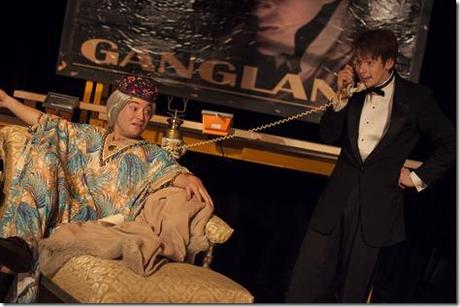 Photos by Lev Kalmens 
---
artists
cast
Bernard Balbot (Anatol Torah), Baize Buzan (Leanara), Torian Miller (Aphro), Andrew Swanson (Bing Ringaling)
musicians
Matt Edmonds (keyboard); Liz Schmidt (bass); Jed Feder (drums)
behind the scenes
Nate Silver (director); Matt Edmonds (music director, incidental music); Henry Behel (set design); Cat Wilson (lighting); Emma Weber (costumes); Charlie O'Malley (dramaturg); Anna Lafontant (production stage manager); Amanda Cox (asst. stage manager); Lev Kalmens (photos)
13-0252