16 hour ColorStay Overtime Lip Color with Soft Flex Moisturizing Top Coat in Neverending Nude

This is one of those lipstick's and clear top coat in one deal. Whenever I buy lipstick or lipgloss, which isn't too often I always buy one that promises to stay on for a long time. One of the main reasons why I don't usually wear anything but chapstick is because I hate how you apply it then ten seconds later you have to re-apply it. Or when you're wearing lipgloss and you go outside and your hair blows in your face and sticks to you lips. I don't know that just really bothers me lol.
I saw this at Walgreens and really liked the color, plus it promises to stay on for 16 hours so I figured I would give it a try. Oh and plus it was 50% off so it only came to $5. It's lighter on your lips then it looks in the swatch I did.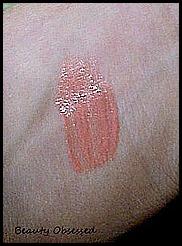 "Advanced ColorStay formula with SoftFlex Technology provides 16 hours of comfortable color. No touch-ups needed-even after meals.TopCoat enriched with 99% moisture, chamomile and soy extract keeps lips comfortable and delivers the shiniest shine."
-Revlon
PROS
-

It does stay on your lips for a good 8 hrs. (maybe even 16 hrs. but I couldn't wait that long)
- The color including the top coat looks exactly the same hours later
- The color is really pretty and the top coat is shiny but not too shiny. Subtle
- It doesn't stick to your hair when the wind blows outside (a plus for me)
CONS
- The color isn't very easy to apply evenly
- Even though the color lasts a while, it doesn't feel as comfortable on your lips as they said it would
- I don't like how the lip color gets on the top coat brush every time you use it. I feel like it can ruin the top coat application
- The moisture only lasts for about an hour or two.



Overall I don't think this is a bad product but I don't think its great either. It does stay on like they promised. But I feel like it should go on more evenly. I don't think I would recommend this product to anyone unless it was 50% off or you got a really good deal for it. Besides all the cons the color is very pretty. Personally I wouldn't buy it again. But you live and learn lol