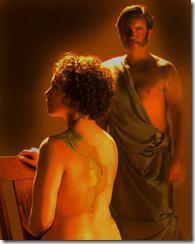 References to Salvador Dali
   Make Me Hot 
Written by José Rivera
Directed by Keely Haddad-Null
National Pastime Thtr, 941 W. Lawrence (map)
thru August 11  |  tickets: $20   |  more info
  
Check for half-price tickets  
  
   Read entire review 
---
Surrealist play makes time too rigid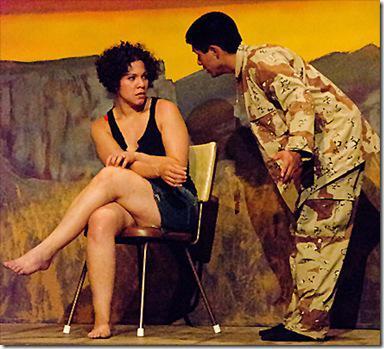 National Pastime Theater presents
References to Salvador Dali Make Me Hot
Review by Keith Glab
José Rivera's References to Salvador Dali Make Me Hot headlines National Pastime Theater's 4th annual Naked July: Art Stripped Down festival as its mainstage production.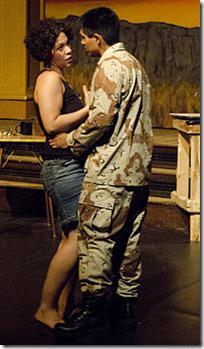 The interplay between these two animals is meant to parallel the relationship between Gabriela (Virginia Marie) and her husband Benito (Ernesto Melchor Jr.), a soldier about to return home from war. Benito is a wild and violent coyote, and these characteristics both attract and repel the stately Gabriela. Unfortunately, the dialogue also parallels what we hear from the animals. Both actors zip through the lines as though they are worried that there won't be enough time to strike the set for the next play in the festival. Not only is nuance lost in favor of a more monotone delivery, but the many tonal shifts in the interactions between the couple are muddled as the actors rarely pause to take a beat.
Most of the action takes place in Gabriela's dreams, as she plays out Benito's return in her mind several times. Here, she also fantasizes about having an affair with a 14-year old neighbor (Nelson Rodriguez) and contemplates leaving her husband of 11 years. Rodriguez ably portrays the lovesick Martín, whose pursuit gives Gabriela another duality of emotion, as she both enjoys the attention and is reviled by the thought of betraying her man.
A male embodiment of the Moon (Michael O'Toole) also figures prominently in these dreams. O'Toole gives the celestial body an irresistible charisma and finds the humor in Rivera's lines more successfully than any of the other actors do. Although he makes several references to Shakespeare labeling the Moon as inconstant, this is the most stable character in the play. Perhaps lured by this stability as much as the power and charm, Gabriella ultimately decides that when she wakes and her husband returns, she will decide whether or not to stay with him based on a simple question she asks him about the Moon.
Some of the more surreal physicality occurs when Benito paces awkwardly downstage during times when he is recalling upsetting moments from the war. His speech matches the tempo of his pacing here, but that tempo being used throughout the play by both he and Gabriela makes the rest of the play awkward to watch and harder to follow.
The narrative ultimately has little resolution, so our inability to fully appreciate the rich language in the script due to the hurried, often monotone speech becomes even more disappointing. There are enough successful moments to sustain interest, but perhaps counter-intuitively, the interest might be far greater if the same play were to run 15 minutes longer using the same script. It would then work well as a standalone event, rather than as part of a festival celebrating the naked body when nudity isn't even integral to this particular play.
Rating: ★★
References to Salvador Dali Make Me Hot continues through August 11th at National Pastime Theater, 941 W. Lawrence, 4th Floor (map), with performances Fridays and Saturdays at 8pm.  Tickets are $20, and are available by phone (773-327-7077) or online at through BrownPaperTickets.com (check for half-price tickets at Goldstar.com). More information at NakedJuly.com.  (Running time: 75 minutes without intermission)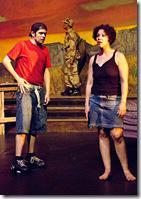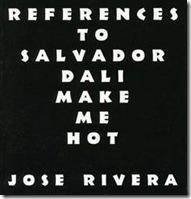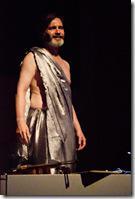 ---