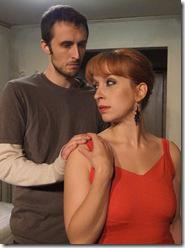 Red Light Winter 
Written by Adam Rapp 
Directed by Carlo Lorenzo Garcia  
at Angel Island Theatre, 735 W. Sheridan (map)
thru Dec 18  |  tickets: $18   |  more info
Check for half-price tickets 
  
  
   Read entire review
  
---
As destructive as it is thrilling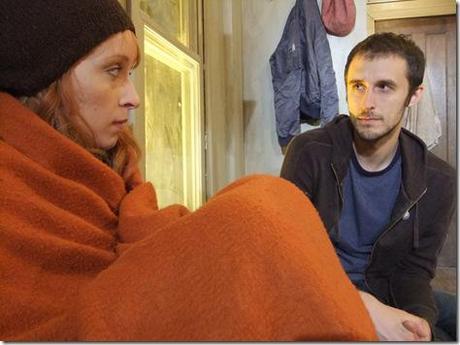 Mary-Arrchie Theatre presents
Red Light Winter
Review by Catey Sullivan 
Adam Rapp's Red Light Winter is propelled by a deceptive momentum. The Joliet native's taut drama is just understated enough so that you don't feel its momentum even as it gathers force. By the time the final, violently sad scene plays out, you're unprepared for its force. It hits like a freight train you never saw coming.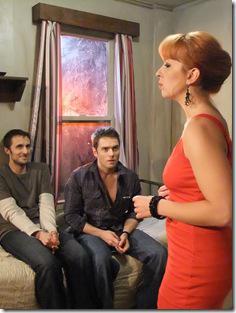 Directed by
Carlo Lorenzo Garcia
for
Mary-Arrchie Theatre
,
Red Light Winter
packs a powerful punch. Its tale of "Amsterdamage" – the fallout among young Americans after a fateful night in Amsterdam's Red Light District – is part erotic thriller, part star-crossed romance and part cautionary tale for those who would shuck off their old identities and take on the persona of someone they are not.
A 2006 Pulitzer nominee (there was no award for Drama that year), Red Light Winter unfolds over two years in two depressingly seedy rooms, the first in a cheap Amsterdam hotel; the other a tiny New York City apartment. At lights up, we meet Matt (Dan Behrendt), a 30ish unpublished playwright giving off an aura of gray gloom as dispiriting as his no-frills surroundings. Just how depressed he really is becomes apparent in the early, silent moments of the play. Matt is not afflicted with a passing case of the blues; he's stuck in sorrow's quicksand, surrendering without a fight.
His roommate Davis (Dereck Garner) has no such trouble – and probably never will. Davis is the sort of insensitive lout who is incapable of profound sadness. He gets his kicks from small (and large) cruelties masquerading as crude humor, barreling through life with a possibly sociopathic lack of introspection or empathy. Still, Davis and Matt are bros through thick and thin, Matt accepting even the most excruciatingly painful of betrayals with a defeated shrug. The third person in this toxic triangle is Christina, (Sasha Gioppo), a young prostitute Davis buys for Matt, hoping to jolt his friend out of the blues. With these three, vivid personalities, Rapp proceeds to build a narrative that increases in momentum until its final, disturbing scene.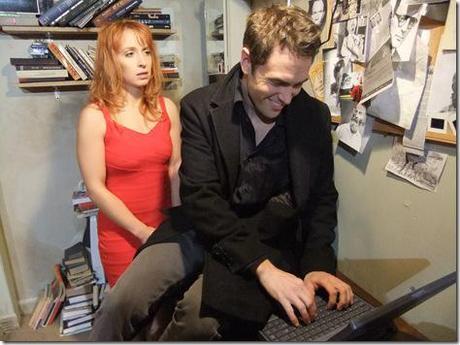 Garcia's cast is anchored by Behrendt, who is quietly, poignantly heart-breaking as the defeated, struggling writer living in the shadow of his abusive best friend. As for Christina, she is not entirely who she seems, which Gioppo captures wonderfully during a prolonged moment of unexpected music. As Davis, Garner lacks the edge of dangerous brutality the character demands – he's more self-absorbed clown than disturbingly unfeeling menace, a fact that leaches the production of some of its dramatic power. Still, the ensemble of three maintains a relentless, seamless pace, escalating Red Light Winter's sense of inescapable, claustrophobic tragedy to unnerving levels.
One of Rapp's major strengths lies in piecing together small, ordinary and even forgettable moments until they've accumulated into a gasp-inducing conclusion. He does this with Red Light Winter, showing how memory, lust and love can play tricks on the mind and the heart, creating illusions that shatter the soul when they shatter apart. In Mary-Arrchie's tiny, intimate space, the destruction is as thrilling as it is tragic.
Rating: ★★★½
Red Light Winter continues through December 18th at Mary-Arrchie Theatre, 735 W. Sheridan (map), with performances Thursdays-Saturdays at 8pm, Sundays at 7pm.  Tickets are $18-$22, and are available by phone (773-871-0442) or online at ticketweb.com (check for half-price tickets at Goldstar.com). More information at maryarrchie.com.  (Running time: 2 hours 20 minutes, which includes one 10-minute intermission)
---
artists