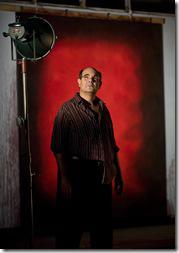 Red
Written by John Logan
Directed by Robert Falls 
at Goodman Theatre, 170 N. Dearborn (map)
thru Oct 30  |  tickets: $25-$84  |  more info
Check for half-price tickets
  
  
   Read entire review
---
'Red' pulsates with energy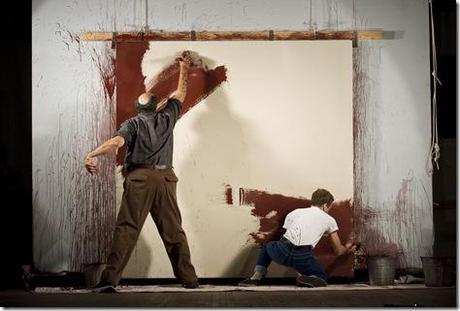 Goodman Theatre presents
Red
Review by Keith Ecker 
There are few more divisive characters in contemporary art than Mark Rothko. The Russian-born Jewish painter is known for his abstract expressionist (a term he reviled) works, which depict solid shapes floating on the canvas. His pieces, which at quick glance appear to be little more than fuzzy squares, have been ridiculed by some for being amateurish, the kind of word that "my kid could do."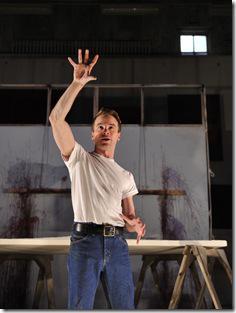 But Rothko's work is more than just squares in space. The magic of his paintings is all in its subtlety and nuance. His works are about color, life, movement and tragedy. Like any good piece of art, they embody the man that spawned them. And in the Goodman Theatre's much anticipated production of
Red
, we get a real sense of this tortured and fastidious progenitor.
Red peers into the mind of Rothko by taking place entirely in his studio. The unnaturally lit space is covered in paint splatters and large canvases. Center stage is devoted to an example of Rothko's work, which is changed out from scene to scene, contributing to the various tones of the relationship between the artist (played by a stunningly committed Edward Gero) and his assistant (the ubiquitous Patrick Andrews).
We are introduced to Rothko as he embarks on one of his last installations. The year is 1958, and he has been commissioned to create a series of murals for the upscale Four Seasons restaurant in the Seagram Building in New York. He says that has taken on his assistant, Ken, merely as an employee, someone to wash the brushes and prime the canvases. But soon it becomes obvious that Ken's role is much more significant. As Rothko mutters, criticizes and waxes philosophic, the assistant challenges him and his rigid views. What results is a continual battle between the learned and the ignorant with the two characters inhabiting either role at any given moment.
If you're a fan of talks regarding the purpose art plays in our society and psychology, you'll appreciate the lofty "thought play" that Rothko and Ken engage in. One of the most memorable scenes of the play—and there certainly are quite a few memorable scenes—involves Rothko and the young assistant providing examples of all the different types of "red" that exist, from the red of an apple to the red that occurs when you nick yourself shaving. References to Pollock and Warhol abound, and both artists serve to exemplify Rothko's ever-present insecurities regarding art, commerce and relevance.
But there is more here than aesthetics and intellectualism. Red is also a portrait of an artist in the truest sense. Playwright John Logan (who has made a name for himself as a screenwriter, penning such award-winning scripts as The Aviator, Sweeney Todd and Gladiator) has created a very real and isolated person. Red's Rothko is overly critical, overly confident, hotheaded and solipsistic. He is a man that we all can relate to in one sense or another, whether it is because we battle with feelings of inferiority or because we strive to maintain our integrity in a world begging for us to compromise ourselves.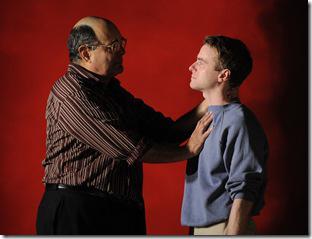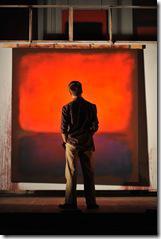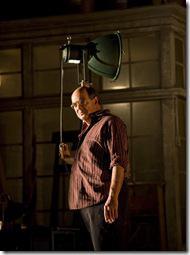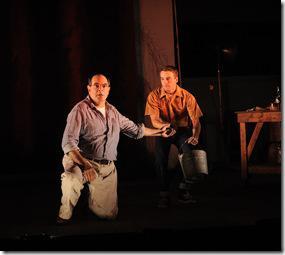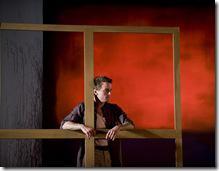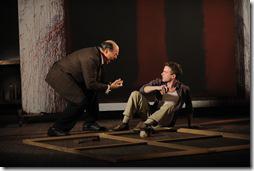 Despite Logan's concise script, the play's shining star is Gero. The man seems to climb into the skin of this character. Nothing feels calculated. Every emotion and reaction, every spar and act of deprecation feels real, as if genuinely erupting in the moment. His energy allows the play to rise above the two-person talking head piece that it is and into the realm of entertainment. (fyi: Gero has actually chronicled his theatrical journey.)
Calm and earnest, Andrews plays a good foil to the Gero's boisterous Rothko. I have now seen Andrews in three productions, and he has a trademark collectedness that he brings to each role. (Sometimes I feel he relies on this relaxed demeanor a little too much.) However, there is a climactic scene in Red in which he gets to turn up the volume, both audibly and emotionally. It is here that we see the range of his talent.
Red will likely not appeal to everyone. If you are not a fan of the critical analysis of aesthetics, then you probably won't care much for the majority of the play's dialog. This isn't to say the whole thing is heady. The piece actually contains some rather sharp humor. Additionally, the element of Ken's family tragedy falls flat. How can the tragedy of a playwright's imagination compete with the tragedy of a real man, that being Rothko? Still, the emotional sincerity of the play and Gero's spectacular performance make it a very entertaining show.
Rating: ★★★½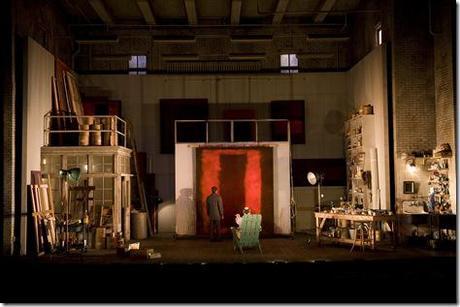 Goodman Theatre's Red continues through October 30th at Goodman's Albert Theatre, 170 N. Dearborn (map), with performances Tuesdays and Wednesdays at 7:30pm, Thursdays at 2:00pm and 7:30pm, Fridays at 8pm, Saturdays at 2pm and 8pm, and Sundays at 2pm and 7:30pm (fyi: please check Goodman's website as these days/times do not hold for certain weeks). Tickets are $25-$84, and can be purchased by phone ( 312-443-3800) or online at their website. More information at GoodmanTheatre.org. (Running time: 1 hour 40 minutes with no intermission)
All photos by Liz Lauren
---
artists
cast
Edward Gero, Patrick Andrews
behind the scenes
Robert Falls (director); Todd Rosenthal (scenic); Richard Woodbury (sound, original music); Birgit Rattenborg Wise (costumes); Keith Parham (lighting); Neena Arndt (dramaturg); Joseph Drummond (production stage manager); T. Paul Lynch (stage manger); Liz Lauren (photos)
Mark Rothko, in his own words