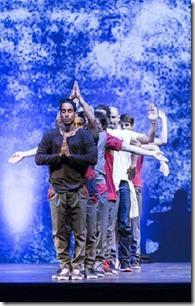 Red Bull Flying Bach
Choreographed by Vartan Bassil  
Music Directed by Christoph Hagel  
at Civic Opera House, 20 N. Wacker (map)
thru June 29  |  tickets: $24-$88   |  more info
  
Check for half-price tickets 
  
  
   Read review
  
---
A nonstop 70-minute thrill ride of electrifying physicality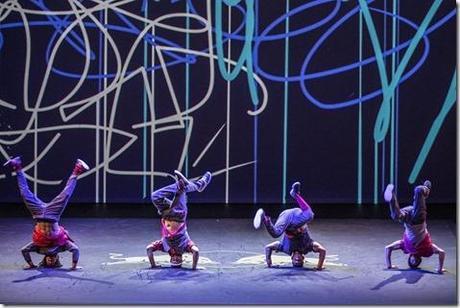 Red Bull i/a/w Flying Steps present
Red Bull Flying Bach
Review by Lauren Whalen 
By now, marrying classical and contemporary is hardly new. From Baz Luhrmann's 1996 "Romeo & Juliet" (Shakespeare's text in a postmodern gangland setting) to any number of ballet-meets-hip-hop pop culture staples, it's easy to get jaded with this trope. (Though I must admit, I'm a sucker for it every single time.) However, Red Bull Flying Bach turns this trope on its head – sometimes literally. Instead of traditional moves juxtaposed with a modern setting, this phenomenal German import does the reverse: edgy b-boy dance style merged with the music of Johann Sebastian Bach. On Saturday night, the Civic Opera House was transformed into a rock-concert-slash-club with a classical soundtrack, as Berlin's Flying Steps dance crew executed death-defying dance moves to the sounds of piano and harpsichord.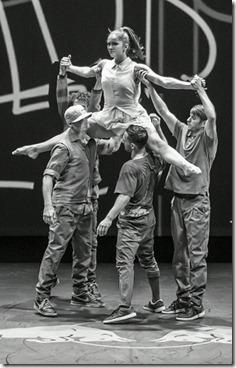 According to the press release and program, the Flying Steps are one of the most successful urban dance crews in the world. Since their founding in 1993, the crew has seen over 20 cast members and won several world championships, including Battle of the Year and Red Bull Beat Battle. Many of the current cast is inspired by American legends (at least two cite Michael Jackson), and the group is committed to giving young people unique opportunities. In Germany, they have founded the
Flying Steps Academy
to set the stage for the next generation of poppers, lockers and hip-hoppers.
In Flying Bach, the group teams with music director and pianist Christoph Hagel and Swedish contemporary dancer Anna Holmström. Hagel delivers a stellar live rendition of Bach's "The Well-Tempered Clavier" and the rest of the score ranges from live harpsichord to Bach melodies mixed with the beats of modern composers Ketan and Vivan Bhatti. The dancers perform on a platform set in the middle of the grand Civic Opera House proscenium stage, bookended by a grand piano and harpsichord, and supplemented with beautifully designed projections. There's a loose storyline about a group of dancers preparing for a performance, who find themselves challenged when a female dancer enters the mix (which, quite frankly, I only gleaned from the press release). Muddled storyline or no, it hardly matters: Red Bull Flying Bach is a nonstop 70-minute thrill ride of physicality, a tangibly electric ball of energy, a seamless blend of pure classic and edgy modern.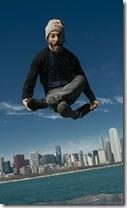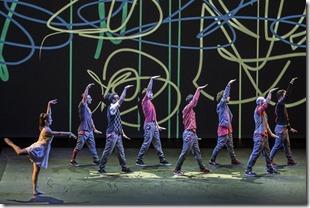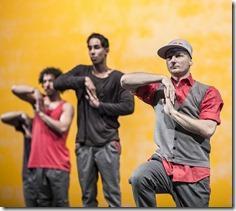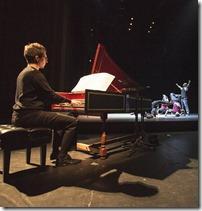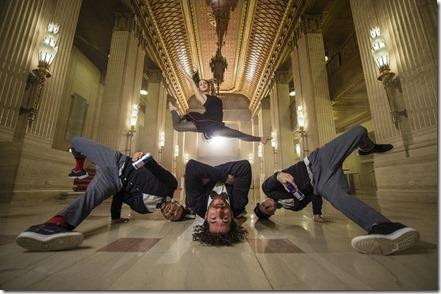 Civic Opera House is a perfect venue for Flying Bach: its elaborate grandeur provides an elegant backdrop for the vibrant marriage of old music and new moves. The Flying Steps and Holmström merge ballet, modern and breakdance in a positively breathtaking way – gorgeous lines and gasp-inducing acts of physics abound. Breakdance is a unique and powerful art, requiring the ultimate physical discipline – and with a classical soundtrack, each move is heightened and even more impressive. Just when you think a b-boy or ballet girl have given their all, they surprise you with yet another head spin, arabesque or 360-degree jump. As my sister and I laughed, clapped and occasionally hooted, we were surrounded by a packed house doing the same. In Flying Bach, energy begets energy; dance, music and visual art are bold and colorful; and Johann Sebastian Bach shows us he's still got it.
Rating: ★★★½
Red Bull Flying Bach continues through June 29th at Civic Opera House, 20 N. Wacker (map), with performances Fridays and Saturdays at 7:30pm, Sundays 2pm.  Tickets are $24-$88, and are available online through Ticketmaster.com (check for half-price tickets at Goldstar.com). More information at RedBullFlyingBach.com.  (Running time: 70 minutes without intermission)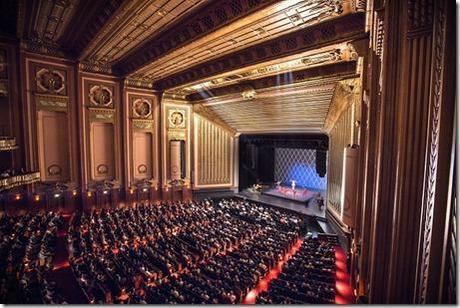 Photos by Carlo Cruz
---
artists
cast
Anna Holmström (dancer), Nordine-Dany Grimah (aka Nono), Pierre Bleriot (aka Punisher), Michael Rosemann (aka Mikel), Gengis Ademoski (aka Lil Ceng), Khaled Chaabi (aka KC-1), Alan da Silva (aka Aldo Style), Yamine Manaa (aka Spider)
behind the scenes
Vartan Bassil (choreographer, artistic director), Christoph Hagel (music director, artistic director), Ketan and Vivan Bhatti (music), Johann Sebastian Bach (music), Yui Kawaguchi (choreographer, contemporary dance), Nadia Esparitu (dramaturg), Vida Kalojanova (piano), Carianna Henriksson and Margit Kovacs (cembalo), Mascha Schubert (costumes), Bernhard Schluga (artwork, visual content), Marco Moo, Christian Seifried (visual content), Marco Moo and Daniel Bandke (Visuals), Mark Langer (lighting design), Tobias Kanter and Marko Vujovic (sound engineer), Carlo Cruz (photos)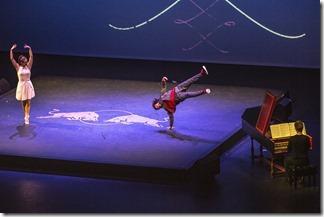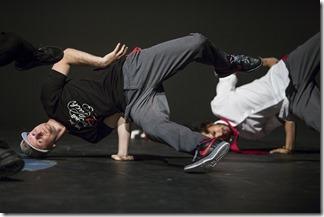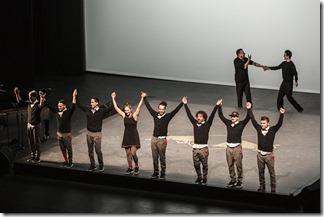 14-0636