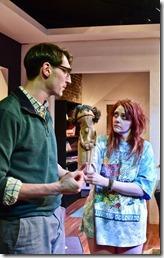 Recent Tragic Events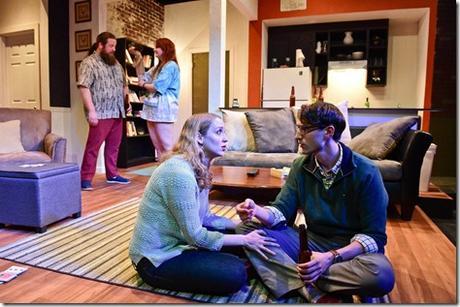 has a good heart under it all. Unfortunately, in this case "all" can be defined as a series of increasingly ridiculous gimmicks that all but undo the play's genuine sentiment. The set is lovely, the actors talented, but Craig Wright's script is so poorly written that Recent Tragic Events feels even more dated than its 2001 time frame.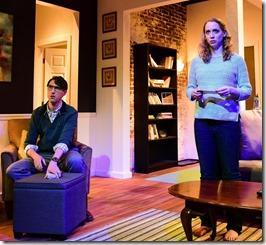 It's the day after 9/11, and the entire world is in shock. Advertising executive Waverly (
Laura Berner Taylor
) waits in her apartment for two people: her blind date Andrew (
Matthew Nerber
) and a phone call from her twin Wendy, a resident of New York City who hasn't been seen since the Twin Towers fell. While Andrew nervously waits in Waverly's living room so they can go to dinner, nosy neighbor Ron (
Maximillian Levine
) stops by, just because. What follows is a night of card games, philosophical discussions, a visit from Waverly's famous author great-aunt (
Rachel Christianson
) and a growing connection between Waverly and Andrew as the Wendy waiting game continues.
Recent Tragic Events has a solid concept and thru-line: the search for love in many forms (familial, platonic and romantic) in the face of a frightening new reality. We all remember where we were on September 11, the constant blaring of the television, the collective loss of American innocence and the realization that nothing would ever be the same again. Waverly's growing anxiety and terror, not to mention her complex relationships with her sister and mother, juxtaposed with her sweetness toward Ron and her attraction to Andrew, are completely and utterly relatable.
Instead of letting the story breathe, however, Emmy-nominated Wright employs the cheap shots and archetypes of a bad 1980's sitcom (a slovenly neighbor? come on...) and several terrible plot devices. At the beginning of the show, the stage manager reminds everyone to turn off their phones, then entreats an audience member to flip a coin. Heads or tails will determine many of the characters' actions throughout the play. As Act Two begins, however, the stage manager reveals that he is actually an actor (Ben Apple), the audience determination of characters' actions a lie, and that Waverly's aunt Joyce Carol Oates is a facsimile of the prolific American author of the same name. As such, this "Joyce Carol Oates" will be played by a puppet.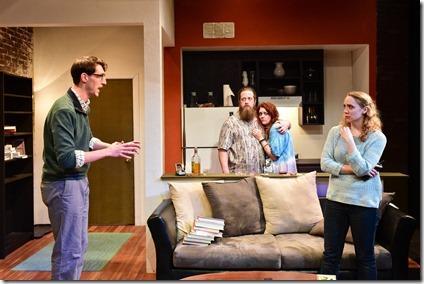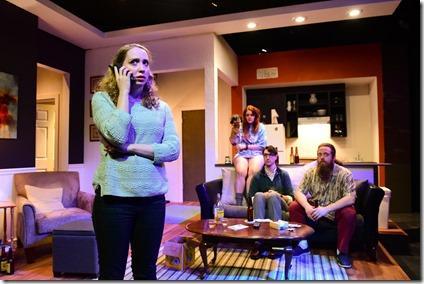 Yes, a puppet. There was no conceivable reason that Waverly's relative couldn't have been a new and unique character - who just happened to be a famous author - specific to this play. None. Strangely, the puppet is a better character than the protagonist, her love interest and her neighbor put together. The explanation for the puppet, the meaningless coin flip and other devices is something long-winded about how life is largely out of our control. Needless to say, it doesn't work at all.
On a positive note, Greg Pinsoneault's scenic design is a very realistic assessment of a literary-minded young professional's apartment, with stylish but cozy furniture, a large bookcase, and fun kitchen gadgets.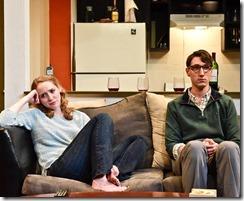 The five-member cast is largely strong: Taylor is a lovely main character and creates a sweet rapport with Nerber (the latter is also good, and would be even better if he closed his mouth once in a while). Though Levine's Ron is written as a caricature, the actor is skilled enough to inject some real quirkiness and compassion. And in the dual role of Joyce Carol Oates' puppetmaster and Ron's trashy, mute girlfriend Nancy, Christianson displays deft characterization and remarkable comic timing.
I wish Wright (whose TV work includes "Six Feet Under," one of my all-time favorite shows) had simply trusted the strength of his own writing. If that had been the case, Recent Tragic Events could have been heart-wrenching yet enjoyable, a romantic comedy set in an unlikely time and place. Instead, the gimmicks are plenty and, therefore, the production rings false. Not even this admittedly great cast can save this mess.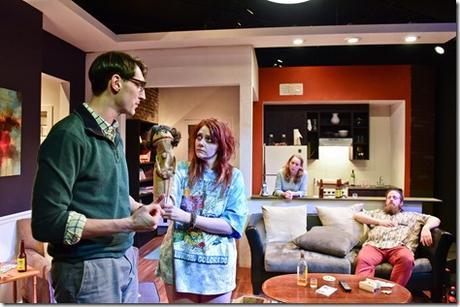 Recent Tragic Events continues through April 10th at Athenaeum Theatre, Studio 2, 2936 N. Southport (map), with performances Thursdays and Fridays 7:30pm, Saturdays 2pm & 7:30pm, Sundays 2pm. Tickets are $22 (seniors: $12, students w/ ID: $15), and are available by phone (773-936-6875) or online through OvationTix.com (check for half-price tickets at Goldstar.com ). More information at InterrobangTheatre.org. (Running time: 1 hour 45 minutes, includes an intermission)
Rachel Christianson (Nancy, Joyce Carol Oates), Maximillian Lapine (Ron), Matthew Nerber (Andrew), Laura Berner Taylor (Waverly), (stage manager), Kelsey Melvin (u/s Waverly), Claire Bauman (u/w/ Nancy, Joyce)
behind the scenes
Georgette Verdin (director, co-artistic director), Greg Pinsoneault (scenic design), Noël Huntzinger (costume design), Morgan Lake (sound design), Claire Chrzan (lighting design), Mealah Heidenreich (props design), Sandra Smycz (dramaturg), Nancy Christianson (puppet master), Lisa Giebler (technical director), Samantha Dzirko (production manager), Shawn Galligan (stage manager), Lucy Carr (asst. director), Christopher Aaron Knarr (house manager, social media guru), David Rosenberg (publicist), (co-artistic director), Evan Hanover (photos)
Tags: 16-0330, Athenaeum Theatre, Ben Apple, Chicago Theater, Christopher Aaron Knarr, claire Bauman, Claire Chrzan, Craig Wright, David Rosenberg, Evan Hanover, Georgette Verdin, Greg Pinsoneault, Interrobang Theatre Project, James Yost, Kelsey Melvin, Laura Berner Taylor, Lauren Whalen, Lisa Giebler, Lucy Carr, Matthew Nerber, Maximillian Lapine, Mealah Heidenreich, Morgan Lake, Noël Huntzinger, post, Rachel Christianson, Samantha Dzirko, Sandra Smycz, Shawn Galligan
Category: 2016 Reviews, Athenauem, Interrobang Theatre Project, Lauren Whalen